Cardi B Wants You to Take Your Vote for Mayor and DA Seriously
In a new interview, the "WAP" musician urges Bardi Gang to vote on all electoral levels—and reveals some members of her family tested positive for COVID.
---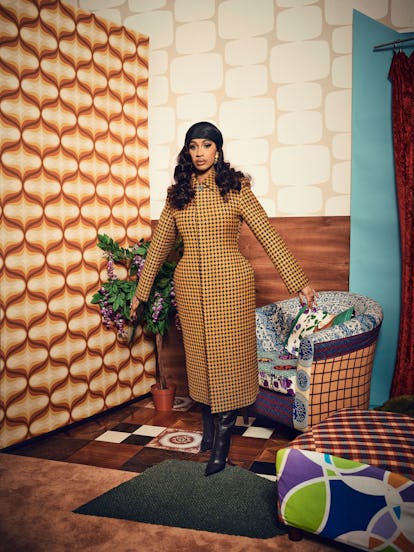 MICKALENE THOMAS
Cardi B has never shied away from her proclivity toward politics—she's mentioned an interest in running for Congress someday, her high school social studies teacher confirmed her deep knowledge of U.S. history, and Belcalis Marlenis Almánzar has a long-standing relationship (which went from back-and-forth tweets to a campaign commercial and Instagram Live conversation) with Bernie Sanders.
The concept of Cardi in office isn't necessarily a far-off pipe dream. Rap is and has always been tied up in politics, and other musicians including Killer Mike, Uncle Luke from 2 Live Crew, and Scarface have tried their hand at runs for local and state office. (One could also argue that Cardi is more well-versed in governmental goings-on than our current president, but that's a conversation for another time.)
If the runaway success of her latest song and music video with Megan Thee Stallion "WAP" is any indication of imminent plans for entering politics, it's safe to assume Cardi will be holding off for now. The Bronx rapper revealed as much in a new interview for the September cover of Elle, in which she urged members of her fan base, Bardi Gang, to contribute to the political conversation by voting on all levels of government.
"You can vote for DAs. You can vote for mayors. You can vote for your district," Cardi said. "Not everything is the president. You know what I'm saying?"
"I want a president who makes me feel secure. I want a president who understands the pain of the people. I want a president who is going to give us answers," she added. "That's why I like [New York governor Andrew] Cuomo. I like him because he makes me feel like he's listening to me."
Although Cardi's interview centered on politics, the musician also touched on her upcoming record, ("This album is going to be really different," she said. "Of course, it's going to have my Lemonade moments, my relationship moments."), and the negative impact COVID-19 has had on her personally. "A lot of my family caught COVID," she revealed. "A lot of people around me lost their jobs."
Cardi also touched on the Black Lives Matter movement, revealing her rage toward the injustice of Breonna Taylor's killing. She told Elle that she'd hoped more rappers—and specifically, male rappers—would take action—or, at the very least, release statements of support—for Taylor and her family. "A woman like Breonna Taylor, she was young," she said. "She looked like she was listening to your music. She looked like she was your fan. You should stick up for her."
Related: Cardi B and Bernie Sanders Have Spoken Over The Phone