Carey Mulligan Faces the Music
As a folksinger in Inside Llewyn Davis, the actress fights fear and finds her voice.
---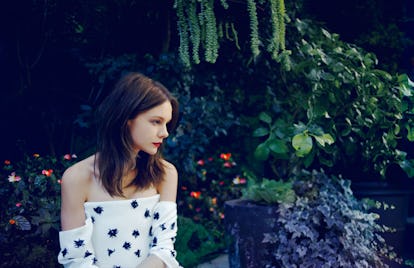 Late last September, Carey Mulligan stood on the stage at the Town Hall in New York surrounded by some of the most famous musicians in the world—including her husband, Marcus Mumford, of Mumford & Sons, Patti Smith, and Joan Baez—and she looked as if she might faint. "I was terrified to sing in that company," Mulligan recalled two months later, still sounding shaky and awestruck. She was on her way to the airport in Los Angeles, about to return home to London, where she had recently filmed Far From the Madding Crowd, an adaptation of the Thomas Hardy novel. The film represents a return to Mulligan's British roots: In 2013, she played the iconic American character Daisy Buchanan in The Great Gatsby, as well as Jean Berkey, a complex American folksinger in Joel and Ethan Coen's Inside Llewyn Davis. "I wasn't sure I could do the part," Mulligan said of the latter. "I was so immersed in the fantasy world of Daisy. I finished Gatsby on a Friday afternoon, and by the weekend I was in a long wig filming Llewyn Davis in Washington Square Park." Mulligan appreciated being able to stomp around in a trenchcoat after all the Gatsby gowns and jewels. "As Jean, I was swearing like a trooper, and the Coens would be saying, 'More, more—make her even harsher!' " she said, laughing. "There was never a conversation about trying to make any of the characters in Llewyn Davis likable."
Based loosely on the autobiography of Dave Van Ronk, the film centers on an uncompromising folksinger who would rather self–destruct than sell out. Oscar Isaac, in the title role of Davis, is at once maddening and captivating. Berkey, his sometime lover and a singer herself, is envious of and angered by his artistic purity of intent. Like pretty much every Coen brothers film, Inside Llewyn Davis is the story of a beautiful American loser.
"My biggest concern was the singing," Mulligan continued. "I was a wreck. But when T Bone Burnett [the musical producer for the film] asked me to sing 500 Miles at Town Hall, I couldn't say no. Every time I did the song, I'd fuck it up. T Bone told me, 'Whiskey helps.' I hadn't had a drink in a month, but after three sips, I was so up for singing."
In fact, Mulligan sang beautifully at the Town Hall that night (and also in the movie) as part of Another Day, Another Time, a concert benefiting the National Recording Preservation Foundation. "The community of musicians is so enviable," she recalled. "They walk into a room and they are immediately friends because they all play music. Actors don't have that easy rapport—we can walk into a room and start improvising, but nobody wants that."
When she was young, growing up in hotels all over Europe where her father worked as a manager, Mulligan, 28, often took the male roles in the all-girl schools she attended. "The men had better parts," she told me. "The girl parts were always a bit lame." In her professional career, she has made a point of not accepting roles as the woman in the shadow of the leading man. "I rather like being brutal in movies. I never thought it would be very interesting to play someone uncomplicated. I find if I'm not scared, then I'm probably not right for the role."
Carey Mulligan's Red Carpet Style
Carey Mulligan wears Nina Ricci to the 67th Annual Golden Globe Awards in Los Angeles. (January 2010)

Stylist: Edward Enninful
Carey Mulligan at the 15th Annual Critics Choice Awards in Los Angeles. (January 2010)

Stylist: Edward Enninful
Carey Mulligan wears Vionnet to the Orange British Academy Film Awards in London. (February 2010)

Stylist: Edward Enninful
Carey Mulligan wears Christopher Kane to the 25th Annual Independent Spirit Awards in Los Angeles. (March 2010)

Stylist: Edward Enninful
Carey Mulligan wears a Prada gown, a black satin clutch and heels, and Fred Leighton jewels to the 82nd annual Academy Awards in Los Angeles. (March 2010)

Stylist: Edward Enninful
Carey Mulligan wears Prada with Martin Katz jewelry to the Metropolitan Museum of Art's 2010 Costume Institute gala in New York. (May 2010)

Stylist: Edward Enninful
Carey Mulligan wears Christopher Kane to the Never Let Me Go premiere held at the 35th Toronto International Film Festival in Toronto, Canada. (September 2010)

Stylist: Edward Enninful
Carey Mulligan wears Chanel Haute Couture to the 2010 CFDA/Vogue Fashion Fund awards at Skylight Studios. (November 2010)

Stylist: Edward Enninful
Carey Mulligan attends Lincoln Center Institute's second annual Junior Spring Benefit at the Gramercy Park Hotel's Gramercy Terrace. (June 2011)

Stylist: Edward Enninful
Hair by Jimmy Paul for Bumble and bumble; makeup by Aaron de Mey for Lancôme at Art Partner; manicure by Ashlie Johnson at the Wall Group. Prop styling by Ali ­Gallagher at Jed Root LA. Fashion: Nina Ricci's raffia tweed jacket and cotton bra. Tacori 18k yellow gold and rose quartz earrings. Beauty: Dolce & Gabbana the Foundation in Creamy; the Eyeshadow in Desert; the Mascara in Black; the ­Illuminator in Eva; Passion Duo Gloss ­Fusion Lipstick in Imperial.

Photographer: Michael Thompson Stylist: Edward Enninful