The One and Only
Nearly a year after her departure as editor in chief of French Vogue, Carine Roitfeld is as busy as ever. Here, the style-setter acts as our guide—and model—at the couture collections.
---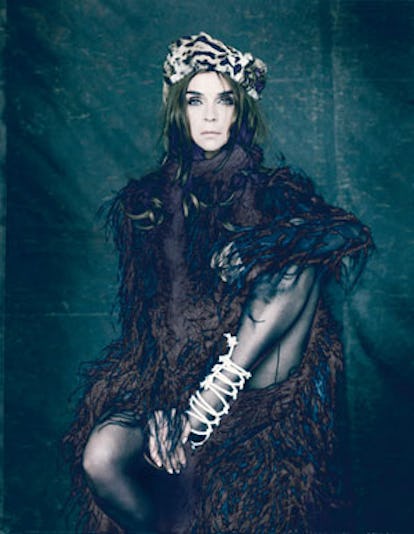 If you're at all uncomfortable being photographed, don't stand next to Carine Roitfeld. The 57-year-old fashion stylist and former editor of French Vogue, who made the magazine de rigueur on chic coffee tables for 10 years, is as big a magnet for Fashion Week flashbulbs as the A-list actors there to flog their perfume deals. "Maybe they're glad to see me now ­because I wasn't here last season?" Roitfeld wondered, in her thick French accent, smiling for the paps in formfitting white lace Dolce & Gabbana (worn with sheer black hose) as they shouted, "Carine! Bravo! Encore une petite photo, s'il vous plait?"
Roitfeld had to sit out the ready-to-wear season six months ago "so people didn't get confused" after her much-discussed departure from Vogue earlier in the year. Now she's back in the front row with a raft of new projects, all feverishly chronicled in the blogosphere. There's the 72-page celebration of Elizabeth Taylor, shot by ­Mario Testino, for September's issue of V; Barneys New York's fall-­campaign multimedia tribute to Roitfeld, which has her starring in a short film that was shown in the windows in early September; and Barneys' Women's Designer book with Mario Sorrenti, which features 28 or so of her favorite models, family members, and friends wearing her picks. Then there's her new book, Irreverent, a visual diary done in collaboration with Purple editor Olivier Zahm, due out this month from Rizzoli; another, on the Chanel black jacket, with Karl Lagerfeld, is also in progress. She styled the fall campaigns for Givenchy, Jean Paul Gaultier, and Chanel, injecting house codes with the cool-girl brand of quirkiness she is known for. And, of course, she covered the couture collections for W, styling herself in the portfolio you see here, and taking wmagazine.com viewers on a tour of the scene with an assist from filmmaker Loïc Prigent. "I'm my own boss now, and it's a little scary," Roitfeld said. "But it's nicer. I'm like a butterfly, hopping from place to place."
Roitfeld has been a stylist since the late Seventies, well before fashion became part of mass culture and the people behind the scenes started amassing groupies of their own. But the raw and intimate quality of her work, which the world at large first came to know when she was Tom Ford's muse at Gucci in the Nineties, is a big reason why stylists started earning cachet on the level of photographers and designers. "She's had a huge impact on fashion," said Donatella Versace at Roitfeld's Atelier Versace fitting at the Hôtel Plaza Athénée in Paris. "She fights for glamour. Even when everyone was doing minimalism, she fought. She dares. You see her and you get inspired." Without a Carine and her brash, easily identifiable taste and slightly kinky humor, there would likely not be a Rachel Zoe, who is as well known for her own look as for what she puts on her clients. (Decide for yourself whether or not this is a good thing.)
From top: Roitfeld in a sea of paparazzi; Roitfeld with Donatella Versace.
A casual observer might mistake Roitfeld for the embodiment of French froideur, thanks to her uniform of stilettos and severe pencil skirts—not to mention her fondness for bondage and nudity in shoots. But once you get past the intimidating surface, both her work and her manner are much lighter and more down-to-earth. In conversation, Roitfeld is composed but enthusiastic, frank and a bit shy. Her predilection for heels only became a thing, she explained, so she wouldn't have to talk up to Testino, who is quite tall, and with whom she's worked for most of her career.
Watching her play dress-up in couture salons for this story was a master class in controlled giddiness. "Ooh, I love zis one," she said to Versace, about a saloon hall–style gown made out of perforated black leather and crystals. The oohing and aahing continued from behind the dressing screen as she wriggled into the dress. "It's more princess-y, more couture," she said when she emerged, celebrating yet another victory of fitting into a sample size. "I feel like a Barbie," she later said to Azzedine Alaïa, one of the designers she respects most, as she squeezed into a faux-croc skirt suit straight out of Blade Runner. It got to the point where her entire entourage—designers, producers, assistants—just wanted to dress her up and see how she would react. She indulged them all, putting her hands on her hips and squinting, taking a second and a half to decide, before politely reaching for her preferred choice. Usually, it was black.
Roitfeld is having a good time with her life, too. She's devoted to Christian Restoin, her partner of 30-plus years, and their two kids, Julia and Vladimir, with whom she's in touch almost every day by BlackBerry Messenger. She smiles a lot. She drinks vodka. She does ballet and yoga. (Roitfeld doesn't take fashion dead seriously: For our final sit-down interview, she had just arrived from a class, and paired her workout gear with black canvas Givenchy lace-up stilettos. "Look! Isn't that glamour?" she said, laughing.)
She gets some of her best ideas sitting around in airports, because "you see such a mix of people, from first-class to economy, and all types of bodies—skinny, round, short." More inspiring than perfection, she says, is "bad taste." (Hence her choice of Elizabeth Taylor for V—"a woman who I think had the worst taste in fashion," she said.)
Roitfeld's work is often a study in contrasts. She likes to incorporate quotidian props and personal belongings into the sexiest shoots, posing sharp-dressed models with oven mitt–size reptilian gloves, Frappuccinos, her father's sweaters, or kitty-cat masks, as she did for the fall Chanel ads. In the pictures taken for this story, she followed the same impulse; in each photo there is an item from her family—either her partner's, her son's, or her father's. And she stayed away from anything too literal: A look featuring a transparent tulle Givenchy gown was nixed for being "too historic"; instead, she popped out of the fitting room with a black harness underneath and, of course, more eyeliner. When directing models, "I want a lot of little gestures like this," she said, biting her thumbnail, twiddling her hair, and tugging on her shirt. "Natural gestures. I think when women see pictures like that they can see themselves more, because they're not just looking at a beautiful body."
From top: With Azzedine Alaïa; with Roger Vivier designer Bruno Frisoni; Roitfeld front row at the Chanel couture show.
As in any profession, stylists work in all sorts of ways. Some are cerebral, and you can easily spot the research and references in their work. Roitfeld, on the other hand, is more instinctive and personal; one could argue that she is her own best muse. "When I was working with Tom Ford, he would just look at me and ask, 'Will you wear it?'" Roitfeld remembered. "I'd say, 'Ah, too long, too short, lower waist, deeper V, unbutton'—that sort of thing. I don't create clothes, but I definitely know how to make them come alive."
Giambattista Valli's stretch silk georgette gown with ostrich feather detail. Roitfeld's own hat and Sergio Rossi shoes.

Photographed: Paolo Roversi
Giorgio Armani Privé's silk kimono cape and wool crepe skirt. Roitfeld's own jewelry and shoes.

Photographed: Paolo Roversi
Givenchy Haute Couture by Riccardo Tisci's off-white embroidered silk tulle gown and ivory-embroidered tulle sweater. Roitfeld's own jacket, jewelry, and shoes.

Beauty Note: When the neckline is a baring one, maintain skin around it with Lancôme Rénergie Lift Volumetry Neck Volumetric Lifting and Reshaping Neck Cream.

Photographed: Paolo Roversi
Rick Owens's stretch grosgrain dress. Roitfeld's own coat and shoes.

Photographed: Paolo Roversi
Azzedine Alaïa Haute Couture's crocodile print patent-leather jacket and skirt. Roitfeld's own jewelry, hat, and Sergio Rossi shoes.

Photographed: Paolo Roversi
Valentino Haute Couture's silk velvet and silk gazar gown. Roitfeld's own jewelry, belt, and shoes.

Beauty Note: A masterfully lined eye drawn with Lancôme's Artliner Eyeliner in Slate is an ideal match to a couture wardrobe.

Photographed: Paolo Roversi
Chanel Haute Couture's black wool and silver lamé tweed dress. Roitfeld's own shirt and jewelry.

Photographed: Paolo Roversi
Dior Haute Couture's ivory-embroidered silk jacket; Dior's vintage jacket. Roitfeld's own garter belt, jewelry, hosiery, and shoes.

Photographed: Paolo Roversi
Atelier Versace's crystal-embroidered perforated leather gown and silk mousseline T-shirt. Roitfeld's own cape and jewelry.

Photographed: Paolo Roversi
Gaultier Paris's wool jacket and silk tulle skirt. Roitfeld's own scarf and Sergio Rossi shoes.

Photographed: Paolo Roversi