Two Roitfelds For The Price Of One
In case you missed it, here are the top style stories from the week leading up to May 24th.
---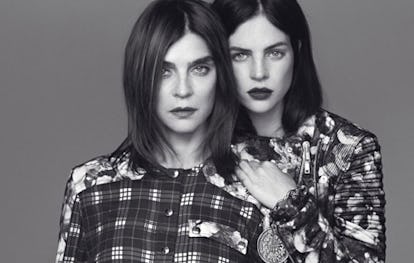 In case you missed it, here are the top style stories from the week leading up to May 24th.
Abercrombie & Fitch Finally issued an apology for the brand's "exclusionary" clothing policies in a statement from the heart: "We sincerely regret and apologize for any offense caused by comments we have made in the past."
Beckham, Victoria Wears customized Nike sneakers emblazoned with the word "Posh." Tweets about it. Makes front-page news.
Beyonce Opening up a boutique, sort of. Mrs. Carter is curating an online shop for Rent the Runway. (House of Dereon not included.)
strong>Bundchen, Gisele Forbes names the model number 95 of the World's Most Powerful Women in 2013–only 90 spots behind Hillary Clinton.
Chanel A new report declares the French fashion house the most popular high-end brand on Pinterest. Even though it doesn't have an account.
Chastain, Jessica Wore purple Spanx to match her Givenchy dress at Cannes. Shouldn't the headline actually be that Chastain's coordinating undergarments were visible? At least she made up for this wardrobe malfunction by wearing one of Elizabeth Taylor's Bulgari necklaces to the 50th anniversary viewing of Cleopatra.
De la Renta, Oscar The 80-year-old fashion designer "spontaneously" serenaded his niece Katherine Pingree at her wedding to Andrew Dick with Elvis Presley's "I Can't Help Falling in Love With You."
Delevingne, Cara Gets yet another hand tattoo; considers a post-modeling career in body art.
Fendi Plans to host an exhibition of Karl Lagerfeld's photography in July–because there hasn't been one of those in ages.
Ferragamo, Salvatore The iconic Italian designer, himself, gets the graphic novel-treatment. Stay tuned for the upcoming Disney flick.
Helayel, Daniella
The founding designer of Issa London leaves the brand to pursue other projects; Kate Middleton cries. Imposter of the Week Everyone who instagrammed a man resembling "Gangnam Style" phenomenon PSY had a lot of e-clean up to do.
Lincoln Center May no longer be the location of New York Fashion Week, if this new lawsuit has anything to do about it.
Menkes, Suzy Receives a shiny new title: International Fashion Editor of the International New York Times. (Where was the copy editor on that one?)
"Model Files" Vfiles's hilarious new series is back for season two; let's hope the niche style site survives its newfound spotlight.
Rihanna
Wears denim shorts so small they can only be described as risque underwear; inspires debate between nine New York magazine editors in the process. Roitfeld, Carine Saved–or maybe earned a little extra–money by casting herself and her daughter Julia in the latest Givenchy ad campaign that she also styled. Now there's a shoot we wish we were at.
Vezzoli, Francesco The Italian artist is on the cover of L'Uomo Vogue's May/June issue as Pope Innocent X. Velázquez would hopefully give his blessing.