Just Looking
A Brazilian shopping mall magnate puts his burgeoning art collection on display.
---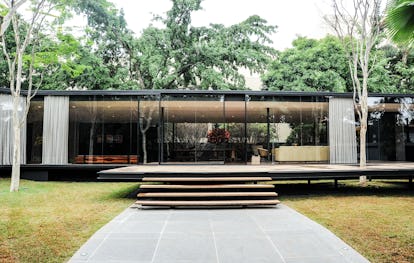 It's hard to believe, but the great American shopping mall was originally conceived to be more than a place to go for hamburgers and discount sunglasses. Its inventor, the Austrian architect Victor Gruen, imagined the mall as a lively social hub for the country's exploding midcentury suburbs—shinynewcenters for art and leisure in the automobile age.
It didn't quite work out that way in the U.S. But in Brazil, the entrepreneur Carlos Jereissati, 43, is attempting to elevate mall culture by bringing serious art to his high-end Iguatemi shopping centers.(He has nine in São Paulo state and fivemore throughout the country.) In the past 10 years, Jereissati has accumulated a substantial cache of works by the likes of Olafur Eliasson and Rirkrit Tiravanija, as well as by prominent Brazilian artists such as Vik Muniz, Alexandre da Cunha, and Chiara Banfi. His art-in-the-malls program rolled out in three Iguatemi locations this year—under the supervision of the Italian curator Jacopo Crivelli Visconti—complete with explanatory wall texts and interactive digital displays. And now Jereissati is showcasing key pieces, for a more select audience, in a newly built private jewel-box pavilion smack in the middle of São Paulo's tony Jardins district.
Known as Casa Jereissati, the6,000-square-foot glass-and-steelhouse was inspired by Mies van der Rohe'sFarnsworth House. It is furnished with important pieces by Brazilian designers like Sergio Rodrigues and Joaquim Tenreiro and is bedecked with artworks by Sarah Morris and Luiz Braga, among others. The residence is used mostly for special events, meetings, and parties. "People love coming here," says Jereissati, who has hosted megacollector François-Henri Pinault and Burberry chief creative and CEO Christopher Bailey.
For Jereissati, combining art and commerce came naturally, in step with his brand's mission of "explaining value" to customers in a developing market, like Brazil's, where tastes are still very much in flux. "Our goal is not only to attract people for consumption but also for them to learn about things," he says regarding his malls, while conceding that the concept "might not be suitable for everywhere in the world." Still, who knows…Jeff Koons might just be coming to a Hot Topic near you.
Carlos Jereissati at home. Portrait by Bob Wolfenson.
Casa Jereissati, São Paulo. Photograph by Neil Ramus/BFAnyc.com.
Sarah Morris's Hospital da Lagoa (Rio), 2012, in the living area, with furniture by Naoto Fukasawa and Joaquim Tenreiro. Photograph by Neil Ramus/BFAnyc.com.
The back of the house. Photograph by Neil Ramus/BFAnyc.com.
Tenreiro furniture in the living area. Photograph by Neil Ramus/BFAnyc.com.
Sergio Rodrigues's 1962 Aspas armchair. Photograph by Neil Ramus/BFAnyc.com.
Another seating area, with furniture by Ray and Charles Eames and Warren Platner. Photograph by Neil Ramus/BFAnyc.com.