Carly Rae Jepsen and Lorde Both Promise New Albums Are Coming This Year
Both pop stars confirmed they will release new music at some point this year.
---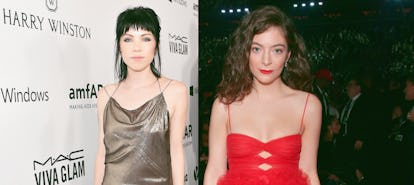 Photo courtesy of Getty Images.
If you thought that after Chromatica, there would be no new pop music to consume (besides whatever ends up popping off on TikTok) this summer, then think again. Thanks to critical pop darlings—Carly Rae Jepsen and Lorde—there is still some hope for what would otherwise be a summer lost to the pandemic.
For a few months, stans have speculated that a Dedicated B-sides album might be dropping, putting every social media post and announcement of Jepsen's under a microscope and scanning for clues. But now, via Instagram and Twitter, the pop star has released a video that confirms the existence of such B-sides.
A year after her 2015 album E•MO•TION received critical acclaim, she dropped E•MO•TION: Side B as a treat for the fans. She plans to do this again. Last year, she did say she had recorded over 200 songs for the record before trimming it down to just 15 for the final product. Today, by incorporating plenty of tweets from actual fans, Jepsen made an announcement that she is going to give her fans everything they want—a follow-up to the 2019 album with some of those leftovers that didn't make it to the first cut. There's no official release date, but it's safe to say that the extra tracks could be released soon, possibly this summer.
Lorde also promised that her third album is on the way at some point this year, though she didn't exactly specify when either. Fans who have signed up for the musician's newsletter received an email from Lorde giving an update on her process for her highly anticipated follow-up to her 2017 album Melodrama, saying she is "truly jazzed for you to hear it."
The album was initially due much earlier, but when her dog Pearl passed away in 2019, the singer put everything on pause. Though she said she returned to the studio last December, the coronavirus pandemic delayed things even further. "A thing started to take shape. And then, of course, the world shut down," she wrote while quarantined in New Zealand. "We're still working away—Jack and I FaceTimed for over an hour this morning going over everything. But it'll take a while longer," she went on. "In my opinion, the greatest treat I can give you is work that will last ten, twenty, thirty years. And that kind of work takes time. So if you can, I'd like for you to try tuning in to the time spent waiting for something of the highest quality to arrive. Enjoy the sensation as it builds."
As the rapper Saweetie once said, both pop stars are about to give us "something fun, something for the summertime, something for the girls to get ready and party to."
Related: Elle Fanning Covers a Previously Unreleased Carly Rae Jepsen Song