La La and Carmelo Anthony Might Have Reunited at Fashion Week
Sources say they're reconciling.
---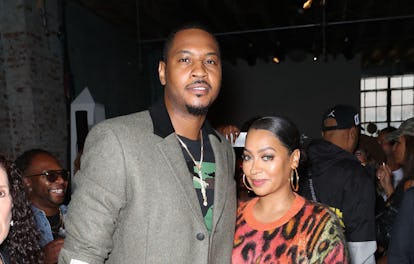 Photo by JNI/Star Max/GC Images
Is there anything more romantic than lovers reuniting? How about lovers reuniting at Fashion Week? Page Six reports that La La and Carmelo Anthony have "reconciled," and the source adds that "they were at the Fear of God presentation for New York Fashion Week. They arrived separately, but were holding hands in the VIP balcony and left holding hands in the middle of the Q&A." Another source said, "They are working their relationship out and they've always remained friends. They're around each other and it's for the betterment of their situation."
It was an exciting Fashion Week for Melo in more ways than one. The new member of the Houston Rockets launched his first "Melo Made" collaboration, which will include many designers, among them La La's brother Christian Vazzquez. At the launch party, La La wore her wedding ring, notes BET.
In addition to the launch, the couple also attended Swizz Beatz's 40th birthday together. At the party, they mingled with other stars like Alicia Keys, Tiffany Haddish, Forest Whitaker, DJ Cassidy, and Christian Louboutin, per Page Six.
The basketball player and the TV host have been together for over a decade; they became engaged in 2004 and married in 2010. Their son, Kiyan, was born in 2007. TMZ first reported the couple's separation in April of last year, citing work stresses as a factor and noting that they remained amicable and planned to keep Kiyan in New York, where he grew up. As far as we know, there were never any moves made toward a legal separation. Here's hoping this family finds happiness and more!
Related: Carmelo Anthony Really Loves Wine