Carmen Electra Reminisces About Prince
Yes, the actress and singer once worked with His Royal Badness.
---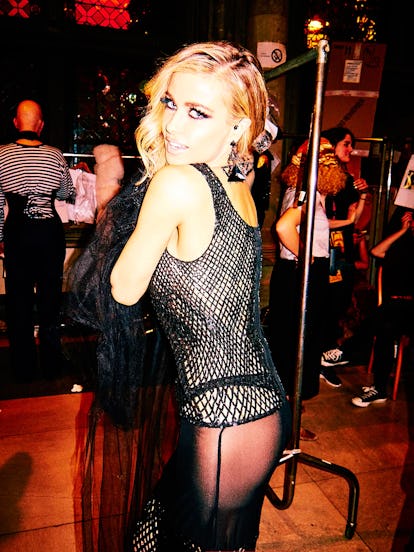 On the verge of the launch of her eponymous fragrance, Carmen Electra, a triple threat as a dancer, singer and actress, recalls working with Prince. She also shares some of the beauty tips she picked up from The Purple One and others she's gleaned during her peripatetic Hollywood career.
What's your first beauty memory? When Prince signed me to his record label Paisley Park, I had my first professional photo shoot with a full team of make-up, hair, and stylists. It was so new to me, and I was very nervous at first. It didn't take me long to start loving it. Prince actually had one of those photos enlarged, and hung in Paisley Park.
What was your biggest beauty blunder? When a make-up artist over-ontoured my face. I'm not a fan of over contouring, but a lot of make-up artists are into that. I didn't realize until I hit the red carpet, and later saw photos with white around my eyes, and too much contour around my forehead, cheeks, and nose.
What b__eauty products are currently in your purse?__ MAC Haute and Naughty water proof mascara, MAC Under Age lip gloss, and a little MAC C4 Powder in case I get too shiny.
What's your 5 minute morning routine? I wash my face with SkinCeuticals Purifying Cleanser, apply SkinCeuticals Skin Firming Cream, a little MAC mascara, some MAC Under Age lip gloss, a light spray of my new Carmen Electra perfume, put on my sunglasses, a snap back, and I'm ready to go.
If you had an extra 10-15 minutes in your routine, how would you spend it? I would also apply a small amount of MAC C-4 powder along with MAC Sheertone Shimmer along my cheek bones.
What's your biggest beauty peeve? Pencil thin drawn-on eyebrows. I like bushy natural eyebrows. I think it looks more youthful. My favorite eyebrow pencil is Anastasia Beverly Hills in Light Brown.
What are you currently obsessed with? Lashes! My favorite brand is Ardell Demi Wispies, or MAC #7's. I also like different shapes and sizes, and will sometimes combine them to create my own lash. There was a time in my career when everyone wanted to tone me down, and take them away. I became used to it for a while, but now that they're back, I'm living and loving the eyelash craze!