Don't Miss: Carol Bove's "The Equinox" at MoMA
The Red Hook, Brooklyn-based artist strikes a delicate balance in a stunning new installation
---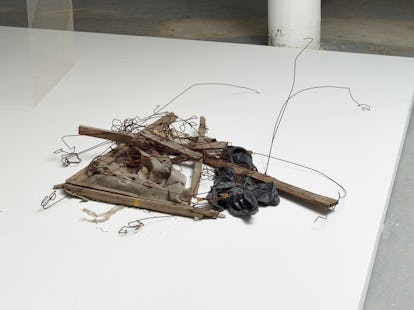 I was thrilled to see that Carol Bove's "Disgusting Mattress" made it into her fantastic installation at MoMA. The found object is now in its rightful place, on a pristine white plinth along with six other sculptures, overlooking the museum's sculpture garden, as part of "The Equinox," on view through January 12, 2014. Read more about Bove's world, including the story behind the "Disgusting Mattress," here.
Carol Bove: The Equinox at MoMA
Installation view of the exhibition Carol Bove: The Equinox. All artworks either courtesy of the artist, Maccarone New York and David Zwirner New York/London or in the collection of MoMA and © 2013 Carol Bove. Photo by John Wronn © 2013 The Museum of Modern Art, New York.
Carol Bove, "Terma," 2013. Courtesy of the artist, Maccarone, New York and David Zwirner, New York/London
Carol Bove, "Triguna," 2012. Photos by EPW Studio/ Maris Hutchinson. Courtesy of the artist, Maccarone New York and David Zwirner New York/London
Carol Bove, "The White Tubular Glyph," 2012. Photos by EPW Studio/ Maris Hutchinson. Courtesy of the artist, Maccarone New York and David Zwirner New York/London
Carol Bove, "Silver Compass," 2005. The Museum of Modern Art, New York. Fund for the Twenty-First Century
Carol Bove, "Chesed," 2013. The Museum of Modern Art, New York. Fund for the Twenty-First Century
Carol Bove, "Disgusting Mattress," 2012. Courtesy Maccarone, New York and David Zwirner, New York/London
Carol Bove, "Herma," 2013. Courtesy Maccarone, New York and David Zwirner, New York/London