Eye of the Beholder
Cosmetics powerhouse Carol Hamilton finds beauty everywhere—from her modernist home to her many pet causes.
---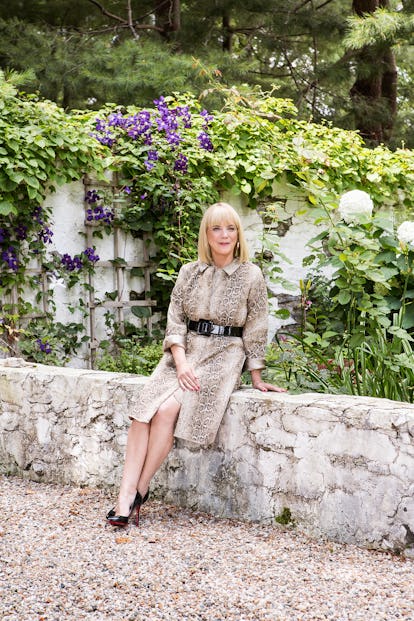 Photographer: Jeremy Liebman Stylist: Karla Martinez de Salas
Look Good, Do Good
Carol Hamilton was a senior at Vassar College when L'Oréal came out with its groundbreaking "Because I'm worth it" campaign in 1973. "I remember hearing those words, and being fascinated by the fact that a major corporation was promoting female confidence and self-worth," she says. "It really resonated with me." In more ways than one, apparently. Today, Hamilton is the powerhouse president of L'Oréal Luxe USA and one of the beauty industry's most respected executives. Since joining the French cosmetics giant in 1984, she has not only helped build its luxury businesses on both sides of the Atlantic but also spearheaded its support of women's and children's wellness and empowerment programs, including the L'Oréal Paris partnership with the Ovarian Cancer Research Fund and Giorgio Armani Acqua for Life partnership with Unicef. She also initiated L'Oréal Paris Women of Worth, which honors those who make outstanding contributions to their communities. "Philanthropy is what motivates me, both professionally and personally," Hamilton says. "Perhaps it's because I don't have my own children, but I really want to give back and help make the world a better place for women to live and work in."
The Constant Gardener
Whenever they can, Hamilton and her husband, Rodney Steinweg, an investment adviser, trade Manhattan for Litchfield, Connecticut, where 15 years ago they lucked upon a masterpiece by Marcel Breuer. Commissioned by Rufus and Leslie Stillman in 1973, the house overlooks 13 acres of hay fields, fruit-tree orchards, a large pond, and a garden brimming with blooms. "Gardening is a great source of relaxation, and because I'm in the color business, it's also inspiring," Hamilton says. "I study gardens all over the world and am always taking pictures of interesting colors and petal shapes." In contrast to the profusion of pastels outdoors, the art-and-book-filled interiors are mainly black and white, occasionally punctuated with the primary hues favored by Breuer. There's a cobalt floor in the kitchen and a fiery-orange one in the pantry; the custom banquette on the porch is upholstered in shades of Piet Mondrian. The couple's Asian antiques cohabit easily with modern furniture and lighting by Le Corbusier, Charlotte Perriand, Vladimir Kagan, and Achille Castiglioni. Says Hamilton of the house: "It's a work of art, and a pure joy to live in. The only challenge is getting here. But once we're here, we never want to leave."
Business and Pleasure
"I've been a beauty junkie since the age of 5," confesses Hamilton, who grew up in Los Angeles. "I used to spend hours in the local drugstore, studying the potions and pigments." Not much has changed. "You can't imagine how many products I bring home on a daily basis," she says. "I've rejected houses and apartments without good bathroom storage." Luckily, the master bath in her Connecticut house is equipped with plenty of open shelves to display her artfully organized beauty booty from L'Oréal's luxury brands including YSL Beauté, Lancôme, Giorgio Armani, Kiehl's, and Clarisonic. Hamilton tries not to play favorites. "I love all my brands," she insists. The cosmetics maven is also a fashion hound. Her staple labels include Saint Laurent, Viktor & Rolf, and Giorgio Armani, but she mixes in the odd piece by Mary Katrantzou, Carolina Herrera, Valentino, or Lanvin. Her most prized accessories have personal significance, like a gold charm bracelet handed down by her fashion designer mother-in-law, Louise Steinweg ("She was my best friend and style counsel") and the rose-cut diamond necklace her husband surprised her with on a trip to India. Another treasure: a multi-strand turquoise and diamond bracelet by Cathy Waterman. Hamilton bought the piece at a L'Oréal-sponsored event benefiting the Ovarian Cancer Research Fund, and whenever she wears it, she's reminded exactly why it's all worth it.
Photos: Eye of the Beholder
Carol Hamilton at her home in Litchfield, Connecticut. Hamilton wears Giorgio Armani coat, top, and skirt; Ralph Lauren collection belt; Christian Louboutin pumps; her own jewelry.

Photographer: Jeremy Liebman Stylist: Karla Martinez de Salas
A Werner Pfieffer sculpture at the entrance.

Photographer: Jeremy Liebman
Hamilton with her mother-in-law, Louise Steinweg, Paris, 1995.
Hamilton's Breuer house in Connecticut.

Photographer: Jeremy Liebman
Hamilton, with legendary spokeswomen of L'Oréal: Diane Keaton, Eva Longoria, Andie MacDowell, Beyoncé Knowles, and Dayle Haddon (from left). Courtesy of L'Oreal.
A collection of statues from Thailand.

Photographer: Jeremy Liebman
Photographer: Jeremy Liebman
Photographer: Jeremy Liebman
A 1973 L'Oréal ad. Courtesy of L'Oréal.
Photographer: Jeremy Liebman
Hamilton's bathroom is filled with her many favorite beauty products.

Photographer: Jeremy Liebman
The cantilevered screened porch, with a banquette she designed.

Photographer: Jeremy Liebman
Working with Unicef in Ethiopia, 2014. Courtesy of Jiro Ose/U.S. Fund for UNICEF.
Hamilton's tortoiseshell cat, Rosie.

Photographer: Jeremy Liebman
A vintage charm bracelet, a gift from her mother-in-law.
Hamilton and Steinweg at the Musée Rodin, Paris, 1995.
Photographer: Jeremy Liebman
Photographer: Jeremy Liebman
Her grandfather's Croix de Guerre certificate from World War I.

Photographer: Jeremy Liebman
Portrait from the L'Oréal Legends Gala, 2006.

Photographer: Jeremy Liebman
Hair by Yohey Nakatsuka; makeup by Tim Quinn at ABTP for Giorgio Armani Beauty. Fashion Assistant: Sarah Zendejas.