Pop Goes The Easel
After a career of turning out chart-topping tunes, songwriter Carole Bayer Sager looks to the canvas for inspiration. Amanda Fortini pays a visit to a woman of many talents.
---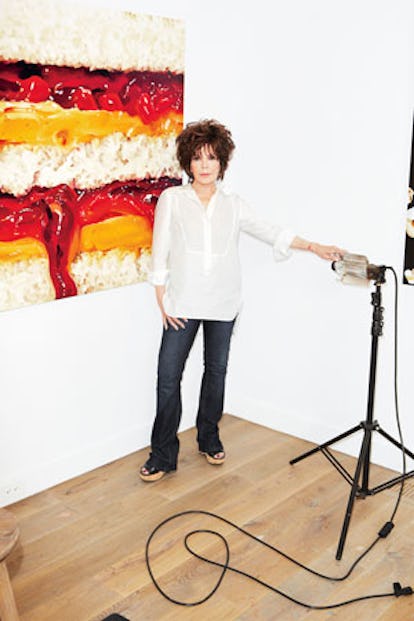 If you have listened to pop music at all in the past four decades, you have no doubt heard a song—and likely many songs—with lyrics by Carole Bayer Sager. Her discography reads like a light-rock's greatest hits album. There's the operatic and inspirational "Don't Cry Out Loud," written with ­Peter Allen; the almost illegally sexy "Nobody Does It Better," written with the late Marvin Hamlisch; and a bouquet of memorable soft-pop hits penned with Burt Bacharach, her ex-­husband and collaborator of many years—among them "Arthur's Theme (Best That You Can Do)," "On My Own," and "That's What Friends Are For." Her songs have become such a familiar part of our cultural soundtrack that it's difficult to believe they didn't always exist.
These days, though she encounters her music all over the place ("I go to weddings, I hear it; I go to funerals, I hear it," she says of "The Prayer," recorded as a duet by Andrea Bocelli and Celine Dion), she is no longer writing many new ones. For the past five years, she has channeled her creative energies into a new pursuit: oil painting. "I wasn't getting the same number of calls to write songs," she says, by way of explaining the shift, when we meet one afternoon at her ­Georgian-style Bel-Air mansion. "Plus, I was feeling less ­excited about writing." She motions toward a dozen or so oversize paintings, one of them in progress, that cover the walls of her studio, which is made largely of glass, like a greenhouse: "I consider this my work now," she tells me. Bayer Sager—a petite woman with intense olive green eyes and high, tousled hair that gives her a slight aura of eccentricity—paints five days a week, from 11 a.m. until 6 p.m., at which time her husband, Robert Daly, the former head of CBS and Warner Bros., calls to ask when she's heading up to the main house. "I make it like a workday," she says. "Once I was bitten [by painting], it was all I ate, drank, slept, thought, and wanted to do," she says of her art, which will be shown in "New Works" at the William Turner Gallery in Santa Monica starting November 1 (through December 2012). As Michael Govan, director of Los Angeles County Museum of Art, puts it: "She has a natural creative ability that seems to extend to whatever she does."
In the past, Bayer Sager, who had four years of private lessons, has painted both abstracts and portraits of her famous friends: Nicole Kidman, David Geffen, and Michael Chow, who paid her in "a combination of dollars and credit at the restaurant," she says. Her current artworks hover somewhere ­between abstract and representational. In warm Italianate reds, beiges, and tans on canvases that are up to seven feet square, Bayer Sager paints close-ups of snack foods like peanuts, popcorn, and Cracker Jack, zooming in on them until they appear unfamiliar. In Galaxy, the curved reddish-brown skins that cradle peanuts in their shells become flecks against the vast ­expanse of a black canvas. In Kid's Delight (pictured), white bread sandwiching layers of peanut butter and dripping strawberry jam looks enticingly spongy.
You might say that this current subject matter grew out of her erstwhile career. "I was thinking about the world of pop, because pop has been my entire life,' she says. She's referring to the numerous catchy tunes she's written since her first hit, "A Groovy Kind of Love," at age 19, as well as the art of the fifties and sixties (like that of Roy Lichtenstein and Andy ­Warhol) that has inspired her visual work. In her mind, she then made an associative leap: "Pop!, I thought, Bubbles are pop. Maybe I'll paint bubbles…they pop!" She began blowing bubbles "like a 4-year-old," photographing them, and painting them against a bright-blue background. And then, ­suddenly, inexplicably, she felt the composition lacked the buttery brown of Cracker Jack. "I loved the color combination. But I no longer knew what I was doing, or why; I just needed to do it that way." ­Eventually, the painting evolved into the semiabstracted snack-food-centric series of the upcoming show.
It's Bayer Sager's willingness to follow her creative intuition that truly links her first and second acts: "I've always said that the best songs don't come from us; they come through us," she says. She's currently awaiting her next inspiration. "I don't know what I'll paint. I just think, as long as I have this passion, I need to continue following it…I always believe that if you empty the rice bowl, something comes along to fill it."