Carolina Herrera Teams Up with Project Paz
The designer celebrated a new collaboration with a chic cocktail party
---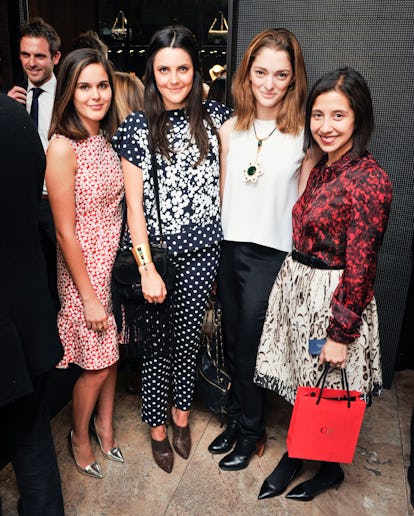 What: Cocktails celebrating a collaboration between CH Carolina Herrera and Project Paz, a non-profit that helps underprivileged children in Juarez, Mexico. A limited-edition leather bracelet—100% of profits go to the charity—was unveiled and for sale.
Where: The CH Carolina Herrera store on Madison Avenue, where the dark wood walls stacked with bags and jewelry could barely contain the 125 plus guests.
When: Tuesday, March 18th
Who: Hosts, including Sofia Sanchez Barrenechea and Eugenia Gonzalez; DJ Chelsea Leyland (who took care of the evening's soundtrack); fashion blogger Danielle Bernstein; jewelry designers Lisa Salzer and Sara Beltran, and of course, Carolina Herrera.
Why: Charity and champagne have always mixed well, but this party had the added bonus of a very in-demand bracelet. The navy leather wrap-around number was so popular—only 60 were available at $50 a pop—that Mrs. Herrera had to call on her way to the event to make sure they reserved two for her.
Photos: Carolina Herrera Teams Up with Project Paz
Carolina Herrera. Photo by BFAnyc.com.
Giovanna Campagna, Eugenia Gonzalez, Sofia Sanchez Barrenechea, and Karla Martinez de Salas, all wearing CH Carolina. Photo by BFAnyc.com.
DJ Chelsea Leyland. Photo by BFAnyc.com.
CH Carolina Herrera x Project Paz Bracelets. Photo by BFAnyc.com.
Danielle Bernstein. Photo by BFAnyc.com.