Caroline Corbetta: Guerrilla Gallerists
Meet three storefront curators who are gleefully subverting the white-cube mentality.
---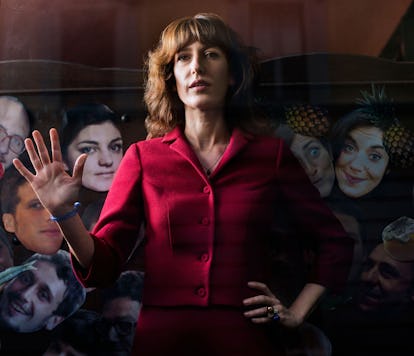 Caroline Corbetta peers into the window of Il Carpaccio, a trattoria in Milan's arty Porta Venezia district. Scraps of paper are stuck to the inside of the glass—the detritus, she explains, of a night of performance art she organized the previous month. In the dining room, the otherwise traditionally attired proprietor has a tiny red phallus embroidered on his shirt, another memento of the evening. The artist Francesca Battello had stitched it onto guests' clothes.
To art insiders, Il Carpaccio is affectionately known as Il Crepaccio ("the crevasse"), a reference to the restaurant's 16-inch-deep window, which Corbetta, after moving the meat slicer, took over as an exhibition space in May 2012. (The restaurant continues to function in the back.) Since then, she has presented shows by young artists such as Serena Vestrucci, who filled the window with objects dangling on strings, and Riccardo Andujar, who makes enigmatic sculptures of heads on plinths. "Happenings" are staged in the street out front. One night brought a school bus screening video art; on another occasion, a chalk outline in the street was filled in with a pile of oranges. At the opening parties, curious passersby mingle with the city's art and fashion crowd. "Milan is both bourgeois and avant-garde, but these two levels don't speak so often," Corbetta says. "I'd like to create a space where they meet."
A critic as well as a curator, Corbetta, a 41-year-old native of Milan, has long worked with big names like Francesco Vezzoli and Maurizio Cattelan, but she is also a champion of less famous artists. Her talent-spotting abilities are formidable. A show she curated in 2005 at Milan's galleria Giò Marconi of the work of the then unknown Nathalie Djurberg was bought almost in its entirety by Miuccia Prada; three years later, the Fondazione Prada commissioned its own Djurberg exhibition. Corbetta scored another success at this year's Venice Biennale, with Padiglione Crepaccio at Yoox.com, a project featuring the work of 10 young local artists—a demographic normally overlooked by the Biennale—in a palazzo, where some of them also live. All the work, including Thomas Braida's gothic oil paintings and Valentina Roselli's framed assemblages of notes, rolled-up paper, and magazine pages, was for sale at Yoox.com.
Next up at Il Crepaccio is a "performative dinner" by the young fashion designer Andrea Incontri and a Christmas concert by the Icelandic artist Ragnar Kjartansson, whose nine-screen video installation "The Visitors" was recently on view at Milan's HangarBicocca gallery. It's all part of Corbetta's mission to bring contemporary art to a wider public. "It's really exciting when the old ladies from the neighborhood pass by and say, 'What's that? Is it art?' "