Caroline Trentini Loves Coconut Water, Hates Cleanses
The Brazilian model shares her beauty secrets.
---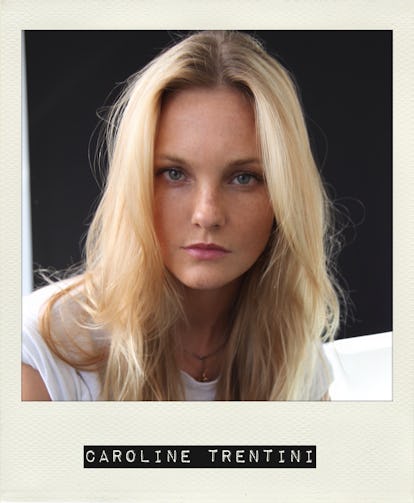 Brazilian model Caroline Trentini appears all wrapped up in W's May 2015 Art Issue. Here the 27-year-old shares her real-life laid back beauty secrets.
Define your look in three words: Clean, easy, effortless.
Five-minute routine: A moisturizing mask before bed.
Never leave the house without: Lip balm (Or sunglasses, depending on how my son slept the night before).
Beauty from the inside out: Coconut water.
Exercise regime: Kickboxing, two times a week.
Cleanse or not: Not.
Beauty essentials: YSLTouché Éclat Concealer, eyebrow brush, rosewater spray.
Skincare secret: Glossier Phase 1 Kit in the mornings.
Hair remedy: My favorite salon, Laces, in Brazil.
In-tub must-read: A newspaper? Though I don't really read in the tub…
Spa-cation at: Spa Kennzur in São Paulo.
Fragrance of choice: Chloé.
Best advice from mom: Always put on a smile and appreciate your uniqueness.
Best advice from the pros: After having your makeup done for an event, always take a picture with flash for a final check—this shows if the colors of the concealer/foundation are right.
Beauty icon: Lauren Hutton.
Oscar de la Renta jacket, $2,490, jacket (around waist), $2,690, and skirt, $1,390, Oscar de la Renta, New York, 212.288.5810; Blumarine gown, $12,810, and dress, $3,395, blumarine.com; Michael Kors madras-print skirt, $2,895, michaelkors.com; Prada clogs, price upon request, prada.com.
Fendi dress, $2,650, Fendi, New York, 212.897.2244.

Photographer: Willy Vanderperre Stylist: Panos Yiapanis
Photographer: Willy Vanderperre Stylist: Panos Yiapanis
Michael Kors top, $1,995, skirt, $8,995, gingham-print dress, $2,695, dress, $1,750, michaelkors.com; Prada clogs, price upon request, prada.com.

Photographer: Willy Vanderperre Stylist: Panos Yiapanis
Giorgio Armani blazer, $3,395, Giorgio Armani, New York, 212.988.9191; Céline dress, $4,750, Céline, New York, 212.535.3703; Michael Kors skirt, $1,495, and dress, $1,695, michaelkors.com.

Photographer: Willy Vanderperre Stylist: Panos Yiapanis
Balenciaga top, $7,450, similar styles at Balenciaga, New York, 212.206.0872.

Photographer: Willy Vanderperre Stylist: Panos Yiapanis
Photographer: Willy Vanderperre Stylist: Panos Yiapanis
Céline dress, $4,750, Céline, New York, 212.535.3703; Michael Kors skirt, $1,495, and dress, $1,695, michaelkors.com.

Photographer: Willy Vanderperre Stylist: Panos Yiapanis
Givenchy by Riccardo Tisci coat, price upon request, Bergdorf Goodman, New York, 212.753.7300; Boss top and skirt, prices upon request, 800.HUGO.BOSS; Bottega Veneta gingham-print dress, $2,250, bottegaveneta.com; Michael Kors embroidered skirt, $8,995, michaelkors.com.

Photographer: Willy Vanderperre Stylist: Panos Yiapanis
Max Mara dress, $1,150, and skirt, $1,590, Max Mara, New York, 212.879.6100; Michael Kors madras-print skirts, $1,895 and $2,895, michaelkors.com; Giorgio Armani pants, $1,375, Giorgio Armani, New York, 212.988.9191; Prada clogs, price upon request, prada.com.

Hair by Anthony Turner at Art Partner; makeup by Lynsey Alexander at Streeters London; manicure by Anatole Rainey at Premier Hair & Make-up. Model: Caroline Trentini at the Society Management. Set design by Emma Roach at Streeters London. Digital technician: Henri Coutant at DTouch. Photography assistants: Romain Dubus, Will Grundy. Fashion assistants: Ai Kamoshita, Isabella Kavanagh. Hair assistant: David Harborow. Makeup assistant: Camila Fernandez.

Photographer: Willy Vanderperre Stylist: Panos Yiapanis