Carrie Fisher and Debbie Reynolds Are Together Again, Hilariously, in the New HBO Documentary Bright Lights
The revealing film, which premieres this Saturday on HBO, is proof that the more these two fight, the closer they got.
---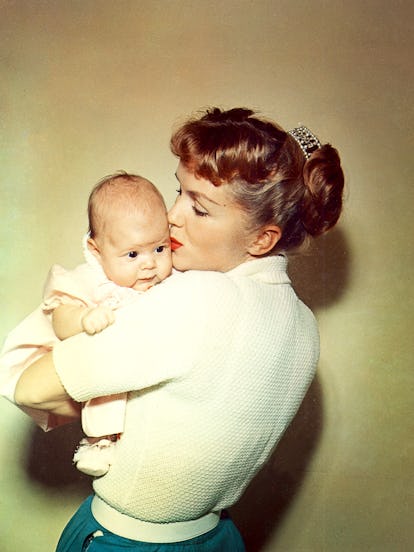 Fisher Family Archives/Courtesy of HBO.
Carrie Fisher's death, at 60, on December 27, seemed to be the final twist of the knife in the relentlessly awful 2016, the year in which few cultural icons were safe. Then, the very next day, her mother, Debbie Reynolds, 84, also died. "I want to be with Carrie," Debbie reportedly told her son, Todd Fisher. It was a perfectly scripted Hollywood ending befitting two legendary dames, one which will be expanded upon in Bright Lights: Starring Debbie Reynolds and Carrie Fisher, a new documentary airing this Saturday, January 7 on HBO. (It had originally been slated for Mother's Day in May.) The film, by Alexis Bloom and Fisher Stevens, explores the mother-daughter duo's funny, touching and enduring relationship, showcasing each woman's star-making charisma while exploring the perils of fame and the doldrums of diminishing celebrity.
Both were best known for their early work: Reynolds as the sweet-as-pie Singin' in the Rain darling, and Fisher as the face that launched a thousand spaceships (and a million fantasies featuring cinnamon-bun hair, high ponytails, and gold bikinis). We see Fisher at Star Wars fan events ("lap dances," she calls them) signing posters, posing for photos and collecting cash, ever aware that the fee has everything to do with her iconic character. "They love her," Carrie says of Princess Leia. "And I'm her custodian and as close as they're going to get."
Reynolds, meanwhile, continues to perform with the assiduous discipline of a signed MGM Studios player, complete with schmaltzy stage patter and weighty sequined gown. "It's like the old days, but I'm like the old days," Reynolds says of her act. As Reynolds's audience dwindles, so do her opportunities and her health. Arranging a final show in Las Vegas, she asks her daughter to perform with her. Fisher begins by singing the song selected by her mother as written, "I'll gladly wait a lifetime just to look at you. I'll smile if you say 'be glad.'" But she ends the ballad with a riff all her own: "I'll weep because I'm bipolar. Today is tomorrow if you do too much blow. I'll stay or I'll go, but I'll never say no." That tension between opposite personalities desperately devoted to each other is what gives Bright Lights its pull. "They're irrepressible," said Bloom, whose background making Frontline documentaries is evident in the film's verité style. "They're both such focus-pullers. Verbally, Carrie's such a sword fighter. Theirs was never going to be an easy, continuously gentle relationship."
Yet, as the film reveals, their sparring only seems to have brought them closer. Reynolds and Fisher live in separate houses on the same property, an arrangement that might portend Grey Gardens if it weren't so apparent that these Edies are in on the joke. At one point, Fisher trots through the yard to pass off a soufflé to her mother; in another scene, they realize they're wearing the same shoes. Moments like these, when their reality seems deliberately heightened for the rolling cameras, go far in speaking to the effects of a life lived as a continual performance—especially for Fisher, who never was one to let you see her sweat, much less without lipstick. "Debbie was not easy to film," Stevens acknowledged before her death, "because she's so used to playing to the camera. She didn't really understand what a documentary was, so to speak. She asked us at first, 'What are my lines?'"
Of course, unflappability and wit were also their saving grace, serving both well as their family is built and destroyed in the public eye. Reynolds married America's favorite crooner, Eddie Fisher, only to have him jilt her for her friend Elizabeth Taylor. Then, she was nearly bankrupted by her second husband's gambling debt. And Fisher suffered from drug addiction and untreated bipolar disorder.
Both women righted themselves triumphantly as performers and advocates: Reynolds as a passionate archivist of Old Hollywood memorabilia and Fisher as a feminist and humorist chipping away the stigma surrounding mental illness. "Humor is the way they survive," Bloom observed in November, before their deaths. "And sometimes it's gallows humor and sometimes it's for pure escapism. And they get such pleasure from it, and such joy. It buoys them along." In the documentary, Fisher struggles to stick to her contractual obligation to exercise and diet (she swigs continuously from cans of Coca-Cola) as she prepares for her Star Wars comeback. At one point she asks, "My question is: If you die when you're fat, do you become a fat ghost? Or do you go back to a flattering time?" One can imagine the same wry wit in her ghost, which, thanks to the magic of digital effects is currently on the big screen in Rogue One as a 22-year-old, with all her adventures yet to come.
Debbie Reynolds' Hollywood Costume Collection
Reynolds poses alongside one of the original costumes she wore in the "The Unsinkable Molly Brown."

Getty Images
The Ascot dress Audrey Hepburn wore in My Fair Lady.

Alberto E. Rodriguez/Getty Images
The "Arabian" ruby red slippers from The Wizard of Oz were also once in Reynold's collection.

Jemal Countess/WireImage
Marilyn Monroe's iconic white "subway grate" dress.

Amanda Edwards/Getty Image
Alberto E. Rodriguez/Getty Images
Yul Brynner's costume from the 1956 classic Rogers& Hammerstein movie The King and I.

Photo by Kirk McKoy/Los Angeles Times via Getty Images
Debbie sits on the throne from the 1955 movie "Virgin Queen" and with dress worn by Berre Davis(R) and Joan Collins(L).

Photo by Kirk McKoy/Los Angeles Times via Getty Images
Another dress from the 1955 movie Virgin Queen.

Photo by Kirk McKoy/Los Angeles Times via Getty Images
Costumes from The Sound of Music.

Photo by Alberto E. Rodriguez/Getty Images
More outfits from Reynolds' collection.

Photo by Amanda Edwards/Getty Images
A headpiece from one of Reynolds' own films.

Photo by Frazer Harrison/Getty Images
Photo by Frazer Harrison/Getty Images
Photo by Frazer Harrison/Getty Images
The tiara Barbra Streisand wore in Funny Girl.

Photo by Frazer Harrison/Getty Images
A headpiece from Gone With The Wind.

Photo by Frazer Harrison/Getty Images
Emma Stone Sucked Her Thumb Until She Was 11 Years Old