Carrie Fisher, Hollywood's Rebellious Princess Leia, Dies at 60
Though Carrie Fisher will always be known for an iconic role, she'll also be remembered for her novels as a writer and candid discussion of her mental health.
---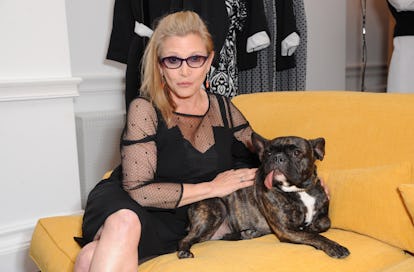 Getty Images for Marina Rinaldi
During the first act of the first Star Wars movie, the character of Princess Leia seems like she could shape up to be little more than a stubborn take on the "damsel in distress" trope. Her most famous line starts with the plea "Help me," after all.
But Leia would soon be revealed as one of the franchise's key protagonists, a leader of the rebellion forces, and a princess who ended up helping herself as much as anyone else. And the woman who brought the character to life would come to be known as much for the fierce independence she brought tho the part as for her famous Hollywood lineage.
Carrie Fisher, known the world over for that infamous intergalactic hairdo, has died at the age of 60, just days after suffering a heart attack aboard a flight from London to Los Angeles.
"It is with a very deep sadness that Billie Lourd confirms that her beloved mother Carrie Fisher passed away at 8:55 this morning," reads a statement released to People from family spokesman Simon Halls.
"She was loved by the world and she will be missed profoundly," added daughter Lourd, a star of the television show Scream Queens. "Our entire family thanks you for your thoughts and prayers."
Fisher leaves behind not only her most famous character but a rule-breaking career that defied the conventions of the entertainment business.
Hollywood royalty in her own right, Fisher was the daughter of actress Debbie Reynolds and singer Eddie Fisher. Her parents divorced when she was just two after her father infamously left Reynolds for her close friend Elizabeth Taylor. As a child, Fisher was known as something of a bookworm, but the calling of stardom always seemed to get in the way of her education. Her high school career was interrupted for a part in the Broadway musical Irene, in which her mother starred, and then she dropped out of Sarah Lawrence to film Star Wars.
Fisher had no interest in following up her Star Wars role with more of the same; she once famously said she would have rather played Han Solo after all, and had little patience for Hollywood. "You can't find true affection in Hollywood because everyone does the fake affection so well," she once quipped. While she continued acting steadily throughout the '80s and appeared in movies like Hannah and Her Sisters and When Harry Met Sally, Fisher soon found herself once again immersed in the world of words.
Her first novel, Postcards from the Edge, was released in 1987 and became a best-seller. A lightly fictionalized version of her own life, the tale of an actress trying to recover from drug addiction who moves in with her mother, a faded Hollywood star, was made into a box office hit starring Meryl Streep and Shirley MacLaine.
Fisher herself wrote the script and worked for decades as one of Hollywood's top script doctors; she was called into polish dialogue on movies as varied as Sister Act, Lethal Weapon 3, The Wedding Singer, Hook, Mr. & Mrs. Smith and even the Star Wars prequels.
She wrote five more novels as well as three non-fiction memoirs. She turned the first of those Wishful Drinking, into a successful one-woman show and later and Emmy-nominated HBO special.
Through her writing and interviews, Fisher was also uncommonly candid about both her struggles with substance addiction and mental health. While more and more stars are now open with their mental health issues, Fisher's honesty about her diagnosis with bipolar disorder (and the treatment, including electric shock therapy) was groundbreaking for the time.
Perhaps it's her brutal honesty, always served with a side of delicious wit, that should best define Fisher's legacy, rather than that one role she played. May the force be with her.
The Fashion Figures We Lost in 2016
Bill Cunningham, 1929-2016. The father of all street style photographers and his trusty camera obsessively documented both New York society and what people wore on the streets for decades, most notably for The New York Times.

Yu Fujiwara
Franca Sozzani, 1950-2016. The Italian Vogue editor redefined what a fashion magazine could be.
David Bowie, 1947-2016. The music legend also helped to push the boundaries of gender through his spectacular wardrobe.
Sonia Rykiel, 1930-2016. The French fashion designer began her career simply because she couldn't find sweaters she wanted to wear. She soon became the heralded "queen of knitwear."

Gamma-Rapho via Getty Images
China Machado, 1928-2016. The Richard Avedon muse was the first non-white model to appear on the cover of a major American fashion magazine.

COPYRIGHT ©2010 THE CONDÉ NAST PUBLICATIONS. ALL RIGHTS RESERVED.
Prince, 1958-2016. The purple one had a style all his own, and maintained close friendships with both Gianni and Donatella Versace.
Andre Courreges, 1923-2016. The French designer was the master of 1960's futurism.

ullstein bild via Getty Images
Zsa Zsa Gabor, 1917-2016. The socialite and model was the proto-celebutant.

Getty Images
Nancy Reagan, 1921-2016. During her tenure as First Lady, Reagan maintained a marvelous wardrobe and a busy schedule on both the Washington and New York social scenes.
James Galanos, 1924-2016. The American Couterier's list of faithful clients included Marilyn Monroe, Nancy Reagan, Ivana Trump, Jackie Kennedy, Lady Bird Johnson, Diana Ross, Judy Garland and more.

Getty Images
Betsy Bloomingdale, 1922-2016. A queen bee of the "ladies who lunch" set, Bloomingdale was married to a heir to the department store fortune.

Horst /Condé Nast Archive
Richard Nicoll, 1977-2016. The Australian-born fashion designer became a mainstay of the young British fashion scene.

Getty Images for Vodafone
Zaha Hadid, 1950-2016. The world's most honored female architect also found time for frequent collaborations with the world of fashion.
Aileen Mehle, 1918-2016. Better known by her pen name "Suzy Knickerbocker," the gossip columnist spread the dirt (or kept the secrets, depending on her mood) of New York Society's, most recently in the page of W.

Condé Nast via Getty Images
Marta Marzotto, 1931-2016. The Italian fashion icon began life in an orphanage, but after a career as a model she married a Count and became a fashion designer in her own right.

Getty Images for Louis Vuitton
Joan Helpern, 1926-2016. – Along with husband David, Helpern owned and designed Joan and David Shoes, high fashion footwear for women on the go.

FilmMagic
Fred Hayman , 1925-2016. When he opened Giorgio Beverly Hills it was the first high-end department store on Rodeo Drive, thus earning him the nickname "Mr. Rodea Drive."

Getty Images