July 7: JapanCongo
Artist Carsten Höller to curates a show of contemporary African and Japanese art.
---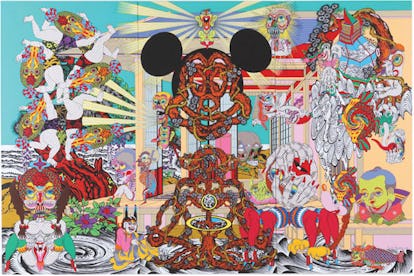 WHEN ARTIST CARSTEN Höller was growing up in Brussels, Belgium, in the Sixties, half the city spoke Flemish, while the other spoke French. The idea of divorced halves—what Höller calls "doubleness"—has intrigued him ever since. "Look at the symmetry of our physiognomy," he says. "Everything has a counterpart." At a dinner in Moscow two years ago, Höller met Italian collector Jean Pigozzi and promptly told him about his Double Club, a pop-up restaurant and club in London that the artist had divided into Congolese and Western sections. Intrigued, the collector invited Höller to curate a show from Pigozzi's vast collection of contemporary African and Japanese art, and thus "JapanCongo," an unlikely marriage of works by artists from Japan and the Democratic Republic of Congo, was born. The show debuted at Le Magasin in Grenoble, France, earlier this year and arrives this month at the Garage Center for Contemporary Culture in Moscow in an installation of two walls—one straight (Japan), one curvy (Congo)—that come together at a critical point so one eye is looking at each wall. "When you see it, you sense that the two walls are getting closer and closer," Höller explains. "You are between two sides, just like the way our personality is organized."
Congolese painter Chéri Samba's Je suis le même, mais je ne suis plus le même, 2003.
Tanaami: Courtesy Of Keiichi Tanaami and Nanzuka Underground, Tokyo; Samba: Courtesy Of Cheri Samba And Caac, The Pigozzi Collection, Geneva