Cliff Hanger
The Ghanaian home of artists Carsten Höller and Marcel Odenbach goes above—and beyond.
---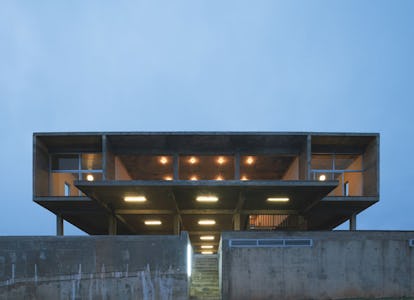 The flag gives it away. The cliffs around the town of Cape Coast, Ghana, on the Gulf of Guinea—where slave ships once left Africa for the Americas—are littered with architectural corpses: old buildings left to rot, new ones abandoned ­midconstruction. From a distance, the concrete house perched on pilings near the f­ishing village of Biriwa looks like yet another wreck. The long stained-­concrete wall facing the Atlantic Ocean is exposed to the elements.
But the flag says something different. A crisp red rectangle sporting three cartoonish heads with copyright symbols as the eyes, it ­flutters proudly in the ocean breeze on a neat bamboo pole. Anyone who knows—really knows—his or her contemporary art might recognize it as the work of General Idea, the Canadian collective of post­modernist artists. But even those who don't get the reference would realize that this particular flag is far too smart to have been left to fly beside a derelict building on a desolate stretch of the Ghanaian coast.
They would be right, because the house belongs to the German artists Carsten Höller, 50, the subject of a survey at the New ­Museum in New York on view until January 15, and Marcel ­Odenbach, 58, who is to stage an exhibition at Dallas Contemporary in Texas later this year. Having devoted much of the past ­decade to the ­tortuous process of designing the house and overseeing its construction, the two now fly in from Europe—Höller lives in Stockholm, Sweden, and Odenbach in Cologne, Germany—to spend part of each year here. "There is something magic about this place," says Höller. "Unexpected things happen all the time; there is a lot of ­unpredictability. I feel very different when I am here and am able to look at my work from a different perspective."
Dystopian though it appears from afar, the house is a stellar ­example of what the architectural historian Bernard Rudofsky called "architecture without architects," having been designed with its location in mind rather than architectural convention. A shallow concrete box hoisted to a height at which it seems set to glide into the Atlantic, the structure is equipped to survive scorching heat, fetid humidity, tropical storms, rainy seasons, and anything else the ­Ghanaian climate subjects it to—while allowing its occupants to ­enjoy the dazzling views from the cliffs and across the water. "When the sun goes down," says Höller, "the light is golden, and the house looks as though it is about to take off."
He and Odenbach each have a room on opposite sides of the building, shaped like skinny parallelograms with huge windows overlooking the ocean. The cavernous space between them includes a communal living area and kitchen with one long wall open to the Atlantic and nothing to stop the wind and rain from blowing through. During the day the surf can be seen—and heard—crashing on the gray rocks of the beach; at night, the water disappears into an eerie black chasm, with the roaring of the waves the only clue that the ocean is out there. "The sound is fantastic," says Odenbach. "Often I start playing music and then turn it off because I would rather listen to the waves."
From top: Höller's Walrus; Odenbach's In Stillen Teichen Lauern Krokodile (In Still Waters Crocodiles Lurk), 2002–2004.
A local fisherman drops by once a day to sell his catch—usually crayfish or lobster for lunch and flatfish for dinner. The coconut trees planted by the narrow path winding down to the tropical beach are finally bearing fruit. Höller roams around with binoculars to scrutinize birds or to spot fishermen rowing by in a boat hollowed out from a tree trunk. Turtis, the handsome bush dog with a bitten-off ear they were given as a puppy by friends in Biriwa, surveys the terrain from one of the concrete decks where he likes to stand sentry, before bounding off to play with Odenbach.
Despite the house's idyllic appearance, building it was an ordeal, legally and logistically. "We are like dilettante architects, and we made so many mistakes," says Höller. "But since this is Africa, it takes ages to build anything, so we had time to think about the mistakes and find the right solutions." Their amateur status, though, was only part of the problem. Even veteran architects would have struggled to construct a house a mile and a half from the nearest road on 25 acres of wild African scrubland while dodging the maze of legal obstacles facing any foreigner who tries to buy land in Ghana. "At the beginning, everyone thought we were crazy," recalls Odenbach. "Then they started to ask: 'When can we visit?' But the construction went on for so long that at a certain point they stopped asking us about the house. Nobody believed we would ever finish it."
The two men have been friends since the mid-1990s, when they met through Höller's then girlfriend, the artist ­Rosemarie ­Trockel, a close friend of Odenbach's. Trained as a scientist, Höller is part of the Relational Aesthetics group of artists, which includes ­Douglas Gordon and Rirkrit Tiravanija, and whose work involves creating experiences rather than objects. Among Höller's past projects are ­giant slides at Tate Modern in London and the Double Club, a Euro-Congolese nightclub designed in London for Prada's art foundation. He conceived his New Museum show as a series of experiences for visitors to participate in, one of which is the ­Giant Psycho Tank sensory-deprivation pool. "We invited Carsten to take over the whole museum, and he treated it as a place where people can have a living experience," explains ­Massimiliano Gioni, the exhibition's curator. "But for him, participation is complex and manipulative, always with an element of control."
From top: Odenbach's Untitled, 2011; Höller's Mirror Carousel, 2005.
Like Höller, Odenbach came to art from another field, ­after studying architecture and art history. By the time they met, ­Odenbach was established as a leading video artist, a "major pioneer," as Stuart Comer, the curator of film at Tate Modern, ­describes him. ­Odenbach belongs to an international network of artists whose work critiques the media, consumer culture, and sexual politics. Among them are various members of General Idea who became friends with ­Odenbach and made the flag that now flies outside the house.
One of the things Odenbach and Höller share is a long-standing fascination with Africa. Some of Odenbach's relatives had lived in Congo (now the Democratic Republic of the Congo), and he grew up listening to stories about their life there. "As a kid," says Odenbach, "when anyone asked me what I wanted to do when I was older, I'd always say that I wanted to go to Africa as a discoverer." Höller spent his childhood in Brussels flanked by neighbors on both sides who had lived in Congo. He was intrigued by the African artifacts he saw in their homes and in the nearby Royal Museum for Central Africa. Both he and Odenbach had traveled throughout sub-Saharan Africa, and in 1999 they visited ­Ghana together, staying at the Biriwa Beach Hotel, run by ­Claudia Kleinebudde. "One evening we were saying how wonderful it would be to have a house nearby, and Claudia said, 'Well, you could buy that land and build one over there,' " recalls Odenbach. "That's how this crazy idea started."
Anyone who chooses to construct a holiday home in Africa would be well advised to do so in Ghana—for the same reasons that President Obama chose to go there in 2009 on his first official visit to ­sub-Saharan ­Africa. A robust democracy with an expanding economy and enviable natural resources, including oil off the coast, Ghana is a visually stunning country whose people pride themselves on their friendliness. Not that it's exactly easy for foreigners to operate there: Freaky weather, gridlocked roads, and a labyrinthine legal system are just a few of the problems. "Ghana is friendlier and quieter than other African countries," notes Höller. "But it is still Africa—very much so."
So much so that once they decided to build there, it took years to complete the byzantine process of securing the property—land then owned by the village, although the only people using it were local fishermen checking their lobster nets. Then Höller and ­Odenbach realized they could not start work on the house unless they constructed a road for shipping the equipment and materials to the site—and they couldn't do that without buying the land on which the road would be built. The surrounding land had never been measured and is so steep that there were several false starts before a ­viable route was found. "One day the guy building the road took us out into the scrub to show us where it would go," Höller recalls. "It was the middle of the day. We didn't have any water. We were climbing through the bushes in our flip-flops. You have no idea what we looked like—complete idiots, really."
When work finally began on the house, the construction crew discovered that the "rock" they had expected to drill into for the foundation was actually sand. Höller and Odenbach had to delay a plan to build a guesthouse and instead tucked a guest room behind the communal space. Another plan, to line the swimming pool with gold-leaf tiles, was scrapped after they learned that the chemicals in the water degraded the gold and its reflection in sunlight would be almost blinding. And so on… "For four or five years, we would stay at the Biriwa Beach Hotel and bring our drinks here every evening to sit on two chairs on the floor of our raw, unfinished house," says Odenbach. "We lived here in our fantasies."
One idea that stuck was to distort the structure by making the walls not conform to right angles. They achieved this by designing their own rooms as parallelograms, rather than rectangles. Each corner is three degrees more or less than a right angle. The angles of those walls then define the shape of the communal space, which opens out toward the ocean, and make the room seem longer than it is. The errant three degrees make each part of the ­interior seem subtly disorienting, giving the exterior a slightly ramshackle shape. The concrete roof is angled and linked to a drainage system, which collects rainwater from there and from the communal space. "When there is a storm, you'll be sitting here with ­water going right through the house," says Höller. "And tropical rain pours off the roof like a curtain." A wind turbine was recently installed as an alternative source of power to the generator.
Local carpenters made the floors, stairs, doors, tables, sofa ­bases, and cabinets from odum, a tropical wood grown in Ghana. A metalworker devised a stainless steel shield in the kitchen to protect the stove from ocean breezes. By chance, Höller and Odenbach found a Ghanaian source of marble for the bathroom. All of the upholstery was made in Germany and shipped to Ghana in a container stuffed with china, cutlery, linens, kitchen utensils, and bathroom fittings. By Christmas 2009, they stayed in the house for the first time—a decade after deciding to build it.
When the house is empty, the contents of the communal space are moved to Höller's and Odenbach's rooms for protection from the elements, and the property is cared for by the housekeeper, who lives with his family nearby in a pink house Höller and Odenbach built. The humidity is so intense that many things are too fragile to remain in the structure: Books, drawings, and photographs would become moldy. Höller once left a leather belt behind and returned to find that it had rotted. "You just have to deal with the situation here," explains Odenbach. "The first time we thought about furniture, we said, 'One thing is clear—we don't want those ugly plastic chairs you see all over Africa.' But you can't find nice chairs here, and the plastic ones are perfectly practical for the weather." He's rendered them more comfortable by placing cushions, made by his German upholsterer, on the seats. "This space is quite brutal," he adds. "It needs things that are at least semi-elegant to make it livable."
Odenbach's room is filled with flowers, ­beautifully bound books, his grandparents' porcelain, and framed botanical drawings made by his mother that, sadly, have become moldy. Beside the bed are dog toys brought from Germany for Turtis, who has ­acquired a taste for expensive European pet ­accessories. Höller's room is more ascetic: virtually bare except for a large wooden bed and a table bearing his laptop and camera.
Life in Ghana has gotten easier in the years they have spent there. Tourism has increased as the economy has grown, imported food is more available, and a farm has opened near their place, selling milk and yogurt. Höller and Odenbach buy fruit and vegetables from a local market, and they tote "emergency supplies" of coffee, jams, and olive oil in their luggage, along with Turtis's favorite German sausages and candy for the housekeeper's kids.
They spend several weeks a year at the house, often with friends. Odenbach is usually accompanied by his partner, the jewelry ­designer Rudolf Klein, but occasionally goes there alone to work. Höller ­generally times his trips to escape to the sun during the ­European winter. "In Sweden, everybody has a summer house, but the summers in Stockholm are wonderful," he says. "I love the idea of doing it like the birds, migrating here for the winter. Coming to Ghana to see how the place works is always very fascinating—even though you know you will never truly get it."
Photographer: Ake E:son Llindman
Photographer: Ake E:son Llindman
A view of the cliffs from the deck

Photographer: Ake E:son Llindman
The living area and kitchen

Photographer: Ake E:son Llindman