Casa Cubo: Art Forum
In São Paulo, a private residence competes with the city's hottest galleries.
---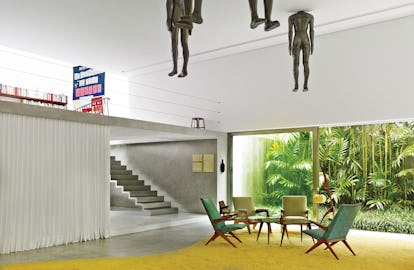 The privileged artists, curators, and gallerists who visit Brazil and are invited to stay at Casa Cubo, tucked away on a gated cul-de-sac in the fashionable Jardins district of São Paulo, might easily imagine they have landed at the legendary destination described by the poet Charles Baudelaire—a place where "all is order and beauty, luxe, calme, et volupté." Mixing rational precision with sensual pleasure, Casa Cubo is not a home; it is a place for its owners (who prefer to remain anonymous) to display their impressive collection of contemporary art and receive guests who have come to see the flourishing arts scene in the city.
Just as the owners, a 50-ish couple with three sons, maintain a balance between their Latin American, European, and American art acquisitions, their preferred style of architecture suffuses the geometric austerity of the European modernist masters, chiefly Ludwig Mies van der Rohe and Le Corbusier, with the tactile material richness of the subtropics. In architecture, Luis Barragán accomplished the feat of inflecting modernism with Latin American exuberance in the middle of the last century, punctuating his sober planes with walls of saturated color. But that was then, and that was Mexico. In present-day Brazil, the favored form of modernist architecture features dark and opulent native woods, elegant sculptural staircases, and large rectangles of glass that open to the lush outdoors. Arguably, the leading advocate of this playfully sophisticated look is Isay Weinfeld, the creator of Casa Cubo.
In demeanor, Weinfeld, who is 60, resembles a lawyer or physician: grave eyes, a soothing voice, attentive posture. And through his practice, he has cultivated the close, ongoing relationships with his clients that are more typical of counseling professions. "The construction is three years," he says. "It is impossible not to be friends. You have to enter their lives very closely to design something specific to them." In fact, many of those relationships have spanned decades. In some instances, he is designing homes for the children of his original patrons.
Such is the case with Casa Cubo. A practicing architect for 40 years who began designing even before graduating from architecture school in his native São Paulo, Weinfeld created a home for the mother of the man who would one day commission Casa Cubo; then, almost 30 years ago, he did an apartment for the newly wed man and his wife. "The apartment he made for us was all-white marble and leather sofas," says the wife. "It was very clean and cold, like Isay." In the late '70s and early '80s, Weinfeld embraced minimalism wholeheartedly. "My design philosophy was at the time just minimalist," Weinfeld says. "But with experience and life, my goal became to also be comfortable and cozy."
When they started working with Weinfeld, the young couple had no art. "I took my husband to a gallery and saw a collage of triangles for $500," the wife recalls. "He said, 'Are you crazy?' I got mad and told him to buy it. Once we had it, he started looking at it on the wall and said, 'I like this.' That was the beginning." Now, she confides, he is even more fervent about collecting than she is. Weinfeld, who shares their love of contemporary art, says he is pleased that he gave them one of their earliest pieces: an Andy Warhol serigraph triptych of Ingrid Bergman. They have since amassed one of the most highly regarded collections in the country. It includes a fine representation of Brazilian art (such as the Arthur Luiz Piza abstraction from the '70s that began it all, and pieces by Lygia Clark and Hélio ­Oititica), which commingles with works by Isa Genzken, Tom Friedman, and Mona Hatoum, among many others. In the initial installation of Casa Cubo, curated by the wife (outside curators will be invited for subsequent iterations), the dominant piece is Antony Gormley's composition of five life-size nude male mannequins cast from lead and fiberglass. They hang from the ceiling, but—as they exist only from the neck down—they appear to be descending or ascending through it. Dating from 1992, the work is being displayed here for the first time since its purchase. Until the construction of Casa Cubo, with its double-height living room, the collectors had no place to put it.
Weinfeld renovated the pair's mid-'50s residence on the same private street 15 years ago, which is where they used to display their art and entertain guests. "Museum groups ask to come, and I had to receive people in my house," the wife says. "That bothered me a little. I didn't know all of those people. Sometimes they would come into my bedroom and take pictures of my pictures." She hoped someday she would be able to construct a separate building nearby to exhibit art, put up visitors, and hold cocktail parties on occasions such as the São Paulo Art Biennial. When she learned that a neighbor was moving, she and her husband bought the property as a tear-down and retained Weinfeld to design their art annex.
"I think the good thing about Isay is he knows exactly his clients' taste and respects it," the wife says. Weinfeld agrees with that characterization. On this São Paulo block, he has built two more residences. "What I love is that the three families and their houses are completely different," Weinfeld says. "It's obvious—but it's not obvious for every architect—that if the clients are different, the houses should be different also." A divorced Italian woman who is a photographer resides in "a modern house, but more classic and Italian, with marble," he says. "More pure lines, with pure pillars. The proportions, the spaces, have a classic feeling." Directly opposite Casa Cubo, he built Casa Yucatán for a couple with three teenage children. The wife is French, the husband is of French descent, and, although they have an impressive collection of contemporary art, their living style is informal. "They love cooking; they are entertaining their friends all the time," the architect says. Because the couple wanted the kids to enjoy the outdoors, Weinfeld positioned the house at the front of the site, maximizing the garden. The wife asked for the pool to be chemical-free; it has water lilies growing in it (they control algae growth) and goldfish swimming alongside the bathers. Every door handle is made of natural stone.
Years before meeting the clients who commissioned Casa Yucatán, Weinfeld had completed Casa Marrom for an art-collecting couple—"very young, very beautiful, very formal, wearing black Prada." They requested a space that resembled an art gallery. "The art collection is all over the house, which is made of white cubes and a lot of black. They are very happy there." He says with pride that had he taken the Frenchwoman to see Casa Marrom, she might have decided he was not the right architect for her.
As for Casa Cubo, Weinfeld emphasizes that it is not a place where people live. "It doesn't have a living room full of pillows. It's a place to receive people, not to sit and watch TV." Entering the garden through a door in a wall that shields the house from the street, you pass a vestibule floored in white marble that opens to a living room exposed on three sides and surrounded by greenery. "There's almost no garden, but the moment I walked into the big room, I had the sensation of being outside," says Alexander and Bonin gallerist Carolyn Alexander, who stayed there last December. "I felt extremely close to nature." A mezzanine office looks out over the room. The furnishings are a mélange of midcentury Brazilian and European classics: armchairs by Alvar Aalto, Gio Ponti, José Zanine Caldas, and Lina Bo Bardi; an Edward Wormley magazine rack; and a sofa and chairs by Pierre Jeanneret, all placed on a free-form neutral-colored rug that Weinfeld designed to partially cover the polished-concrete floor. In the dining area, an Aalto dining table and chairs are an inheritance from the wife's grandmother.
Each piece is impeccable, but the two staircases designed by Weinfeld quietly upstage them. The first, a sequence of stainless steel steps, is suspended between the mezzanine and the living room floor. Hanging without any structural support, the staircase, as elegantly simple as a Donald Judd masterpiece, springs beneath your feet as you climb it. "Don't do it with more than two glasses of wine," Alexander jokes. Accepting the bounce was a decision made by architect and client. "Any kind of structure would have been bad," Weinfeld explains. "We decided to live with the movement and have a clean design, like a sculpture." Even more impressive is the spiral staircase that leads from the mezzanine to three bedrooms and a small sitting room on the top floor. Made from rich brown Brazilian ironwood, with its patterns and seams meticulously matched, the floating, sinuous wooden stairway brings to mind the horn of an old-fashioned gramophone as interpreted by Salvador Dalí. The wife likes to spend time in the mezzanine library and office, especially in the late afternoon, after her assistant leaves. "There is no telephone ringing and no maids," she says. "It's very peaceful."
As Weinfeld's office has grown to employ 30 architects, residential projects occupy less of his time. He says he accepts only 1 in 10 proposed commissions. His commercial projects include the 360° Building, an Architectural Record award-winning 20-story residential tower in São Paulo with stacked floor plates arranged in a pinwheel, providing private gardens on every level and views in all directions; hotels for the Fasano Group, each distinct but sharing a refined midcentury opulence (the most recent, the Fasano Porto Feliz, 60 miles from São Paulo, received an award from Interior Design magazine for the best resort hotel of 2012); and a building in the Vila Madalena district whose first tenant was his own firm. Vila Madalena is a fast-changing bohemian neighborhood full of cafés and bars. "If I design a building on Avenida Paulista, one of the economic centers of the city, and another in Vila Madalena, which is a hippie neighborhood, they should be completely different," Weinfeld says, adding that São Paulo, with its more than 11 million inhabitants and sprawling metropolitan area, is "like a mother of architecture" that generously accommodates all styles of design. "You can build anything in the city, because it is so chaotic that anything fits in," he says.
Unfortunately, São Paulo is also speckled with luxury developments that egregiously ape classical styles. But that seems to be changing, at least a little bit. "Today, the young generation has more opportunity to travel and to see what is happening all over," Weinfeld says. "They force more good architecture in the city. We are designing eight or nine residential and commercial buildings. They sell like hotcakes." In the upscale districts, Weinfeld's mark is everywhere. In addition to the Hotel Fasano (which he designed with Márcio Kogan), he is the architect of the first branch of the revered Rodeio steakhouse, a landmark '50s establishment, for which he clad the walls in the downstairs bar and the dining room chairs with squares of cowhide, and of four Livraria da Vila bookstores, each with a distinctive facade of bookshelves that swings shut at night to close off the space. He has shaped the look of the fashionable Forneria San Paolo restaurant brand as it has grown into a small chain, and he has crafted sleek showplace stores on the elite Rua Oscar Freire.
But nowhere is Weinfeld's creative flair so evident as in the corner of Jardins where he has built three properties and renovated a fourth. He considers himself fortunate to have been able to do so much work in this exclusive domain, and the owners of those houses count themselves at least as fortunate to inhabit them. "Once, at a party," Weinfeld recalls with a laugh, "they said the street should take my name after my death."
Antony Gormley's lead-and-fiberglass sculptures hang from the ceiling above midcentury furniture in the living room; the darker chairs are by Lina Bo Bardi and the lighter ones by José Zanine Caldas; the floor lamp is by J. Rispal.
A sliding door serves as a transition between the living room's polished-cement floor and the back lawn.

Photographer: Adrian Gaut
Gormley's work is in the background; Marina Abramovic's Double Edge ladder, 1995, and Mona Hatoum's Traffic suitcases, 2002, share space with an Isay Weinfeld desk;
Weinfeld on the floating steel staircase by the front entrance, next to Tony Cragg's sculpture Secretions, 2001;
Tracey Emin's quilt Message of Ascension, 2001, is displayed next to Monika Sosnowska's sculpture Untitled, 2007.

Photographer: Adrian Gaut
The living room, with the carpet Weinfeld specially designed, is anchored by vintage Gio Ponti coffee tables; the Tank chair at far right is by Alvar Aalto; the sculpture at far right is Jimmie Durham's 2009 Papillon.
Weinfeld's Brazilian ironwood spiral floating staircase.

Photographer: Adrian Gaut