Cate Blanchett Went Straight from Winning an Oscar for Blue Jasmine to Playing 12 Characters in Manifesto
In a conversation, the two time Oscar-winning actress and her director Julian Rosenfeldt discuss their new art film, Manifesto.
---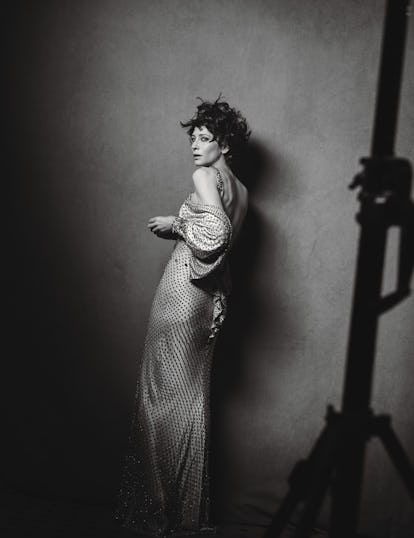 "Nothing is original. Steal from anywhere that resonates with inspiration or fuels your imagination," instructs Cate Blanchett to a classroom of kids, reciting Jim Jarmusch in the newest video work from artist Julian Rosenfeldt. Filmed over the course of eleven days in Berlin, Manifesto consists of twelve vignettes, in which Blanchett transforms into different characters and recites heralded manifestos written by artistic luminaries such as Sol LeWitt, Andre Breton, and Tristan Tzara. In the opening scene of the film, Blanchett is virtually unrecognizable as a homeless woman reciting Karl Marx's Communist Manifesto, and an Eastern European dance instructor in the next reading the "Fluxus Manifesto" in a leotard and hair pulled back in a bun. The film, which opens Wednesday in theaters after a run at the Tribeca Film Festival and originally premiered as a twelve-screen gallery installation, is intended to re-invigorate and shed new light on these iconic texts, situating them in a way that they are relevant to our time. Here, actress and director discuss their process.
You first met in 2010. How did you end up collaborating five years later?
Cate Blanchett: We sort of just agreed. I always thought Julian's work was hypnotic and provocative, so we kind of just agreed to start a conversation, whenever we were near the same place we kept talking and emailing, so it kind of just evolved. I was in Berlin for Monuments Men.
How did you get the idea to build twelve different worlds to showcase the manifestos?
Julian Rosenfeldt: Originally we had about 55 ideas written down. The interesting thing is when we decided to do this project together, we had to decide which texts to merge with which character and setting.
How closely does each narrative reflect the manifesto performed?
CB: Some of the manifestos were more immediate. The rhythm of the words leant themselves to conversation. Some were more didactic. It was a matter of which bits we could make into present text. Some were more instructive. Part of the planning process was to energetically match the scenario and character.
JR: Sometimes, though, when we were editing and collaging them, there were elements in the text which triggered the text. For instance, the 'Futurist Manifesto,' which has to do with speed and technology, had to reflect an information super highway, which we did. Or the funeral scene, where she recited the 'Dada Manifesto,' there was this beautiful morbidity. The most difficult one for me was the 'Fluxus Manifesto.' It was a good example of what happens when you put action and text together. There's chemistry of things that don't belong together, so there's a friction there.
I read that your decision to make a film about manifestos was that you wanted to resurrect them from the bowels of forgotten history and bring them to light. To what extent do you think the texts still maintain their relevancy?
JR: I think first of all it was a very selfish goal, we wanted to work together and have fun and experiment with something. When you start a project with a didactic mission you're already on the wrong path.
CB: You can't have a sense of what the outcome of the project will be. There was a genuine exploration of what these texts could be in various different contexts and to find the points of connection. By putting them in banal, domestic situations, you already create a tension between what is a life and death assertion of artistic aims. It is a kind of mental provocation since you're going in two different directions to see what the effect would be. Today of course people read these texts through a very different prism because we're in a whole different state of the world, so it's a whole layer of stuff the audience is bringing that electrifies the work in a very new way.
JR: It's interesting to see during the Q&A how each country walks away with their own interpretation.
Which vignette resonated with you the most?
JR: Come on Cate, surprise me, surprise me!
CB: That's a difficult one because a lot of them were intensely poetic and personal, and to be brutally honest there was so much text to learn, I would recite the text all day and then in the evening, we would be recording the next day's text, slowly and neutrally. When you have so much text it literally becomes gobbledygook. I had a visceral response to it that bypassed any intellectual analysis of what I was saying. That process came much later when we were doing the voice overs. Throughout all the manifestos, I realized al the authors were talking about creating something, and I found that really inspiring because I think people are too scared to deeply think about what they want to stand for. I think that itself is a provocative thing to consider.
JR: I loved all the characters, but a few of them speak to me more. The funeral speech where she recites the 'Dada Manifesto'—Cate is so good in it. She adds something to the text which is far beyond what we had there originally.
Did you work together to conceive and brainstorm the scenes?
CB: Absolutely. Julian came to me with about sixty characters and scenarios so we talked about what would make the most sense for each.
JR: I would have loved to do 20, but we did 12 in the end. We would have needed much more time. We had logistics and restrictions. Cate generously offered two precious weeks, right after she had won the Oscar [for Blue Jasmine].
Did you always have a film adaptation in mind, or did you consider it after the installation?
JR: Well the film had to be done in the beginning because I had to finance the installation.
CB: I understood it was going to be exhibited in a museum context. I was worried a film would be more literal than the open-endedness a gallery space gives you. You wander through the work as opposed to attending the work and make different types of connections. In a gallery your brain tries to make a narrative out of it.
JR: You were also curious and wanted to collaborate with a visual artist, and all of a sudden this makes its way back to you, to film where you're working, you were kind of scared for good reasons, scared this could be perceived as a story and fall apart. There was a lot of danger in it, when we started editing it, we tried to do it by chapter. Only when we understood that we had to accept the framework, and the audience wants to be taken by the hand. We don't have a story, we have a visual story. It was all of a sudden much easier. And the minimal music plays an important role as well. I hate when music announces feelings, when you're forced into a certain emotion and they don't give you the chance to feel anything.
What character was the most fun to play? From the newscaster to a punk anarchist…
CB: Yeah, the punk one was fun. The guy who gave me those fake tattoos was amazing. I think what I liked most was the rapid shift between each character, the feeling of walking onto set and thinking, 'I don't know what I'm going to do.' Every scene was was like a rehearsal, I found that really exciting—just not knowing what was going to happen. One of the most nerve-racking ones was working with a classroom full of children when I played the school teacher. Children don't just buy s–t. If they don't actually believe I'm a teacher than I'm in trouble, kids won't pretend.
I heard you also used your own children in the dinner scene?
CB: We shamelessly used our own children. They were very good sports.
Watch a trailer for Manifesto:
Perfectly Chic Cate Blanchett
Emporio Armani top; Patricia Underwood hat; Yohji Yamamoto Femme gloves; Angels Costumes ruffle cuff (on arm).
Comme des Garçons dress, shoulder pads, and shoes; Falke socks.

Photographer: Tim Walker Styled: Jacob K
Alberta Ferretti cape, blouse (underneath), and bloomers; Alexander Wang top; Gareth Pugh collar; LaCrasia Gloves gloves; Angels Costumes ruffle cuffs; Atsuko Kudo stockings; Balenciaga brooches (on top and shoes); shoe covers from the National Theatre Costume Hire, London. Beauty note: Accentuate a flair for the dramatic with Nars Hot Sand Illuminating Multiple highlighter.

Photographer: Tim Walker Styled: Jacob K
Stella McCartney dress, cage skirt (underneath), earring, and rings; Yohji Yamamoto Femme gloves; Marc Jacobs boots.

Photographer: Tim Walker Styled: Jacob K
Dior coat; Angels Costumes top; bows from the National Theatre Costume Hire, London; Stella McCartney earring; R.J. Graziano brooches; Gucci rings. Custom made head piece by Johanna O'Hagan.
Versace archival dress, 1989; Marc Jacobs boots.

Photographer: Tim Walker Styled: Jacob K
Photographer: Tim Walker Styled: Jacob K
Photographer: Tim Walker Styled: Jacob K
Gucci coat, shirt, and pants; Vicki Sarge star shoulder pads and brooch; Turnbull & Asser cravat (worn as belt); Vetements boots.

Photographer: Tim Walker Styled: Jacob K
Photographer: Tim Walker Styled: Jacob K
Boss dress; David Samuel Menkes Custom Leatherwear gloves; Calvin Klein Collection shoes.

Photographer: Tim Walker Styled: Jacob K
Louis Vuitton blouse and skirt.

Photographer: Tim Walker Styled: Jacob K
Celine coat and skirt.
Hair and headpiece by Julien d'Ys; makeup by Val Garland at Streeters; manicure by Anatole Rainey at B Agency. Set design by Shona Heath at CLM.
Produced by Jeffrey Delich at Padbury Production. Local Production by Brachfeld Paris. Lighting Director: Ed Bramfitt. Photography Assistants: Emma Dalzell, Max Cornwall, James Stopforth. Gaffer: Julien Lefebvre. Printed by Graeme Bulcraig at Touch Digital. Fashion Assistants: ClEmence Lobert, Katy Fox, Sam Walker. Hair Assistant: Ilker Akyol. Makeup Assistant: Joey Choy. Set Design Assistant: Francesca O'Brien. Set Builders: Pete Jenkins, Joshua Douglas Warne, Sam Francis, Murray Dale.