Cate Blanchett Plays 13 Different Roles in Manifesto Trailer
Originally conceived as an art installation, the Cate Blanchett-starring Manifesto is heading to the film festival circuit.
---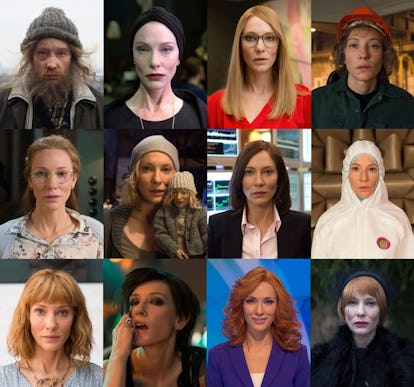 © Julian Rosefeldt and VG Bild-Kunst, Bonn
We are truly in the age of peak Cate Blanchett. She's making her Broadway debut right now in The Present. She's starring in art videos in which she channels man-eating spiders. She's joining the Marvel universe in an upcoming Thor movie, and toplining the all-female Ocean's Eight. She's got a role in Terrence Malick movie on the way.
And, for those who just can't get enough Blanchett to the point that they need multiple Blanchetts at one time, there's Manifesto.
Yes, the art installation created by Julian Rosefeldt and starring Blanchett has been around for a while. It debuted back in late 2015 at the Australian Centre for the Moving Image and has been touring around ever since. It most recently wrapped up a stint in New York at the Park Avenue Armory.
The original installation includes Blanchett playing 13 different roles reciting monologues that are mashed up for fifty different artist and creatives' manifestos (hence the name). As characters like a school teacher, a Russian choreographer, and a news broadcaster, she turns artistic manifestos written by the likes of Jim Jarmusch, Lars Von Trier and Sol LeWitt into a form of interactive theater.
The segments are played simultaneously on 13 different screens, making for an immersive experience. In fact, you might have seen shots of it in your Instagram feed.
Though, if you don't live in one of the cities in which the installation has toured, you likely haven't got a chance to see any more than random digital glimpses. Thankfully, Rosefeldt is turning the whole thing into a feature-length art film, and the first trailer for that version debuted today.
Aside from the presentation format, the version are slightly different. The 130 minutes of film used in the installation version were cut down to just 90 for the theater version, though, we're going to bet that most of the important Cate Blanchett content made the final cut.
This version will premiere later this month at the Sundance Film Festival. Though some reviews of the installation questions whether the power of the original will translate to merely a single screen, the world won't find out until then. From there the film will continue on the festival circuit and maybe one day make its way to a screen or, at least, a video on demand service near you.
Watch Cate Blanchett talk about the first sex scene she ever saw: