Cate Blanchett Plays a Spider Woman Looking for a Mate to Kill in Surrealist Film Teaser
Is there anything the Oscar winner can't play? In Red she'll play the human embodiment of a spider that eats it mate during mating.
---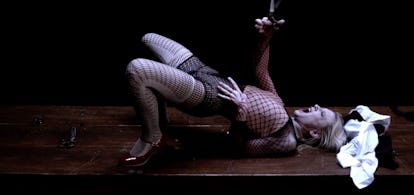 Cate Blanchett really can play it all. She's portrayed royalty both real and of the fictional elven variety (see: Elizabeth I or Galadriel in Lord of the Rings). She's given spot-on performances as Hollywood royalty like Katherine Hepburn, a socialite in the midst of a breakdown in Blue Jasmine, and a villainous doctor in the last Indiana Jones movie.
Now she's playing a horny, angry spider-woman looking for a man to mate with and then kill. Literally.
In between filming upcoming projects like Terrence Malick's Weightless and blockbusters like Thor: Ragnarok and the all-female Ocean's 8, Blanchett found time in her schedule to star in Red, a highly stylized short art film inspired by the Australian redback spider. Or, more particularly, the female of the species' mating habits. Sure, you've heard of the black widow spider, the species where the female occasionally eats the male after copulation. Well, the Australian redback is a close cousin that usually eats its mate during copulation. The redback does not play along.
The film was written and directed by Australian painter Del Kathryn Barton, and it makes sense that the pair are now officially collaborating. Barton was a finalist for the 2013 Archibald Prize, given to the best portrait by an Australian artist, for a depiction of Blanchett and her family.
Of course, the depiction of Blanchett in Red is decidedly less family-friendly.
"This brutal chronicle spoke to me of the poetics of female power as an inherent and indeed, elemental force in the universe," said Barton in a statement. "By intercutting human protagonists with extraordinary macro footage, 'Red' has evolved into what I now consider to be an uncompromising celebration of female power."
"In essence, the narrative in 'Red' illuminates the unusual mating rituals of the Australian red-back spider," Barton said in September in the Sydney Morning Herald. "Here, our brave little male after copulating with the monumental female gently somersaults into her mouth, offering himself as a meal postcoital. If she is not hungry she will store his bound, dying body on her web for later consumption."
The whole thing looks like a teaser trailer for what Ryan Murphy wishes an upcoming season of American Horror Story was like, and, yet, probably so much better.
The film also stars of Alex Russell and the Sydney Dance Company's Charmene Yap. The full film is expected to be released in January at the Adelaide Festival at the Art Gallery of South.
Watch Cate Blanchett remember the first sex scene she ever watched: