Cate Blanchett and Sarah Paulson Are Going Live With W
The Mrs. America costars will discuss their friendship, both on-screen and off, on W's Instagram Live this Tuesday, May 19th, at 4 p.m. EST.
---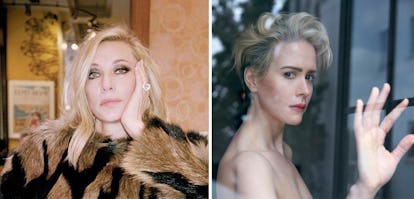 Cate Blanchett photographed by Cass Bird for W magazine, September 2018; Sarah Paulson photographed by Mona Kuhn for W magazine August 2016.
The FX series Mrs. America, which will air its seventh episode on Wednesday night, spans a decade's worth of developments in feminism and the fight for equal rights. Those topics were what first compelled Sarah Paulson—who plays a fictional homemaker in the all-star cast, which also includes Rose Byrne and Uzo Aduba—to join the show. But for Paulson, there was an even bigger draw. "Cate," she recently told the New York Times. "And Cate again and then Cate, and then a little bit of Cate. And then there's Cate. And also Cate."
Paulson was referring, of course, to Cate Blanchett, with whom she costarred in 2015's Carol and 2018's Ocean's 8. In Mrs. America, Blanchett stars as the real-life figure Phyllis Schlafly, the conservative founder of the Stop ERA movement. Paulson plays her friend Alice Macray, who's just as adoring of Schlafy as Paulson is of Blanchett in real life.
On Tuesday, 5/19, at 4 p.m. EST, Paulson and Blanchett will reunite on a slightly smaller screen. The pair will go live on W's Instagram, @wmag, to discuss their friendship, the show, and more. "Ask and ye shall receive," Paulson wrote in a tweet sharing the news. "Me, The Goon, chatting with Cate The Great." The actresses will also dig into the dynamic between their characters, which should be particularly illuminating in Paulson's case. Alice is a composite of the many women who supported Schlafly's cause, and at this point in the series, viewers are only just beginning to discover that there's more to her than meets the eye.
Paulson and Blanchett will be taking questions from viewers, as well as answering some that fans submitted earlier this week. Want to hear how they feel about being gay icons, or watch them giggle and reminisce on their funniest moment together on set? Don't forget to set your alarm for 9 p.m. in the U.K., 4 p.m. in New York, or 1 p.m. in Los Angeles on Tuesday, May 19.
Related: Mrs. America's Costuming Is Mad Men Quality, But Real-Life