Caviar Kaspia, the Iconic Parisian Restaurant, and Its Famous Baked Potato Take Manhattan
You no longer have to go to Paris because Paris has come to you.
---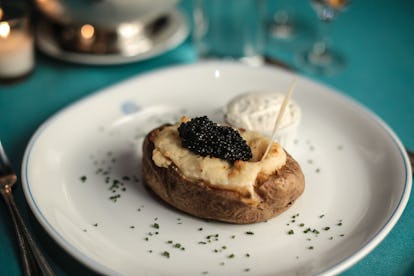 New Yorkers no longer have to travel to Place de la Madeleine in Paris to experience Caviar Kaspia, the legendary nearly century-old Russian eatery, because the restaurant has come to them.
Caviar Kaspia which has hosted celebrities like Jennifer Lawrence, Rihanna, Beyoncé and Jay Z along with the chicest fashion week soirées, has opened up at Spring Place, the Tribeca-based co-working membership club that has a penchant for blue-chip pop up restaurants, like Casa Cruz.
To realize their most ambitious project to date, Francesco Costa, chief executive of Spring Place, enlisted the design firm Bureau Betak (helmed by famed French designer Alexandre De Betak) to see it through. "He was able to recreate the Parisian experience down to the last detail," Costa said of the 44-seat haunt. But then again, De Betak is no stranger to luxury. He regularly designs shows for the likes of Dior, parties such as the seasonal Alexander Wang rager, and exhibitions like Fendi's "The Artisans of Dreams" which opened in Rome last summer.
When they asked him to recreate the Parisian classic as a pop-up restaurant in New York, De Betak, a Kaspia regular, jumped at the opportunity. Determined to capture an atmosphere as calm, chic, and sophisticated as the one in Paris, De Betak's first task was to figure out a way to curtail the noise that permeates all downtown eateries. He found his solution by padding the walls, carpeting the floors, hanging silk curtains, and customizing a table layout to encourage smaller-sized parties. "I wanted it to be as classic, old fashioned and cozy as the one in Paris," De Betak explained. In addition to the lush draping, he flew in vintage chairs and banquettes he sourced from Paris to ornament the turquoise accented dining room, and added mirrored ceilings to give the space a special touch.
The kitchen is run by Spring Place's resident executive chef Fabio Bano, who worked closely with Caviar Kaspia's executive chef, Yves Jasmin, to replicate the original menu. While an à la carte selection of smoked salmon, crab salad, and burrata toast are on offer, you'll find most guests pining after Kaspia's famous baked potato, which is accompanied by a selection of caviars they imported from their Paris outpost. As for beverages, Kaspia stayed true blue once again, with their signature assortment of two dozen Russian vodkas and a selection of thirty vintage champagnes. Bon appétit!
Calling Card A glass door on the quaint cobblestoned street of Saint Johns Lane in Tribeca.
Tribes Expect everyone from supermodels like Anja Rubik and Liya Kebede, fashion designers and downtowners like Waris Ahluwalia and Wes Gordon.
What to Order The baked potato of course! For the full experience pair it with the Caviar Martini, courtesy of Spring Place's resident mixologist who concocted the drink in honor of the restaurant's three-month residency.
Basics Spring Place, 6 St Johns Lane, New York, New York 10013. You can request a reservation via email at caviarkaspia@springplace.com. The restaurant will be open through mid-February.
Somehow, Rihanna Had an Even Better Style Year in 2016
Rihanna, proudly wearing her own designs, with friend Naomi Campbell backstage for Rihanna's FENTY X PUMA collaboration line during Fall 2016 NYFW.

Photo by Getty Images.
Rihanna, again wearing her own FENTY X PUMA collection during Fall 2016 New York Fashion Week.

Photo by Getty Images.
Glowing in red floral, Rihanna backstage at MusiCares Person of the Year event honoring Lionel Richie.

Photo by Getty Images.
Rihanna makes a statement in all Gucci out in Manhattan.

Photo by Getty Images.
Rihanna in effortless fur on the red carpet for the Black Girls Rock! 2016 event in April.

Photo by Getty Images.
Rihanna wears signature Gucci green in New York City.

Photo by Getty Images.
Rihanna shines bright at Madison Square Garden while accepting her VMA Lifetime Achievement Award at the 2016 MTV Video Music Awards.

Photo by Getty Images.
Rihanna sending out love to Manhattan in Saint Laurent red fur.

Photo by Getty Images.
Rihanna kills denim on denim from head-to-toe in New York's warm fall.

Photo by Getty Images.
Rihanna wearing her sophomore collection f FENTY X PUMA backstage before her Paris show.

Photo by Getty Images.
Rihanna attends the Christian Dior show of the Paris Fashion Week Spring/Summer 2017 in Dior.

Photo by Getty Images.
Rihanna wears Dior again while attending shows at Paris fashion week.

Photo by Getty Images.
Rihanna, beaming as she attends the Golden Anniversary Spectacular Mega Concert at the Kensington Oval Cricket Ground with Prince Harry.

Photo by Getty Images.
Wearing a smart collar, high-waisted pant, and red ribbon pin, Rihanna attends the 'Man Aware' event held by the Barbados national HIV/AIDS Commission.

Photo by Getty Images.
Irina Shayk Took a Birthday Night Swim in the Indian Ocean