An Englishman in New York
A new book and exhibition chronicle Cecil Beaton's adventures in the Big Apple. Beaton biographer Hugo Vickers weighs in.
---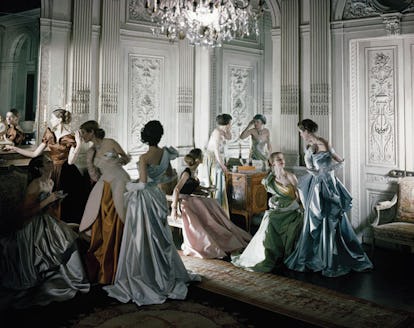 IN NOVEMBER 1966 Cecil Beaton was in New York, faced with a dilemma. He had been invited to his close friend Truman Capote's Black and White Ball, inspired by the costumes Beaton had made for the Ascot scene in My Fair Lady. Though he felt he could not miss such an event, Beaton knew it would make him angry. "The foolishness of spending so much time organizing the party is something for a younger man or a worthless woman to indulge in, if they have social ambitions," he wrote in his diary. "What is Truman trying to prove?" Plenty, it turned out—though Beaton, too, was a genius at self-promotion ("a total self-creation," Capote called him), preceding Andy Warhol by several decades. Best known for his portraits of royalty, society figures, and stars, Beaton was a curious mixture of romantic dreamer and aggressive social climber, having transformed himself from a middle-class English boy of modest intellect into an arbiter of taste and style. He mixed in the most rarefied circles, be they of money, art, or culture. New York played a huge role in Beaton's life, and next month an exhibition at the Museum of the City of New York and an accompanying book from Rizzoli, Cecil Beaton: The New York Years by Donald Albrecht—featuring the sketches, photographs, and designs Beaton made during his stays in the city—give us a chance to wallow once again in the romantic aura of a man who put his stamp on the worlds of fashion photography, illustration, portraiture, and set and costume design.
Birgit Nilsson in one of the costumes Beaton designed for a Metropolitan Opera production of Turandot, 1961.
By the time Beaton set sail for New York in 1928, at age 24, he had made his name in London photographing debutantes in Arcadian settings. Nancy Mitford, a bevy of Guinnesses, and the Jungman sisters all had sat for him. New York, he figured, would enable him to meet those on the other side of the Atlantic who could then introduce him to their counterparts back in England, people who might otherwise have eluded him. "How thrilling that you are going to America!" the aesthete Stephen Tennant wrote to him. "How you will love it, to gaze with one's old-world intelligence upon that vast material 'rush hour' of progress that is a sensation one must not miss, the feeling of another planet is so queer there."
Within his first week in Manhattan, Beaton had met interior decorator Elsie de Wolfe, Vanity Fair editor Frank Crowninshield, and photographer Edward Steichen, and been invited to contribute to Vogue by its then editor, Edna Woolman Chase. Another legendary editor, Harper's Bazaar's Carmel Snow, also took him up, as did society beauty Mona Harrison Williams.
Soon, Beaton was photographing New York socialites and stars, employing his particular gimmicks: lying them on the floor on cellophane, climbing up ladders to shoot them, multiplying their images over and over, and posing them in romantic settings—then touching up the results to create perfect beauties. Among these were the actresses Ina Claire and Lynn Fontanne, and Adele Astaire, Fred's sister and dancing partner. The Americans loved him, or rather, as Albrecht points out in the book: "Beaton's cultural cachet in the New World was enhanced by his highly cultivated old-world style and manners."
Andy Warhol and members of the Factory, photographed by Beaton, 1969.
Beaton returned the following year in quest of glamorous sitters for his forthcoming Book of Beauty. Before he left for Hollywood, he experienced his first heterosexual ventures—at age 25—twice in the same week; first with society figure Marjorie Oelrichs, who then passed him on to her equally cosmopolitan friend Adele Astaire.
For the next decade, Beaton was an increasingly famous personality in New York, taking elaborate and now iconic fashion photographs, including those of Marlene Dietrich in profile wearing a feathered hat.
Then came the war, which kept him from New York until 1946, the year he ran into Greta Garbo on a roof terrace high above the city. Within days he was insisting she marry him. She told him he was being frivolous, but soon asked if he would mind taking some passport photographs for her. So began an extra­ordinary session at his hotel, where she lay on the floor and posed as a ­Pierrot. Though few of the results were suitable for a passport photo, they show Beaton's capacity for relaxing his sitter. The images remain some of the most intimate ever taken of the elusive star, and of course Beaton could not resist publishing them. He thought she had agreed, but Garbo changed her mind after they had gone to press. She was not pleased.
Greta Garbo in Beaton's hotel room at the Plaza, 1946.
Despite all this, the following winter the pair embarked on a tortuous ­affair, which began after they took a brisk walk in Central Park, when Garbo joined Beaton in his room at the Plaza hotel. The affair limped on for some years, but was fraught, partly because each party had contrasting agendas and confused sexual preferences. (Also, Garbo was completely under the sway of George Schlee—husband of Russian dress designer Valentina and likely Garbo's lover­­—who controlled every aspect of her life; each time Beaton thought Garbo might settle down with him, Schlee reined her in.) Many years later, Beaton published the diaries that covered the years of the affair. Garbo again felt badly betrayed.
Beaton's greatest triumph, of course, was the costumes he designed for the play and film versions of My Fair Lady. On opening night on Broadway in 1956, the audience gasped when they saw Beaton's Ascot ladies lined up like magpies against a white backdrop. In the same year, he chased Marilyn Monroe around his room at the Ambassador Hotel and ran off two reels of memorable images of her, capturing her contrasting appeal as a sex symbol and vulnerable woman.
Beaton was still a fixture of New York life in the Sixties. He befriended the widowed Jackie Kennedy and visited the Factory, turning his lens on Warhol and his varied hangers-on. Later he described Warhol as "the Zombie, more dead than alive since he was shot." The New York scene had changed vastly since Beaton had arrived 40 years earlier, yet he adapted with enthusiasm to the new moods. He loved the city, he declared in his inimitable voice, because "it was so eggs-ill-ahh-rating!"
Photo Credits From top: Courtesy of Cecil Beaton/Conde Nast Archive/Corbis; louis melancon/courtesy of the metropolitan archives; Courtesy of Cecil Beaton Studio Archive at Sotheby's, Garbo: Courtesy of Cecil Beaton Studio archive at Sotheby's