Celebrities Make Their Final Pleas For You to Participate in The 2020 Presidential Election
Outspoken celebrities from Cardi B to Taylor Swift are using the final hours of the 2020 Presidential Election to urge their followers to cast their votes.
---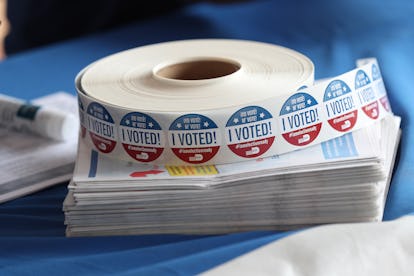 It may seem clichéd for celebrities to try to reach the people with a thoughtful message explaining the importance of voting, but some have actually managed to do just that in the final hours of the 2020 Presidential Election.
This year, celebrities took the final hours leading up to election day as an opportunity to make one last plea for you to participate in the election, and we've certainly come a long way from cringey requests to encourage voting à la "Pokémon Go to the polls."
Cardi B, for example, shared on Instagram that even though she hates waking up early, she's heading to the polls early today and staying in line. "If you get caught in the lines," don't get discouraged, she said, before adding that you should make sure your phone is fully charged, bring a friend, bring snacks, and wear a low key outfit to avoid being harassed.
Similarly, Taylor Swift posted her own PSA on Twitter. The musician famously broke her political silence back in 2018 when she shared an Instagram post urging her followers not to vote for Republican Senate candidate Marsha Blackburn. Since then, she's kept up with politics, even revealing earlier this year in her documentary Miss Americana that she wishes she spoke out against Donald Trump sooner. On the night before the Presidential Election, Swift reminded her followers that, even though she may be "the one millionth person to say so," that November 3 is "the last chance to make your voice heard and make your voice count" with a vote, and solidified her support for Joe Biden and Kamala Harris.
In the days and hours leading up to the election, Keke Palmer shared her voting PSA in the form of a song, Megan Thee Stallion opted for a request that anyone who considers themselves a hot girl should follow, Bella Hadid (who has been urging her followers to vote for weeks) shared that she took her mother Yolanda Hadid to vote for the first time, and Selena Gomez, who admitted that she was "dealing with a lot of mental health issues" in the 2016 election and ended up not voting (a decision that she said she "learned a huge lesson from" and doesn't want to make again), encouraged her nearly 200 million followers on Instagram to make a voting plan in time for the election.
If that's not enough to sway you to get to the polls before the day is over, W has also compiled a checklist of guidelines for voting safely in 2020—including speaking to family members who may be considering opting out of the election this year and urging them to fill out their ballot before the polls close in their state.