Don Rickles Remembered as a Comedy God
Rickles, who died at age 90 on Thursday, was mourned by celebrities, especially comics, as one of the greatest of all time.
---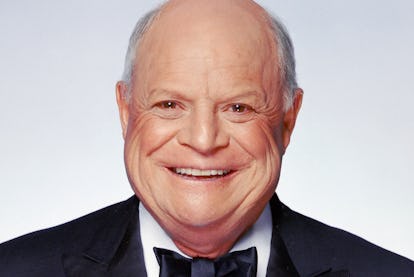 Harry Langdon/Getty Images
Don Rickles died at the age of 90 on Thursday. The legendary comic passed away in his Los Angeles home after suffering from kidney failure, his spokesperson Paul Shefrin confirmed to the New York Times.
Rickles had a career lasting more than 50 years, becoming famous for his particular variety of insult comedy. Specifically, Rickles was known for heckling his own audiences, taking cutting shots at targets high and low.
According to an apocryphal tale of his big break, an unknown Rickles once told guest Frank Sinatra to "make yourself at home…hit somebody," a jab that caused Sinatra to fall out of his seat in laughter.
To mainstream audiences, Rickles was probably best known for either his frequent appearances on late night talk shows or his eager participation in celebrity roasts. That, and of course his role voicing Mr. Potato Head in the Toy Story movies. Still, his mainstay was the onstage performance, and the comic completed such gigs well into his 80s.
In the wake of his death, famous fans of Rickles have taken to social media to mourn his larger-than-life presence. Celebrities, and comedians especially, are paying tribute to the star, sharing favorite memories, thoughts, and, fittingly, a few insults at Rickles' expense.
His Toy Story castmate Tom Hanks noted the loss of Rickles' comic legacy, tweeting, "A God died today. Don Rickles, we did not want to ever lose you. Never. Hanx."
Chris Rock sweetly described him as "the love of my life."
Jim Carrey remembered a typically funny encounter with Rickles. "Don once begged me for a couple of bucks then told me to twist myself into a pretzel. Ego slayer! Comic Everest! Spank you, Mr Rickles," he wrote.
Barbra Streisand remembered the experience of being on the pointy end of Rickles' sharp tongue, recalling, "Being skewered by Don Rickles was side-splitting funny. A gentle soul with rapid fire wit."
Craig Ferguson shared a memory of Rickles' unconventional behavior as a guest. "Aw jeez. Rickles .Sweetest, funniest, legend and mensch. Came to a party at my house gave me a dollar and told me to get a nicer place.#RIP," he shared.
Read on for more of the best odes to the comic icon.
Watch What's Trending on W video: