Kate Spade's Death Sparks Celebrity Reactions From Lucy Hale, Chelsea Clinton, Kenneth Cole and More
"My grandmother gave me my first Kate Spade bag when I was in college. I still have it."
---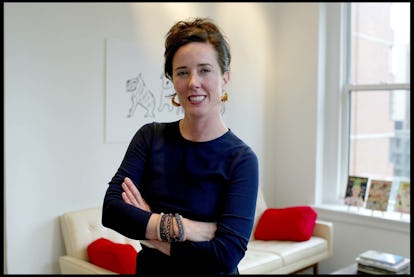 David Howells/Corbis via Getty Images
Today, the world lost some of its sparkle when the iconic fashion designer Kate Spade was found dead in her Manhattan apartment. She was survived by her 13-year-old daughter Frances Beatrix Spade and her husband Andy Spade.
At 55 years old, the Kansas City, Missouri native took her own life in an apparent suicide, leaving behind a note and a reminder that we can truly never know the pain others are in — and that mental illness doesn't discriminate. Many of Spade's devotees and admirers took to Twitter to point both of these things out, as they waxed nostalgic for the fashion designer who launched her eponymous brand in 1993 before selling it in 2006.
Some celebrities, like Chelsea Clinton, grieved the loss of Spade by telling stories about how her fashion came into their life. "My grandmother gave me my first Kate Spade bag when I was in college," the former first kid tweeted. "I still have it. Holding Kate's family, friends and loved ones in my heart."
Her designer peers also shared tributes, including Kenneth Cole, who tweeted, "I believed that I could, so I did". She alone didn't change the handbag world but she was an inspiring accessory. #KateSpade #RIP"
Diane von Furstenberg also grieved over Spade's untimely death, sharing a joint statement with CFDA president Steven Kolb. "The CFDA is devastated to hear the news of our friend, colleague, and CFDA member Kate Spade's tragic passing," the statement reads, which was posted to Twitter by Kolb.
Other fans of the designer like Lucy Hale focused on how pervasive mental illness is, despite being stigmatized. "Very saddened to hear about the passing of Kate Spade," she tweeted. "Mental illness does not discriminate and can happen to anyone with any circumstances. I hope she has found peace ❤️"
Similarly, Josh Groban tweeted, "Depression does not discriminate and comes without warning. RIP Kate Spade. Love to her family," before adding the number to the national suicide prevention lifeline.
Meanwhile, Lili Reinhart mourned Spade on Instagram stories, writing, "I'm so sad to hear about Kate Spade. We wore a lot of her designs on Riverdale and her artistic vision will be greatly missed."
Take a look at other celebrity reactions to the news of Spade's tragic death below and watch this space for updates.