Burt Reynolds Mourned by Mark Wahlberg, Kate Hudson, Arnold Schwarzenegger, and Other Celebrities
Everyone from Mark Wahlberg, Kate Hudson, and Arnold Schwarzenegger to Lena Dunham mourned the star.
---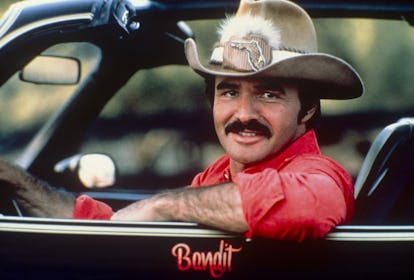 Art Zelin/Getty Images
Today the world lost an acting great and an icon for many, Burt Reynolds. The star of Deliverance, The Longest Yard, and Smokey and the Bandit passed away at Jupiter Medical Center, in Florida, at the age of 82, his manager told The Hollywood Reporter. After the news broke, it didn't take long for many of Reynolds's peers and contemporaries to share their tributes.
His Boogie Nights co-star Mark Wahlberg shared a still from the beloved 1997 film on Twitter, writing, "Rest in peace to a legend and a friend. #BurtReynolds."
Reynolds's reach was wide, as Arnold Schwarzenegger pointed out in his remembrance of the actor. "Burt Reynolds was one of my heroes," Schwarzenegger tweeted. "He was a trailblazer. He showed the way to transition from being an athlete to being the highest paid actor, and he always inspired me. He also had a great sense of humor — check out his Tonight Show clips. My thoughts are with his family."
Another one of Reynolds's colleagues, Sylvester Stallone, shared his favorite memory of the prolific actor. "A sad day, my friend BURT REYNOLDS Has passed away," he wrote on Instagram. "I remember him back in 1979, he always reminded me that I should've cast him as Colonel Trautman in FIRST BLOOD, I said that's impossible, because you're too expensive and too famous, and probably tougher than Rambo! He laughed. He had a great sense of humor and I enjoyed his company so much… RIP."
Reynolds was also mourned by a handful of younger stars who grew up watching his films. Kate Hudson shared a photo of Reynolds with her mother, Goldie Hawn, leaving a broken-heart emoji in the caption. Dakota Fanning, who is billed in Quentin Tarantino's hotly anticipated Once Upon a Time in Hollywood — in which Reynolds was cast, although it's unknown whether or not his role was already filmed — remembered her co-star. "Very lucky to have met the man, the myth, the legend, Burt Reynolds RIP," she wrote on Instagram stories, while sharing a photo of him.
Lena Dunham also shared her favorite thing about Reynolds, tweeting, "Burt Reynolds, you are the glorious dictionary definition of a golden man. Thank you for spreading your glow ?." Take a look at her tweet below, as well as other teary-eyed tributes.