Marin Mazzie, Dead at 57, Is Remembered By Zach Braff, Jason Alexander and Other Celebrities
She passed away at the age of 57.
---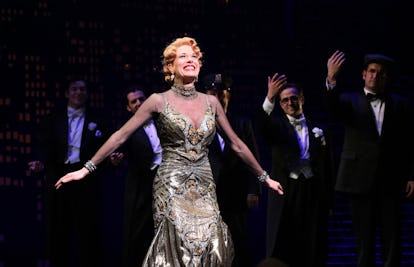 Walter McBride/Getty Images
After several years of battling ovarian cancer, broadway great Marin Mazzie passed away today in her Manhattan home. She was 57 years old. The three-time Tony Award nominee is best known for starring in "Ragtime," "Kiss Me, Kate," and "Passion," as well as acting in films like Carrie and TV shows Nurse Jackie and Smash.
During the last few years of her life, after Mazzie received her stage IV diagnosis, she worked as an activist, raising awareness for ovarian cancer and inspiring others dealing with the same. "Women that have ovarian cancer feel left in the dust, because there is still no early test to find it, and that's a problem," as she told Theater Mania earlier this year. "What I try to instill is the positive outlook. I believe that for everything. As I say, I'm the captain of my ship. I have doctors and I do a lot of spiritual stuff, but the mind is so important, and that has been instilled in me from the very beginning, through my surgeon saying to me early on, 'Your attitude is more important than anything we'll ever do for you.'"
Her strength throughout her battle against cancer is best encapsulated by her 2015 performance in "Zorba." After learning that she had ovarian cancer, Mazzie showed up to work on the opening day of the production, where she sang, "Life is what you do while you're waiting to die," as Variety notes.
When the news spread of her death, many of her peers and celebrity fans took to social media to post their own tributes. Zach Braff was one of them, who noted that she "was one of the most talented performers [he's] ever had the chance to work with." "The last time I saw her she had the most radiant smile you ever did see," he tweeted, "57 is tragic. What a loss for Broadway. What a loss for us all."
Jason Alexander expressed a similar sentiment, tweeting, "I am saddened beyond words at the passing of the wonderful @MarinMazzie Such a great person and incredible talent. She was strong and radiant when last I saw her. My condolences to @JasonDanieley and all who loved her. She will be sadly missed. A beautiful light gone out."
Take a look at the other ways that celebrities have been remembering Mazzie below.