Celebrity Hairstylist Orlando Pita Would Rather Look Good Than Be Comfortable
Backstage at Jason Wu's Spring 2017 show, Orlando Pita reveals his approach to fashion week.
---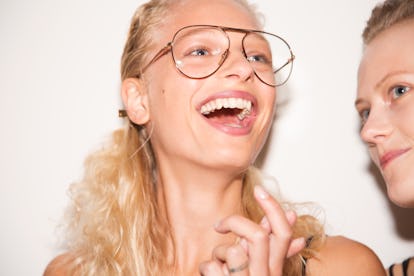 Photo by Kate Owen.
At Jason Wu's electric Spring 2017 show on Friday, hairstylist Orlando Pita was running around non stop–touching up models, giving on-camera interviews and entertaining a gaggle of inquisitive beauty editors who followed his every move. Through all of that, he was entirely calm, and even playful when discussing the hairstyle he created.
"We want women to look empowered, we have a woman running for president," he said of the look, which was slicked back on top, and embraced the models' natural hair textured at the back.
Here, Pita shares how he keeps his cool while making a beautiful, political statement with hair amidst the chaos.
Do you have a fashion week backstage uniform? Whose comfy shoes do you wear? I don't have a backstage uniform. I wear whatever I'm into that morning. I also don't go for comfort when picking shoes. I'd rather look good.
How do you mentally prepare when you first see the clothes? I have no way of preparing mentally for the first time I see a designer's collection. The only way I prepare is to have everything in my kit to do anything I might be inspired to do.
Does each designer work similarly or are they vastly different? Each designer has their modus operandi and I like that. There is no system to follow.
Aside from probing editors, most annoying peeve backstage? The most annoying thing backstage is the long rehearsal for a straight-forward runway.
Music or no music? Honestly, I'm not thinking about music with all the interviews I have to do. If I had a preference, it would be high energy dance music so the team works at a faster pace than normal.
Go-to snack or drink? I always carry with me Harmless Harvest Coconut water. It gives you energy, without all the fake stuff.
How do you stay healthy during this crazy week? During fashion week I try to stay healthy by not drinking or going to any parties or events so I don't feel exhausted and hungover the next day.
See more backstage photos from Jason Wu's show here:
Jason Wu Took Over an Private Club for His Electric Spring 2017 Show
Watch W's most popular videos here: