Celebrity Stylists Don't Want to Be Called Stylists Anymore
They prefer titles such as "fashion activist," "style artist" and "image architect."
---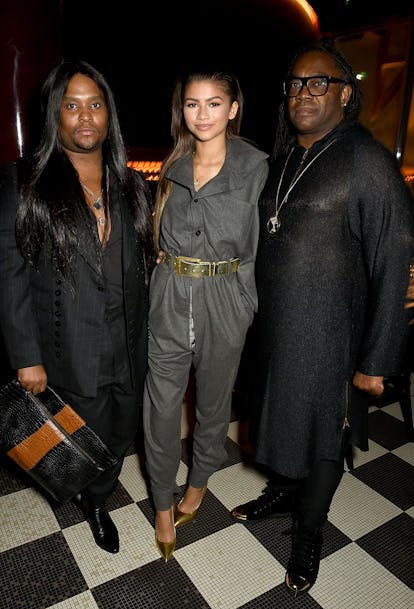 Dave Benett/Getty Images for Hunger Magazine
A rose by any other name may smell as sweet, but apparently a celebrity stylist by any other name is something different altogether. At least that's what some of the top members of a profession formerly known as stylists would have you believe.
Billboard noticed that some of the men and women behind the wardrobe choices of some of the world's biggest pop stars have changed their titles.
B. Åkerlund, who works with Madonna and Beyoncé, now has "Fashion Activist" on her business cards.
Sia doesn't have a stylist, but rather a "Style Artist." Samantha Burkhart is her name.
Law Roach, who is behind the looks of musicians like Ariana Grande, Zendaya and Celine Dion, likes to be called an "Image Architect."
Roach tells Billboard that he was prompted to make the title change after working with Zendaya.
"I created the blueprint for her fashion career," he explains.
Ah yes, even the more professional sounding title of "image consultant" is out.
Other seem to keep the "stylist" term (for now anyway), but tack on other titles. Beyoncé stylist Marni Senofonte doubles as a "brand consultant." Rachel Zoe, of curse, has no less than five titles listed on her Twitter: "Designer, editor, stylist, author, mother."
It seems natural that people whose job it is to make sure a celebrity has unique personal style may want to personally tailor a unique job title of their own.
In case any other stylists out there are looking to drop the term feel free to chose from some of our suggestions.
Senior Closet Curator Wardrobe Conservator Outfit Administrator Ensemble Scientist Executive Vice President of Je Ne Sais Quoi Secretary of Wardrobe Security Vestiary Investor Dress Whisperer Apparel Arbiter Garb Guru Sartorial Magician Regional Sales Director of Making Sure You Sell That Damn Look On The Red Carpet, Girl! Yassss!
The trend may sound like something driven by ego and pretense, but it might ultimately be about the bottom line.
Top celebrity stylists for the megastars often do more than simply procure a dress for a red carpet. They can be entrusted with totally revamping a star's image (Roach, for example, has completely brought upon something of a cutting edge fashion renaissance for Celine Dion).
In an age of Instagram and constant paparazzi, dressing well can mean more exposure, which can lead to more opportunities and sales. Celebrities who are particularly noted for their look often enter the fashion business themselves (see: Fenty X Puma). Which is all to say outfits can lead to profit.
These stylists want an elevated title (perhaps one on par with their client's Creative Director), and, likely, an elevated paycheck to highlight how important their work can be to a celeb's career.