J'adore: Celerie Kemble's Obsessions
Celerie Kemble shares a few of her favorite things.
---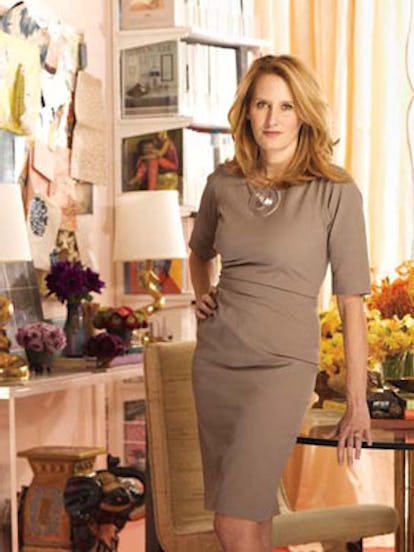 These days interior designers have to do more than design interiors to make it big. Celerie Kemble is no exception. The New York–based decorator has, in recent years, collaborated on fabrics with F. Schumacher; designed a collection of faux leathers and exotic skins with Valtekz; and authored a second book, Black and White (And a Bit in Between), coming out this fall. Here, Kemble shares a few of her favorite things.
Alpha Workshops' handpainted wallpapers "Alpha Workshops is a nonprofit that trains and employs HIV-positive artisans. Some of my favorite patterns—Bank, Horizon, and Skyscraper—are made by meticulously pleating paper and then painting atop the flattened folds. It's mesmerizing, and it can be subtle or not so subtle, depending on what colors you choose."
Kemble Interiors' shagreen & parchment furniture "The texture of the natural skins is lickably luxe, and we can achieve any custom color, but it is durable enough for real household abuse."
Sharyn Blond Linens "Her bamboo-appliqué bedding is my absolute favorite. I give my husband, who doesn't care at all about sheets, a set every other year for Christmas as a now long-running and self-serving tradition. And Sharyn and I have just collaborated on a line of cocktail napkins inspired by my collection of vintage party hats."
Vintage costume jewelry from House of Lavande "I recently fell in love with a pair of 19th-century Chinese earrings made of gilded silver and brilliant aqua kingfisher feathers. They were traditionally worn as wedding jewelry in the Forbidden City. They look to me like fireworks."
Flower arrangements by Van Wyck & Van Wyck "I come by them a bit dishonestly: I share a floor with Van Wyck, my favorite event designers, and every morning I make a pass through there to scavenge for castoffs and test arrangements. Sometimes my office desk looks like a field of poppies, the next day a bed of lavender."
Hugo Grenville "I've been infatuated with Grenville's paintings lately, and have used them as inspiration for my rooms. His lively color palette and Matisse-like depictions of fabric make his work feel like an invitation to a more vivid world."
Photo courtesy of the subject.