Fashion Brand Céline Couldn't Avoid the Internet Forever, Finally Joins Instagram
The brand's account now features 8 photographs of shoes.
---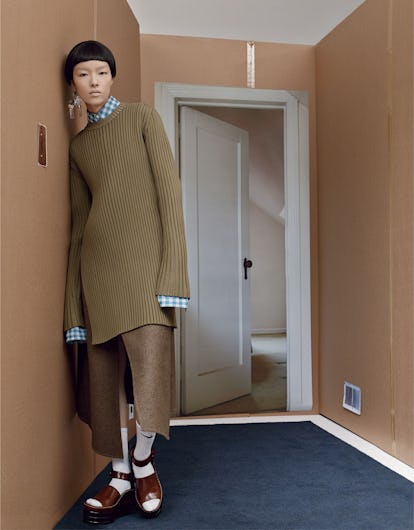 Photographer: Craig McDean Stylist: Edward Enninful
Just last week, word spread that French fashion house Céline was reportedly planning to launch e-commerce in 2017. Fashion lovers—and online shoppers—rejoiced at the news. Now, just two days before its fall 2017 show in Paris, the luxury brand has finally joined Instagram. Céline was one of the last fashion holdouts in the digital game; its change of heart can likely be attributed in part to its newly minted CEO, Séverine Merle, who, according to WWD, plans to increase the brand's basically nonexistent digital presence while growing its fine jewelry and footwear businesses in the process.
Perhaps the focus on the footwear business explains why Céline's first eight Instagram photos are detail shots of the brand's summer 2017 shoes (along with one very artful shot of a cement lamppost)? Céline shoes already have quite the cult following among fashion insiders and women with arty taste, so perhaps this is the brand's way of stoking the flames.
Whether this means Céline's famously private creative director, Phoebe Philo, will be joining the social media platform herself remains to be seen but don't hold your breath. Philo, who took the top job at Céline in 2008, is likely part of the reason the brand hasn't rushed into the digital space. She told Vogue in 2013, "The chicest thing is when you don't exist on Google. God, I would love to be that person!" So, needless to say, she doesn't exactly share Alexander Wang's level of enthusiasm for the awesome powers of the Internet. Or at least, her brand hasn't until now.
Backstage at Céline Spring 2016
New York's Best Street Style Gets a Technicolor, Electrified, Animated Treatment