Build It and They Will Come
An arty scene—and an art school—is growing in Mexico City.
---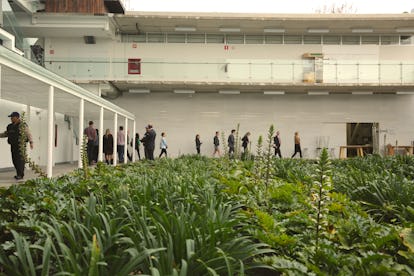 "If you're not going to dream, you're not going to enjoy Mexico," says the architect Enrique Norten, and these words ring especially true in Mexico City. Some dream of creating a world-class art and design university, while others dream of making it to dinner on time amid the city's mind-boggling traffic. And while the latter might never come true, a team of dreamers have managed to achieve the former with Centro, an institution many now dream of attending.
Last week, the ribbon was cut at the opening of Centro's new building on Avenida Constituyentes, which will serve as the school's campus. Designed by Norten, it's all metal and glass and stark white walls, illuminated at night to look like something out of a utopian future. The centerpiece is the monstrous front steps, the largest-ever functional installation by the Dutch-born, Mexico-based artist Jan Hendrix. They serve as a meeting point for the students, who all seem to sport leather backpacks and progressive haircuts.
However, the barbed wire on Centro's perimeters stands as a powerful reminder that the campus is situated in a less-than-desirable neighborhood in the middle of a city known as much for its crime rate as its cultural. But Mexico City is rapidly gentrifying, with an influx of hip galleries and private museums. Take, for example, Kurimanzutto, an expansive gallery with exposed wooden beams that serves as a platform for Mexico's most buzzed about up-and-comer artists, or the Museo Jumex, a private museum that boasts one of Latin America's most impressive private contemporary collections.
But it's the juxtaposition of old and new that makes Mexico City special. After visiting Casa Luis Barragán, the former midcentury residence of the celebrated architect, and Galería OMR, a family-run gallery founded in 1983 situated in a house that's charmingly off-kilter (or nauseatingly, if you happen to have a mescal-induced hangover), it's hard not to come away with the impression that the city has just been lying dormant, waiting to be rediscovered by the fickle art world.
Photos: Build It and They Will Come
Centro. Photo by Adam Beck.
Centro. Photo by Adam Beck.
Museo Jumex. Photo by Adam Beck.
Kurimanzutto. Photo by Adam Beck.
Casa Luis Barragán. Photo by Adam Beck.