Ceres is Bringing Back '90s-Style Workout Gear
The offerings from this newly launched activewear brand are more Princess Diana in biker shorts than performance-enhancing leggings.
---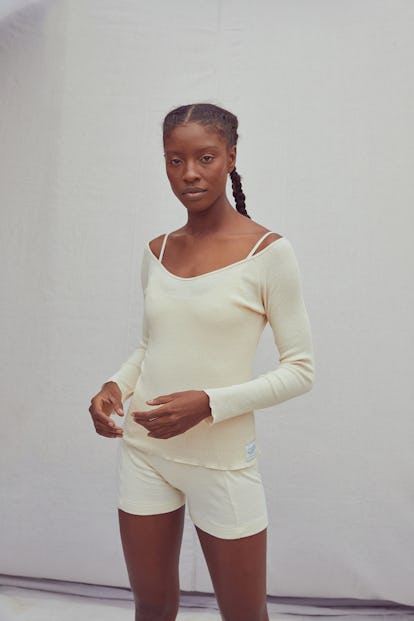 In the 1990s, before the mid-Aughts athleisure craze that pushed everyday fashion into a more casual place, workout gear looked more like gym clothes. Well-worn hoodies and biker shorts were made of cotton, not moisture-wicking, performance-enhancing polyester. Comfort was top of mind for brands like Champion, Reebok, and Fila—which supplied the leotards and tube socks of your retro dreams.
Although the technological advancements associated with workout clothing has its advantages (who would say no to a shirt that dispels body odor?), synthetics are environmentally unsustainable, and for some, too tight and uncomfortable.
At least, that's how designers Nina Miner and Kumi Sawyers felt. Last year, they began working on a clothing line that would bring back the focus on soft, non-synthetic gear that could be worn during workouts or on the street. Two days ago, their brainchild, the brand Ceres, officially launched.
Ceres' first drop is comprised of leggings, leotards, athletic dresses, and shirts made of all-natural fibers, made at local fabric mills and factories in California using sustainable and ethical measures. The brand's ballet top, with a deep v-neck and slightly off-the-shoulder sleeves, looks comfortable enough to sleep in, while a cream-colored, thermal bolero feels like a sweater you'd wear while settling into the couch for a long night of Netflix.
In many ways, it couldn't be a better time to release a collection of comfy, wearable workout clothing—with so many people confined to their homes and converting their living rooms into gyms. But this wasn't how Miner and Sawyers, who were initially set to introduce Ceres on March 28, saw their brand rollout going down.
"Originally, the idea was to host events where people could come, try our clothes, place orders, and join us for a workout class," the founders explained via e-mail. "We had to make a decision—either we stay quiet and let this pass or we do a soft launch and figure out a way to build and engage a community without having any product to sell."
Like most brands painted into a corner by the pandemic, they got creative—launching the Ceres Series, a program of virtual, donation-based workout classes on Zoom, where Sawyers, who is a yoga teacher, showcases different Ceres pieces during each session. On Series, users can participate in yoga, ballet, pilates, and cardio training. And every two weeks, Ceres highlights a different non-profit organization through the platform.
Product is currently available for pre-order—a move that is consistent with the brand's messaging.
"The intention of the brand was to always be methodical," Miner and Sawyers added. "By choosing to take preorder, we eliminate waste by making only what we need, and don't fall into the trappings of wholesale accounts and a traditional fashion calendar."
At its heart, Ceres is inspired by an era before synthetic fabrics took over the activewear market. Silhouettes from the collection reference dancewear, and early '90s Donna Karan and Esprit. When designing this inaugural line, Miner and Sawyers looked back in time—to archival images of Muhammad Ali, Princess Diana, and Olympians from the 1950s, for inspiration.
"Our collection is what we felt was missing from the market even before COVID," they said.
Related: Mary-Kate and Ashley's Early 2000s Movies Invented Every Gen Z Trend