Governor Cuomo Is Going After The Chainsmokers For Lack of Social Distancing
For some of the thousands who attended a concert New York state is now investigating, the answer appears to be yes.
---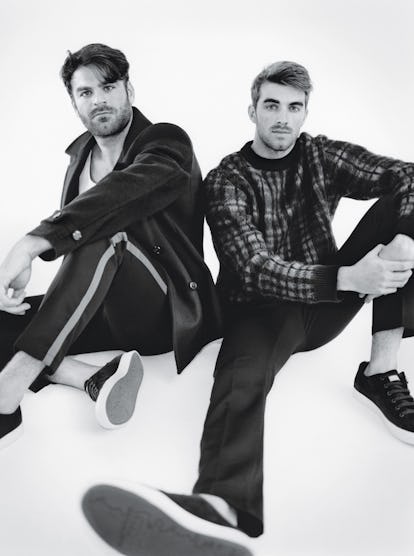 Andreas Laszlo Konrath
"For 30 years no one cared what we had to say, then one morning we wake up, and they do—it's weird," Alex Pall, one half of the pop-EDM duo The Chainsmokers, told W in 2017. "But I like to think we're good guys, and we try to learn from our mistakes."
Three years later, it's clear the duo did not. While Pall and Taggart have moved on from antics such as boasting about their "17.34 inches" in their official website bio, the duo has now gotten into a much more serious form of troublemaking. On Monday, New York Governor Andrew Cuomo announced that the Department of Health will be investigating this past Saturday's Chainsmokers concert in Southampton, New York. While titled "Safe & Sound," the mostly social distancing-free atmosphere seems to have been anything but.
Organizers' plans to follow the CDC's official guidelines, as well as state and local health mandates, apparently didn't pan out. "Videos from a concert held in Southampton on Saturday show egregious social distancing violations," Cuomo tweeted on Monday. "I am appalled." He and the state health department, the governor continued, "have no tolerance for the illegal & reckless endangerment of public health."
The evening's other performer, DJ D-Sol (aka David Solomon, chief executive of Goldman Sachs), had quite a different description of Saturday's events, which benefited local charities such as No Kid Hungry. "Standing up there and watching the sunset, looking out over this huge field of cars and people on their cars, it was absolutely beautiful," Solomon told Bloomberg on Monday. "The group that put this together did an incredible job in a difficult environment. If we work together and are thoughtful, we can do things that feel more normal and allow us to live with this virus safely."
Around 600 cars gathered for Saturday's concert, some in $25,000 parking spots. They played host to thousands of concertgoers (the Winklevoss twins among them)—at least temporarily. Eventually, some abandoned their vehicular safe heavens, dancing atop them or outside on the 100-acre sculpture park's grass. Others ventured out to make use the of the event's portable toilets.
In a statement, event organizers from In the Know Experiences and Invisible stressed that staff cleaned those toilets every 10 minutes, and attendees were instructed that bathroom visits were the only acceptable reason for leaving their designated spots. "Announcements and reminders were made every 30 minutes from the main stage, and security guards regularly patrolled the area to encourage mask wearing and promote social distancing guidelines," the organizers said. They also noted that they took concertgoers' temperatures upon arrival and provided free face masks.
"The video that everyone is talking about"—meaning the two-second clip Cuomo and nearly 12,000 others have shared on Twitter—"was taken from an angle that doesn't properly convey how careful we were to follow the guidelines created by the CDC," the statement continued. While Saturday's concert was the first in a series, organizers apparently have yet to address the future of Safe & Sound.
As of Tuesday afternoon, the Chainsmokers have not issued a comment. But at least they seem to be in better shape than Solomon. Goldman Sachs recently agreed to a $3.9 billion deal with Malaysia, as a settlement for its central role in the international 1MDB scandal.
Related: Behind the Socially Distanced Scenes of How I'm Feeling Now, Charli XCX's Quarantine Album