Chanel Iman Is Engaged To Sterling Shepard
He plays football for the New York Giants
---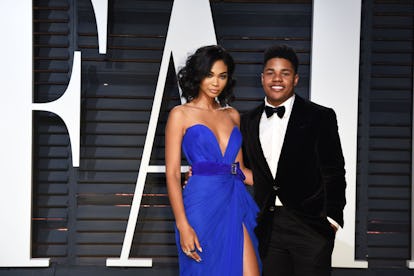 Photo by Presley Ann Slack/Patrick McMullan via Getty Images
Step aside, Gisele Bündchen and Tom Brady; there's a new model-and-football-player couple ready to take your throne. Chanel Iman and Sterling Shepard got engaged on Saturday, December 2.
The Victoria's Secret angel and New York Giants wide receiver have been dating for just under a year after meeting last November at a mutual friend's party; he proposed surrounded by candles facing the waterfront skyline of (we're pretty sure) Manhattan. According to E! News, he popped the question at his family home in New Jersey, and her ring "is rose gold and features a round diamond." After she said yes, they reportedly headed to Spin Ping Pong in New York where Shepard had arranged a surprise party complete with family, friends, and limited edition bottles of champagne. Not too shabby!
They both celebrated the happy occasion by posting the same photo of the moment to Instagram. "A night full of tears of happiness I'm beyond excited to spend the rest of my life with you @sterl_shep3 you are my soulmate, my best friend, my everything! Can't wait to be your Mrs. ??," wrote Iman.
Making, perhaps, a little sports joke, Shepard wrote, "The catch of my dreams…can't wait to spend the rest of my life with you!"
This isn't the first time he's shown his partner love on Instagram. Two days ago, for her 27th birthday, he posted a picture of Iman modeling a swimsuit with the caption, "Happy birthday my beautiful lady, I love you more than words could explain. Now bring that ass home to papa!" Ah, love in your twenties.
Related: Chanel Iman Works the Color of the Season
Why Everyone From Bella Hadid to Lindsay Lohan Is Making Their Way to Dubai
Bella Hadid with Fanny Bourdette-Donon, Rose Bertram, and Manon Bensaoud in Dubai, U.A.E., April 2017.

@bellahadid
Jennifer Lopez in Versace during a stay in Dubai, U.A.E., for the Dubai Airshow Gala, November 2017.

@jlo
Maddie Ziegler in Dubai, March 2017.

@maddieziegler
Rihanna stopped by the Dubai outpost of Jamaican hotspot Miss Lily's, February 2017.

@misslilysdxb
Leonardo DiCaprio was spotted at the Nusr-et steakhouse—the home turf of Salt Bae—in Dubai, U.A.E., February 2017.

Nusr-et / Instagram
Demi Lovato made her way to the desert outside Dubai, U.A.E., February 2017.

@ddlovato
Jessie J posed on a boat in Dubai, U.A.E., captioning the image, "Taaaaa Daaaaa," January 2017.

@jessiej
Kim Kardashian spent some time in Dubai earlier this year for a beauty masterclass; here, pictured in January 2017.

@kimkardashian
Before he found God again, Justin Bieber took to the beach in Dubai, U.A.E., May 2017.

@justinbieber
Mariah Carey managed to find the coolest spot amid the heat of Dubai when she visited earlier this year.

@mariahcarey
Most recently, Martha Stewart spent Thanksgiving week in Dubai, U.A.E., before departing for Abu Dhabi.

@arabianteahouse
Martha Stewart stopped by a traditional Emirati restaurant, the Arabian Tea House, during her stay in Dubai, U.A.E., November 2017.

@arabianteahouse
The youngest members of the Stewart clan frolicked among the dunes in the Dubai desert, U.A.E., November 2017.

@marthastewart48
Martha Stewart's many images of her stay in Dubai contained small observations, like this one: "Dubai is growing and growing," she wrote. "More skyscrapers More commerce Lots of activity."

@marthastewart48
Meanwhile, Dubai is also known for its thriving food scene (making it an understandably appealing destination for the likes of Martha Stewart and Gordon Ramsay). Here, food blooger Eman Naguib visits local outpost Tom&Serg, September 2017.

@dubaifoodfest
Rita Ora visited Dubai on official, Adidas-oriented business, February 2016.

@ritaora
Nicki Minaj visited Dubai, U.A.E., March 2016. During her stay, she wrote in the caption, the friend pictured in this selfie "helped us with everything. He was acting like the dudes in the hood," she said. "He wanted a pic. Say cheese!!!!!"

@nickiminaj
Wiz Khalifa also found his way to the Dubai desert, posing shirtless—with his cell—in front of the sweeping sand dunes, April 2016.

@wizkhalifa
Suki Waterhouse posted a behind-the-scenes image from a Burberry shoot for Harper's Bazaar Arabia, April 2016.

@sukiwaterhouse
London grime performer Tinie Tempah walks a tiger in Dubai, U.A.E., April 2016.

@tiniegram
Joe Jonas poses amid the sand dunes at the Dubai Desert Conservation Reserve—and shows off his tattoo in the process—outside Dubai, U.A.E., October 2016.

@joejonas
Donatella Versace, Alessandra Ambrosio, Natasha Poly, and Helena Christensen in Dubai, U.A.E., November 2016.

Donatella Versace / Instagram
Rapper Big Sean with giraffes in Dubai, U.A.E., November 2016.

@bigsean
Last November, Drake performed in Dubai, U.A.E., around the time of the city's Formula 1 race, and he's professed his love for the city in verse: "I want to move to Dubai, so I don't never have to kick it with none of you guys," he sang on "Free Smoke" off More Love.

@champagnepapi
Luke Hemsworth in Dubai, U.A.E., December 2016.

@hemsworthluke
Andie MacDowell lounges by the water in Dubai, U.A.E., during the Dubai International Film Festival, December 2016.

@andiemacdowell
Melanie Griffith and Eva Longoria take in the sights of Dubai, U.A.E., during the Dubai International Film Festival, December 2016.

Melanie Griffith / Instagram
Though it was Thanksgiving, and the menu for the American holiday is notorious, Martha Stewart made sure to sample the local cuisine while visiting Dubai, U.A.E., November 2017.

@marthastewart48
Jon Kortajarena and Alicia Vikander, in Jonathan Simkhai, at the opening of the Bulgari resort in Dubai, United Arab Emirates, December 2017.

@kortajarenajon
Jasmine Sanders at the opening of the new Bulgari resort in Dubai, United Arab Emirates, December 2017.

Jasmine Sanders / Instagram