Chanel vs. Chanel
In case you missed them, here are the top style stories of the week.
---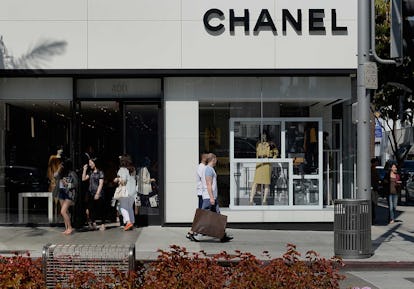 Beyoncé Got a haircut to distract the tabloids from writing about her marriage.
Bundchen, Gisele Got a bit punchy in Under Armour's new ad campaign.
Carcelle, Yves The former chairman and CEO of Louis Vuitton, who introduced the brand to Marc Jacobs, passed away at age 66.
Chanel The French fashion house is suing a hair salon in Indiana for copying its name. Because the two are so easily confused.
Delevingne, Cara Hit the red carpet sans pants, with toothpick.
FKA Twigs Is now dating Robert Pattinson. Does that mean a Chanel campaign is coming soon?
Gurung, Prabal Launches footwear for Spring 2015. It's about time.
Harper, Michelle Married her longterm partner Jenny Shimizu in a puffy Rochas gown, which is, in her world, everyday street style.
Johnson, Betsey Joins the cast of Dancing with the Stars. Needed another forum to show off her cartwheels outside of fashion week.
Jolie, Angelina Married Brad Pitt in customized—i.e. doodled on—Atelier Versace.
Kardashian, Kim Suffers wardrobe malfunction in dress she designed. Dress still sells out.
LVMH Makes nice with Hermès at long last. Good job, kids.
Neiman Marcus To open up shop in New York!
Owens, Rick Included a 25-foot-tall sculpture of himself in his new exhibition at Selfridges in London. Because, why not?
Strivectin To create a workout machine for one's face. Stop slacking.
West, North Wears Doc Martens, is still cooler than you are.
von Furstenberg, Diane Ranked the de Blasios in terms of hotness. His daughter, Chiara, wins, apparently. Sorry Bill.