Hollywood's Bright Young Things Get Oscars Weekend Started
Willow Smith, Kiernan Shipka, Dakota Fanning and other charter members of Young Hollywood got Oscars weekend started with a party at the Chateau.
---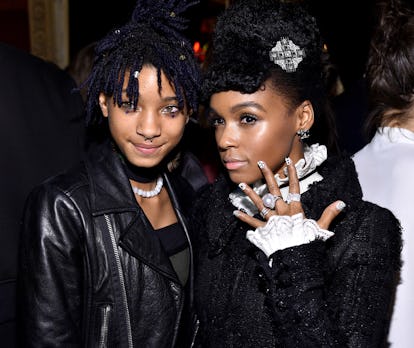 "This is the best party happening tonight," exclaimed a model as she walked into Bar Marmont on Thursday night. In a town where everyone is constantly hunting for the Next Big Thing – or in this case, the place to be seen ahead of Oscar weekend – this was it, apparently.
Chanel was footing the party bill, taking over the lounge with an "I Love Coco" beauty pop-up shop, and young Hollywood – including Dakota Fanning, Kiernan Shipka, Odeya Rush, Nicola Peltz and Rowan Blanchard – was on hand to toast the occasion.
"Chanel transcends time," said 14-year-old Blanchard, who had been chatting away with fellow actress Zoe Levin. "You can recognize it anywhere. It keeps its elements, and I think people my age are really interested in the new spins they put on their classics."
Like at so many adolescent parties, mingling gave way to selfie-taking, and a red neon "I Love Coco" sign served as the perfect backdrop. The installation, open to the public for three days starting Friday, showcases the French brand's latest beauty releases – lucky guests were treated to manicures and makeup tutorials.
"This is so playful and fun, and I feel like it's the kind of world everyone would want to live in and explore," said Kate Bosworth of the space, which was transformed into a Chanel-esque boudoir. "There is something quite classic about Chanel, but they are also whimsical and ahead of the trends."
According to singer Janelle Monáe, we have Karl Lagerfeld to thank: "They have a fearless leader, and he alone is transcendent. When you have somebody like that representing the brand consistently, it has no choice but to trickle down with everything they touch."
Also in attendance were Rachel Zoe, Willow Smith, Erin Wasson, Jesse Jo Stark, and sisters Klara and Johanna Söderberg – known as the Swedish folk duo First Aid Kit, the surprise performers of the evening.
For the young women selected to cohost the event – actresses Ellie Bamber, Carson Meyer, Phoebe Tonkin, and twins Haya and Sama Khadra -the general consensus was clear: when Chanel calls, you show up without thinking twice.
"When I was told about this, I was like, really? It's an honor," said Bamber. "And isn't this rad?" she asked, of her spiky metallic top – Chanel of course. "It's one of those things where you're like, I don't think I could hug you without hurting you. It's quite sharp."
Photos: Hollywood's Bright Young Things Get Oscars Weekend Started
Willow Smith and Janelle Monáe.
Johanna and Klara Soferberg of First Aid Kit.
Sama Abu Kadra, Telena Lynum, Haya Abu Khadra, and Willow Smith.
Chateau Marmont's Bar Marmont.