Change Agents: W Magazine May 2016 Editor's Letter
W's editor-in-chief discusses the influence of Instagram.
---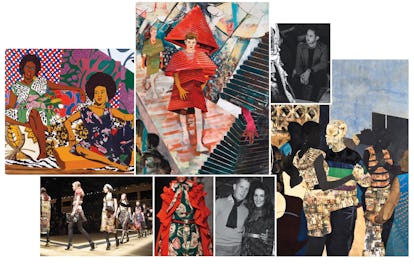 A side effect of Instagram's ubiquity and constant demand for novelty is that we now instinctively gravitate toward the kind of imagery that will read well on our feeds. Individualism and eccentricity, patterns and prints, color and shine will get more "likes" than quiet, monochromatic images. This shift in taste isn't just confined to digital communities—it has taken hold in the worlds of fashion, beauty, and art too.
A case in point is Gucci, where creative director Alessandro Michele has updated the brand's signatures with a vibrant celebration of quirky personal style that happens to be extremely Instagram-friendly. And it was probably not a coincidence that in February, Kevin Systrom, the cofounder and CEO of Instagram, was seated front-and-center at Miuccia Prada's show in Milan, taking in her beautifully layered—and extremely photogenic—collection. As you can see in "Squad Goals," a story shot by Steven Klein in which 1970s disco queens and Black Panther revolutionaries come together in a supremely post-able street party, designers left and right are mixing and matching patterns, references, and silhouettes in their pre-fall collections.
Few celebrities have been more adaptable to our dynamic cultural landscape than Jennifer Lopez, who zigzags effortlessly between the roles of pop star, film and television actress, mother, and, now, Las Vegas diva. Change is a constant, in matters big and small, for the eternally radiant Lopez, who is a fitting cover subject for our annual beauty issue, shepherded by Beauty Director Jane Larkworthy. During the day that Lopez spent with our editor at large, Lynn Hirschberg, the megastar wore at least four different outfits—it's telling that after Lopez's more than 25 years in the business, that kind of nonstop activity seems perfectly normal to her. "When it comes to work, I never get tired," she says in "Jennifer Lopez Has Trouble Saying No." "But with personal failures, I have thought, This is too hard."
Another way of dealing with the frantic need for change is simply to stick to your guns. In "Haute Bohemians," W's contributing European editor, Gianluca Longo, and the photographer Emma Summerton pay tribute to a group of women for whom style is not about chasing trends. One of our subjects in that story, Margherita Maccapani Missoni, who happens to be a good friend, manages to continually reinvent herself while staying firmly connected to her roots. The 10 women we profile are larger-than-life personalities who share a passion for combining family history with modern eccentricity, ethnic finds with fashion must-haves, and treasured heirlooms with creature comforts. (Who doesn't love a plush velvet sofa?)
The artist Nicole Eisenman, who is being honored with a comprehensive exhibition at the New Museum, in Manhattan, this month, is a proudly in-your-face queer artist living in Brooklyn who is also true to herself. Eisenman, a figurative painter, started her career in the early '90s, when conceptualism reigned supreme, but was sidelined for years from the mainstream cultural conversation. Now her endurance is paying off. Perhaps thanks to—you guessed it—Instagram, figurative art is once again all the rage, and Eisenman is using her sui generis works to address gender and inequality issues. And she's not the only one: Turn to "Go Figure!" to discover how a new generation of artists is using the human body to comment on our times. Their message is timely—and now more than ever, it's also easy to share.
Watch W's most popular videos here: