Punk Rock Vietnamese and a Destination Bathroom: Inside the New East Village Hot Spot Chao Chao
Chef Stephan Brezinsky's new Vietnamese restaurant has authentic Beastie Boy flavor.
Photography by Blaine Davis
---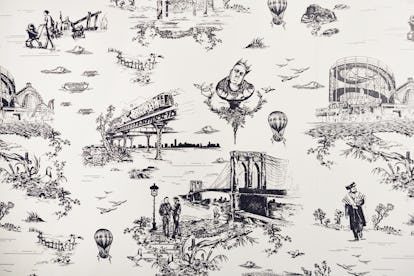 Photo by Blaine Davis, Visual Editor: Biel Parklee.
When Stephan Brezinsky set out to open a restaurant, he wanted a space that reflected his downtown New York upbringing, love of music, and an authenticity often found wanting in today's mega-watt dining scene. Brezinsky, 36, started his search in Brooklyn, but realized his restaurant needed to be right where he grew up—in the East Village in the '80s, where he made spring rolls and noodles at home with his Vietnamese mother while banging out to the punk music emanating from right around the corner. "If I'm cooking the food that I grew up making, I'm doing it in my neighborhood," he said. "We looked for two years in the East Village and once we found it, it felt right. We were going to make a place that belongs here."
So in 2015, after opening restaurants with the Il Mulino group and managing Pok Pok NY, Brezinsky signed the lease on a 65-seat eatery on Avenue A. He told his mother that he was moving in there to do his own thing—and that her recipes were coming with him. But he was stumped at first: How to create a family restaurant that was cool, fun, and still had felt like the East Village of old? After some Internet soul searching, he discovered the space once housed Rat Cage Records, where the Beastie Boys and bands like Bad Brains and Black Flag recorded albums. "It was something I latched onto," Brezinsky recalled. "That's when I started infusing musical elements into the restaurant. It wasn't just about the sound, but the décor, the attitude. We play vinyl records all night, but it's not forced. It evolved out of a true history of the space."
He opened Chao Chao in November. (The name is a friendly "hello" in Vietnamese.) On the menu, there are traditional, shareable Vietnamese dishes updated with modern accents, like five-spice chicken wings, tuna poké, and a variety of grilled and wok classics. "The menu is a sense of nostalgia mixed with personal pride," Brezinsky explained. "It reflects all the different influences of my life." Some of his favorites include the spring rolls, which his mother hand rolls every day, as well as the "Thit Kho," pork belly and shoulder with coconut water and pickled soy egg. There's also spicy raw black Angus beef with cilantro, shallots, and noodles, which is not traditional but is very tasty. Some rice and fish dishes round out the offerings, along with plates like curry and wok-tossed greens for a vegetal hit of color.
There's a robust cocktail program at Chao Chao, inspired by Brezinsky's time bartending at The Third Man, a cocktail haven in Alphabet City. While the restaurant lacks a liquor license, Brezinsky's collaboration with mixologist Tom Richter packs a mean punch using Japanese wines like sake and soju. He fuses them with cordials, vermouth, and cappelletti (a wine-based apertif) to create his own versions of margaritas, negronis and other signature drinks.
But maybe the restaurant's most delightful personality trait is the bathrooms. They serve as a small homage to the Beastie Boys, the very band that made the space iconic. On the walls there is a special Brooklyn toile wallpaper designed by Mike Diamond showcasing vibrant borough cityscapes, populated by groups of Hadisic Jews, figures like the Notorious B.I.G, and landmarks like the Cyclone rollercoaster. That, plus a non-stop Beastie Boys soundtrack makes the bathroom its own destination in an already vibrant space. "When I first saw the wallpaper, I thought it was so cool," said Brezinsky. "Then when I found out the history of the space, I knew it was all meant to be."
Calling Card Edgy rock and roll accents include a Brooklyn-themed toile wallpaper designed by Mike D. in the bathroom, an always-changing giant mural on the wall.
Tribes East Village transplants, New Yorkers looking to fuel up before heading out for a night on the town.
Music A rotating mix of vinyl classics from Rush, Blondie, The Ramones, The Who, De La Soul, The Police, The Beatles, Steely Dan and more.
The Menu Appetizers starting at $9. Main courses range from $15 to $25. Get plates to share. Snacks include spring rolls, chicken wings and the spicy raw Angus beef followed by pork belly and shoulder, beef cheeks with egg noodles and an "autumn curry."
The Basics 171 Avenue A, New York, NY 10009. Make reservations at chaochaonyc.com.