Merch, Masks, and Accessories for a Good Cause
Companies like Supreme and Noah and musicians including Harry Styles have dropped limited-edition pieces to support various charities.
---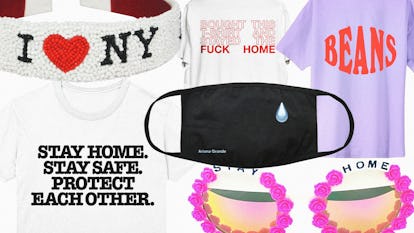 Charitable merch is a phenomenon that tends to emerge in a time of crisis. The COVID-19 pandemic has been no exception. While many fashion brands have donated a portion of their sales to relief efforts or pivoted to producing PPE for healthcare workers, other companies have decided to produce special edition one-off products, combining the forces of hype, charity and consumerism to raise funds and awareness.
Prime example: Supreme, which collaborated with the artist Takashi Murakami on a box logo t-shirt that sold out in minutes, with all proceeds going toward HELP USA, a charity that provides essential services to the homeless. Per usual, the shirts ended up on the secondary marketplace almost immediately, with some prices jacked up to over $1,000. The silver lining (or maybe something that was considered from the start)? Popular resale sites Grailed and StockX diverted their own cut of the sales to the same organization, according to GQ.
The stylish skate brand Noah also got in on the tee game, announcing this week that they'll be producing shirts to benefit Direct Relief. Featuring a medical cross in place of their usual coptic logo, they'll be available on the brand's website at 11 a.m. EST on Thursday. Bon Appétit is celebrating a pantry staple and donating 100% of net proceeds of a BEANS-emblazoned shirt ($15 from each $35 tee) to the World Central Kitchen.
Together with the streetwear boutique Alumni, Nicolas Heller (aka @newyorknico) has been hosting an Instagram competition to design a new tee to be sold for charity. Until April 29, anyone can submit a design by uploading it to the platform and tagging both accounts. They'll be judged by a panel of local designers and creatives that includes Opening Ceremony co-founder Humberto Leon and writer Kimberly Drew, and the top three choices will be produced and sold to raise money for a yet-to-be-named organization.
Other designers have switched gears entirely: Accessories designer Susan Alexandra, known for her charming beaded bags and jewelry, has been molding and painting custom miniature clay plates of food and donating the proceeds to No Kid Hungry. For $67, you can get a lox and bagel platter (or anything your heart desires) that fits in the palm of your hand. (Why not add an I love NY headband to your cart while you're at it?)
Rad and Refined, a New York brand that makes playful sunglasses and accessories, is producing a special collection of round frame glasses embellished with rosettes and lettered beads, one of which spells out: STAY HOME. It's safe to say that if someone can read it, they're too close.
Musicians are making their way in, too. A couple of weeks ago, Harry Styles was one of the first to drop pandemic-specific gear, releasing a shirt to support the World Health Organization that reads "STAY HOME. STAY SAFE. PROTECT EACH OTHER." (For someone with a direct line to Gucci's Alessandro Michele, it's a surprisingly simple design, but we're into it.) Last week, an organization called We've Got You Covered released a lineup of fabric face masks produced in collaboration with the likes of Billie Eilish and Ariana Grande, dressing up a simple face covering with the musician's logo and donating the proceeds to Musicares, which provides funding and services to those out of work in the music industry.
For those who want a way to support a favorite restaurant, bar or coffee shop, there's This T-Shirt, an initiative started by the New York creative agency DS Projects. All proceeds from each sale (designs feature places like the LA Italian spot Antico and the retro-chic Manhattan go-to The Flower Shop) go into a pool that is distributed equally to the cooks, bartenders, servers, and delivery people at the small businesses that have partnered with the initiative.
Of course, donating directly to any of these causes is always an option. But if you feel like freshening up the WFH rotation while doing some good, there are plenty of ways to kill two birds with one stone.