Charleston Bound
Sameer Reddy travels to Charleston, South Carolina to find there's plenty of sophistication South of the Mason-Dixon.
---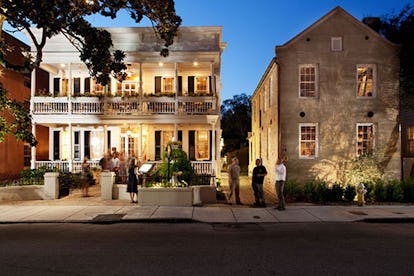 If you ask a Yankee to free associate about Southern cooking, there's a good chance that Crisco will come up, closely followed by collard greens and cholesterol. These three C's are certainly staples of some Southern kitchens, but contrary to Northerners' stereotypes, there's also plenty of sophistication to be found South of the Mason-Dixon Line.
Thanks to the James Beard Award-winning chef Sean Brock, Charleston, South Carolina, in particular, has recently emerged as a foodie favorite. The head chef of the town's hottest spots, Husk and McCrady's, has made it his mission to revitalize Southern cuisine, and his two restaurants offer very different takes on the task. Bon Appetit's Best New Restaurant in America for 2011, Husk aspires to the heartiest of home cooking, assuming that the home's kitchen has access to the same slew of rare, delicious ingredients like Carolina Gold rice and flowering basil, almost entirely from local farms. The restored Victorian house's relaxed atmosphere is perfectly paired with Low Country classics like shrimp and grits with tomato braised peppers and surry sausage or duo of heritage pork with smoky field peas and kale.
Chef Sean Brock
McCrady's, set in a restored tavern complex dating from the late 1700's, is a more genteel experience, with white tablecloths, formal service, and a fancier menu, but it shares a farm-to-table sensibility with the humbler Husk, serving up artistically plated compositions like celeriac baked in hay, pear, pecorino and Perigord black truffle. The Wine Spectator award-winning cellar is stocked with 6000 bottles and the neo-classical cocktail menu is stocked with twists on classics, like the Uptown Manhattan. If you roll like a VIP, book the Chef's Table, set in a mahogany-panelled room with a massive, vintage Baccarat chandelier, Christofle silver and Limoges bone china.
From top: Charleston Grill chef Michelle Weaver; jazz at the Charleston Grill.
If you're hungry for a livelier scene that maintains a bit of a formal air, head to the Charleston Grill at the luxurious Charleston Place hotel. This stalwart of the city's social scene is where power brokers, celebrities and the like head to break fresh-baked biscuits—head chef Michelle Weaver applies a global perspective to her menu, offering a lively mix of classic and nouvelle cooking unified by intense flavors in dishes like seared scallops with fennel-orange salad and black bean sauce, and Iberian ham and soft egg. Save room for an after-dinner order of black truffle-dusted popcorn and settle in for a nightcap while you listen to a live jazz set, performed seven nights a week.
Another lavish hotel and restaurant combination comes courtesy of Wentworth Mansion and its signature dining spot, Circa 1886. Built between 1885 and 1887, the Mansion is the city's highest-end small hotel—Lewis Comfort Tiffany glass window panes, oak and mahogany floors, and a 4th-floor cupola that affords a 360 degree view of the city are just a few of the period details that abound, and the historical vibe extends to the spa, set in the former stables, where a treatment feels like a trip back in time. Circa 1886 adjoins the spa in the former carriage house, cultivating an intimate atmosphere that's ideal for a romantic meal for two. The menu tends includes some gamier options, like antelope loin with chick pea barigoule, olive oil cured olives and feta, a nod to the region's hunting traditions.
Wentworth Mansion
These four spots barely scratch the surface of Charleston's dining scene—for a city of just over 115,000 people, there's a disproportionate number of exceptional restaurants. But unlike other foodie havens, no matter how haute the menu, the vibe is distinctly laid back, without formal dress codes or prissy service. You could probably even get away with wearing Crocs, but considering where you're reading this, thankfully, that probably isn't an option.
Photos: courtesy of the subjects