Charli XCX is Slowing Down, Partying via Zoom and Making a Whole Album in Quarantine
In quarantine, the Forever musician has slowed down, nurtured her relationship, and learned to write songs about what happens when there's no party.
---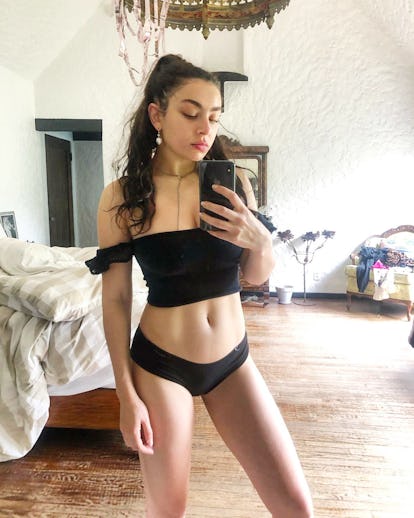 Charli XCX, photograph courtesy of Charli's Instagram @charli_xcx
To coincide with the launch of W's stay-at-home Instagram challenge, we reached out to the people for whom a shelter-in-place order is an opportunity for creativity, a call to action.
During a moment when so many celebrities and public figures have been getting it wrong, this eclectic crew has managed to hit all the right quadrants of empathy, humor, creativity, and realness. They've been lifting our spirits between all the dark news and the somber moments, reminded us to laugh, provided us with a much-needed distraction from the very real fears and tragedies, and been caring and thoughtful about what they've put out into the world. While we can't compare them to the doctors, nurses and essential workers risking their lives daily, the people who have pivoted to making charitable contributions, stepping up as entertainers, and sharing mental health resources have added something positive.
Charli XCX has given her fans unprecedented access into the music-making process for her upcoming album, which centers around her experiences during the pandemic.
Do you have a morning routine you've developed in quarantine?
I wake up, I exercise on my deck, and then I eat breakfast—and that's the routine part done. Then it's a free-for-all. But one thing I've noticed that quarantine has really emphasized for me is in the world before, I was a really slow-moving person. If I had to get to a meeting at 10 AM in LA, I would try my absolute hardest to be on time, but I'm not getting there until 10:30 AM. I can't do it, even if I'm up at 8 AM. Quarantine, I have noticed, has made me even slower. I will wake up at like 9 AM, but I'm still not eating breakfast by, like, 1 PM. I don't know what I'm doing, I'm just moving so fucking slowly. I'm worried when I come out on the other side of this, which, hopefully we will, I'm not going to be able to function. Sometimes I'm not taking showers until 3 PM, and that's not from just waking up late and being lazy. The thing is, I'm trying. I'm like, come on, wanna be doing shit by 5 PM today. But I'm just not getting anywhere. It's very bizarre, and I'm worried I'm gonna carry that across to the new world. And then I won't be able to even function.
How have you been expressing yourself?
It started with doing Instagram Lives, which a lot of people are doing. I was like, okay, a lot of people are at home, they might be on their own, everybody is trying to do some performative things to entertain people. I wanted to try that. I started off by doing a personal training session with Diplo on my Instagram—which was hard. And then I had a lot of conversations with Rita Ora, and Christine and the Queens, and then I did yoga with Ashnikko, and Zara Larsson gave me a makeup tutorial, and a load of other stuff. I did feel like I wanted to be more creative, and that's why I decided to make this album. And now, that's what I've been filling my time with and what's been actually keeping me positive and thoughtful during this.
For some, this feels like an incredibly creative time.
I agree, actually. This is a really creative time, and I think it's because, I find, there's no pressure. Even though I have set myself this deadline of May 15 to finish the album, there's no pressure from the outside world. I think this time has made me feel more grounded than ever before, and more comfortable with who I am. I've learned that before quarantine, I was not a very still person. I was never somebody who took time to be in my house. It was just the place that I slept, I didn't really live in it. And I think the stillness that this time has given me has made me feel more in touch with my creativity and just put less pressure on it. I don't feel like it's all about "Go, go, go, I have to go, otherwise the world will end." The world's ending anyway, so I can just take my time. And there are no external voices around me. I feel like nobody really knows what to do, so nobody can tell me they know better.
Is there anything you've been listening to or watching that has been inspiring for you?
Inspiring, no, not really. When it comes to my work, I'm very much inspired by the current situations that I'm in and the world that I live in. That's been kind of challenging because normally, I go out a lot. My work is inspired by partying and the people I meet at parties and the things that go wrong at parties, and things like that. Obviously now, I'm not experiencing that. Now, all my songs are about my boyfriend, literally every single one. Which is kind of funny, because he's sitting in another room whilst I'm screaming into a microphone, songs about him. So far, there's only been one kind of—not negative one—but one which isn't entirely about "I'm so in love with you! This time has brought us closer together." Boundaries are funny things that don't exist anymore. I've mainly been inspired the development of my relationship with him. However, I have been watching stuff, like, obviously I watched Tiger King. Who didn't? I've also been watching—because I've never seen it before, despite being British—I've been watching Love Island. It's quite amazing, and mind-blowing. I'm on episode 30 of episode 35 or 36, and I've got so much to look forward to. I actually just started watching The Sopranos, because I've never seen that before, and I'm really into Jeopardy as well.
This is a good lineup.
Jeopardy's not a thing for us in the UK, so I'm obsessed. We watch that a couple times a week just to keep our brains ticking.
What's the most memorable Zoom call you've been on?
Probably the first time I played this LGBTQ+ night called Club Quarantine. They are so amazing. They host nightly, and they have performers and artists and DJs and singers—everyone gets on the Zoom conference and performs. And I did one—I think it might have been a couple weeks ago, and it was honestly so amazing. It was so joyous because the host was clicking through loads of different people's screens. I've never seen something like that before. And it actually made me feel really positive about this time, because I think whilst we could be freaking out and being like, "How is this ever going to go back to normal?," I'm interested in the idea of adapting to this time. I felt like that club night, that Zoom call, felt like a group of people who'd been like, "You know what? Let's figure out how we can continue to have some form of nightlife in this new era." That was quite interesting to me.
What is the first thing you're going to do when all of this is over?
I know I just said I was really down with adapting, but I'm gonna party. One hundred percent. I can't wait. There's gonna be one party a night for the next five months when it goes back to normal. It's gonna be crazy. Although I imagine the atmosphere might be a little weird because everyone will be a little bit cautious. But it would definitely be fun to see my friends in person and hug them, rather than just FaceTime them.
Any organizations or charities you want to shout out?
I want to shout out the World Health Organization, because the work they've been doing has been so huge and I think it's really important that we all keep highlighting their causes. They need to raise $675 million through April so they can continue to be prepared and respond to the global pandemic. I live in LA and I'm in LA at the moment, and the homeless population in Los Angeles is huge. It's really important that people who are in more fortunate positions, who are able to help that community, do so. LA Alliance for Human Rights is a charity and organization doing really good work to make sure that the homeless community is still being looked after and supported.
Related: With "The Long Lockdown," Riz Ahmed Gives Fans an Opportunity to Connect