Behind the Socially Distanced Scenes of 'How I'm Feeling Now,' Charli XCX's Quarantine Album
Jed Skrzypczak, who's worked with Rihanna and Lil Nas X, gave art direction to the "Forever" musician on Zoom and via text.
---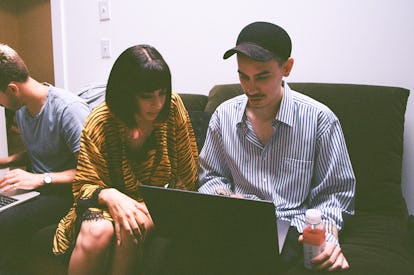 Photo courtesy of Henry Redcliffe
Charli XCX's latest album How I'm Feeling Now, was created entirely from her home in Los Angeles during quarantine. Every morning, the "Enemy" artist woke up, exercised on her deck, ate breakfast, and then engaged in what she described in a previous interview with W as "a free for all," writing and recording love songs about her boyfriend—who would be sitting in the next room while she spilled her guts, screaming into a microphone.
But releasing the album was just the first step in a project that's still ongoing—and there was one collaborator who was present, albeit remotely, for the entire process. Jed Skrzypczak, who joined Charli's team for her previous, namesake album, was the creative director behind all the visuals—video, still photos, and artwork—that fill out the world of How I'm Feeling Now.
The Poland native, who, earlier this year, worked with Rihanna and Jahleel Weaver on the design for Fenty's pop-up shop in Bergdorf Goodman and created the stage for Lil Nas X's Grammy performance with BTS, Billy Ray Cyrus, and Nas, was up for the unique challenge of collaborating during quarantine when Charli first called him in March with a pitch.
"She was like, 'I have this crazy idea. Let's do an album during this time, because I want to express my creativity and see how I can work during times like this, when everything is limited virtually to emails, Zoom calls, and text messages,'" 32-year-old Skrzypczak recalled, speaking over the phone from London.
They got to work on the music videos for the single "Claws," which Charli filmed against the backdrop of a green screen while wearing an entirely green outfit. Skrzypczak was on Zoom giving creative direction the whole time.
"I was like, 'Okay, if we're doing a green screen, let's just put you in the full-on green suit and go really crazy. Let's have flying heads and limbs,'" he said. (In regards to that makeout session at the end of the video: Skrzypczak said Charli was inspired to include it as an homage to Camilla Cabello and Shawn Mendes's infamous Instagram kiss).
In the following weeks, Charli XCX released snippets of her music video for "Enemy," another song off the album with visuals creative directed by Skrzypczak. Seven days prior to the release of "Enemy," when I spoke to Skrzypczak, he said he and Charli hadn't yet filmed the video—but they had ideas in mind. "With the first two music videos, originally, they were shot a few days before the release and the final version and final cut usually was delivered a few minutes before the deadline," Skrzypczak said. Deliver they did, in the end—he found a way to have director Danielle-Degrasse-Alston film a socially distanced, choreography-based video of Charli riding on top of a car.
Skrzypczak also was present, digitally speaking, for the photo shoot for the album cover—he provided art direction via text. "It was, like, 2 a.m. here, and her boyfriend was taking pictures of her in their bedroom," Skrzypczak said. "She was sending me images they took and I was saying, 'This works, this doesn't work, maybe you can try this instead.'"
The creative director also commissioned artists like Caroline Polachek and Seth Bogart to make original art for "Forever," and "I Finally Understand." In the end, nine artists total created a range of artworks for the album.
Charli, meanwhile, insisted that the entire process should be collaborative with her fans. From the final photographs they took for "Forever," the singer posted three, asking her followers to choose which one they liked. Skrzypczak sent that photo over to a handful of other artists, with instructions to interpret the pictures in their own ways.
Since the protests against the death of George Floyd started earlier this month, both Charli and Skrzypczak hit pause on their various rollouts to focus on efforts to bolster the Black Lives Matter Movement. Charli shifted her social media platforms to offer messages of support for Black trans people in particular. She also posted links to raise money for a number of bail funds and urged fans to engage in virtual protesting ("though, please, really try your hardest to go," she said). And Skrzypczak, in a statement, noted that he draws inspiration from Black collaborators constantly—both professionally and in his personal life.
"It's time we give them the credit they deserve, and all stand together to fight for their equality," he added. "As a part of the majority, we should use our privilege to use our voices, continue to educate ourselves and support marginalized communities every single day."
While they are still voicing support for the anti-racism movement, the releases and surprises associated with How I'm Feeling Now aren't finished. Along with more videos on the way, there is a book, also titled How I'm Feeling Now, that goes on sale today. The tome documents the entire operation—stills from all the Zoom calls and FaceTimes he had with Charli, artworks by Regards Coupables and Sara Cwynar, outtakes from the shoots, and the musician's personal notes from her own journals. Proceeds from the book will go to LA Alliance, an organization battling the homeless crisis in Los Angeles. All of the pieces of art involved in the project will be auctioned off in a forthcoming raffle, and some proceeds from How I'm Feeling Now merch sales will be donated to COVID-19 relief.
The making of the How I'm Feeling Now album was done entirely in the public, and with the help of the public—but it occurred during a time when people were more isolated than they've possibly ever been. Releasing the book, with all its intimate details, diary entries, and behind-the-scenes photographs, is yet another window for fans to catch a glimpse of this artist's creative process (and to simultaneously enjoy the fruits of their own involvement). For Charli XCX and Skrzypczak, it's a chronicle of a time when they, like the rest of the music industry, had no blueprint for a way forward, but still managed to make something meaningful.
Related: Charli XCX is Slowing Down, Partying via Zoom and Making a Whole Album in Quarantine