Charlize
After a series of gritty roles, Hollywood's sexy blond unleashes her comedic chops and inner babe in a new summer blockbuster.
---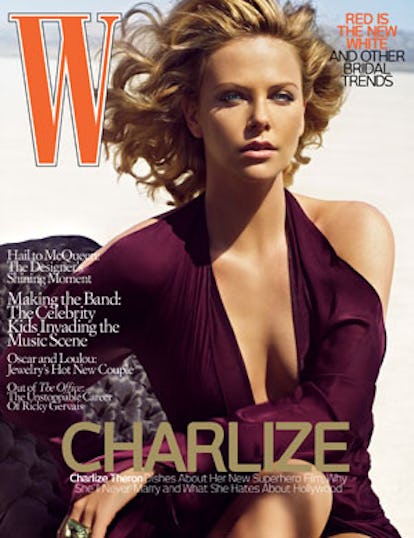 When Charlize Theron arrives at our interview, poolside at the Sunset Tower Hotel in West Hollywood, she's still showing the effects of a weeklong bout with the flu. With her blond hair pushed back into a no-fuss 'do and dressed Hollywood business casual in jeans, a white shirt and a black sweater vest, she looks, well, incredibly normal. And yet, days earlier, on the set of the W photo shoot at the western edge of the Mojave Desert, there was no overlooking her ultralean Amazonian physique, her mile-long legs and her startling green eyes, framed by a perfectly symmetrical heart-shaped face.
Perhaps surprisingly then, for an actress whom Esquire last fall named the "sexiest woman alive," the 32-year-old Theron has always resisted taking on roles that play only to her innate beauty. She fired her first manager after he sent her scripts on the order of Showgirls and Species. "So, we can see where he saw my career going," she quips. But ever since her haunting, Oscar-winning portrayal of Aileen Wuornos in Monster—for which she gained 30 pounds, wore prosthetic teeth and cannily captured the physicality of the hard-bitten lesbian serial killer—Theron has been dogged, she says, by a public perception that she actively seeks to mask her beauty whenever she plays steely-minded, gritty women.
In fact, the surest way to rile her is to suggest that she's somehow "transformed" herself yet again in several post-Monster roles, among them, a female miner battling sexism in the Minnesota iron mines in the 2005 film North Country, a Tennessee detective (who's a brunette) in 2007's In the Valley of Elah and, most recently, a desperate single mom in this year's Sleepwalking.
"Oh, no, you better not be bringing up 'ugly,'" she admonishes when I broach the subject. "Look, I get it," she says. "Monster was a transformation." But after that, she points out, whenever she's played "women in middle America living normal lives," she's heard cries of "ugly," no matter what they looked like. "North Country was dirt. That's what happens when you go into a mine. In the Valley of Elah—that's when I took real offense, because that was just my real hair color and me with no makeup."
Her greater transformation, she says, comes on the red carpet. "It's great fun when you have three people coming to your house, and one's doing your nails, one's doing your hair and one's doing your makeup. Two hours later, you look gorgeous," she says. "But that's not my life." Looking at her, you have to conclude that Theron is being unduly self-deprecating, and that the truth lies somewhere between the red carpet and North Country.
Her friend Woody Harrelson, her costar in North Country and Sleepwalking, notes that her glamour belies her tomboyishness. On location in Minnesota for North Country, they spent their downtime in local bars, belting out karaoke to Queen's "Bohemian Rhapsody." "She's not like a delicate girl," Harrelson says. "She's like a classic broad, in terms of being a beautiful woman, incredibly talented and also able to tell more vulgar jokes than you and drink you under the table."
While Theron, a former model, has no qualms about trading on her looks—she's the face of Dior's J'Adore fragrance and has bared a lot of flesh for magazine shoots—her beauty has never been the raison d'être of her acting career. "It's very unusual for someone that beautiful to not affect the way they present themselves to the world," notes her Elah costar Tommy Lee Jones. "Rather than exploit her own beauty, she just plays the character."
Her choice of roles, says Theron, is driven by good material, period. "More interesting stories come my way about what we consider real people than about glamorous, beautiful people," she explains. "It really irks me that people think I choose these roles because if I'm not looking attractive, they will take me seriously. I'm sorry, but if I'm going to play a cop, I'm not going to be wearing eyeliner. I'm not going to wake up in a scene with lip gloss on, because that's not how women wake up, not even the most beautiful women."
For most of her career, Theron's insistence on playing more than simply the hot chick has meant she's chosen smaller, character-driven films rather than event films. (The most notable exception, 2005's Aeon Flux, turned out to be a commercial and critical disappointment.) But her new movie, Hancock, is about as big as they come: An effects-heavy action-comedy, it's headlined by the industry's reigning box office champ, Will Smith, and opens just before the Fourth of July weekend.
Blink and you'll miss Theron in the trailer, but she has one of the biggest parts in the movie. However, Sony, the studio behind the film, is trying to keep the details of her character under wraps, due to a clever twist. This much can be told without ruining anything: The story is a smart and original take on the superhero genre. Smith, in the title role, is a foulmouthed drunk with superpowers and a tendency to do more harm than good when he rescues Angelenos in peril. Jason Bateman plays a publicist who wants to overhaul Hancock's public image, and Theron stars as Bateman's wife, Mary, whom one draft of the screenplay describes as "uncharacteristically hot."
Theron, naturally, prefers to focus on the blockbuster's unlikely depth. "This is really complex material, and if it wasn't, I wouldn't do it," insists the actress, adding that her first thought was not, Oh, goody, I get to be pretty! "What Mary seems on the surface," she notes, "is not what she is, but that's every character I've ever played. In the second act, you think you know where the film is going, and then it just completely…" Theron stops herself before she reveals too much.
Originally titled Tonight, He Comes, the script had been working its way around Hollywood for years, gaining a reputation as one of the best movies no one had yet made, before Smith committed to the project as star and producer in 2005. The first actor cast after he signed on was Theron.
"She seemed like the perfect actress to understand that this is funny, but this is a drama too," says Smith, who met Theron when both starred in Robert Redford's 2000 film The Legend of Bagger Vance. "What better way to make sure that texture is captured than [to hire] an Academy Award–winning actress? She brings the power and truth that Tommy Lee Jones brought to Men in Black." She also brings her beauty, notes director Peter Berg. "Who is a better actress that looks like that? No one."
Theron jokes that she took the part because "there was a scene where they said I might have to make out with Will." She recalls that when she asked Smith why he wanted her for the role, he explained that he hoped to bridge the gap between commercial and dramatic fare by trying to go for both in the same movie. "He said that there's this idea within the industry where you do your independent film that's made for under $2 million, it's a struggle and then you win your Academy Award for that, because that's your best work. And then you do what's considered these kind of sellout roles in the big blockbusters. And he's like, 'Why can't we do the best work in a big movie that can be a blockbuster?'"
Leaping across that chasm has seemed to be a lot easier for men: Actors such as George Clooney and Matt Damon have moved seamlessly from films such as Ocean's Eleven and the Bourne series to the more high-minded Good Night, and Good Luck and Syriana. Talented actresses, however, are under greater pressure to choose either quality films or commercial ones. Among Academy Award–winning actresses, Angelina Jolie has been the most adept at moving between big action parts and searing dramas. Others, including Theron, Nicole Kidman, Halle Berry and Hilary Swank, have had a tougher time, and when their big-budget movies have tanked (think Kidman in The Golden Compass or Berry in Catwoman), they've had to endure a barrage of ridicule and career damage.
But according to Smith, Theron has little to fear. "Without question, this is going to be the biggest film of my career," he says boldly. (Theron is likely to be thinking along similar lines: Her biggest-grossing feature to date has been 2003's The Italian Job.)
By all accounts, Smith, Theron, Berg and Bateman, with whom Theron was teamed in several episodes of the TV series Arrested Development, teased one another endlessly during filming. "Charlize just gets in your grill and likes to stir it up," says Berg. Recalls Theron, letting out one of her throaty laughs, "You wouldn't have to twist my arm to join that party again. During the day I went and got to just laugh my ass off with very, very funny boys, and we got to play." Another perk was the rare chance to work near her home in Los Angeles. "I got to sleep in my own bed at night; I got to see my man."
For the past seven years, that man has been Irish actor Stuart Townsend, whom Theron met on the set of the 2002 film Trapped. While Theron calls Townsend her husband and wears a ring, the pair are not married. Asked how she'd describe their relationship, Theron, adopting a cavewoman grunt, says, "Man, woman. Like to touch each other."
More seriously, she adds, "I always knew that I didn't want to get married." She does, however, see kids in her life. "I've always known that I'd be a mom from the time I was a little girl."
Theron spent her childhood on a farm in her native South Africa, where her parents ran a road construction company. At age 16, after winning a modeling contract, she left for Milan and then moved briefly to New York to study at the Joffrey Ballet School. When a knee injury ended her hopes of a dance career at 18, she packed up for Hollywood at her mother's suggestion.
"I had no résumé, I had a really thick accent and I had never acted in my life," says Theron.
Her first break came while she was in line at the bank. Theron needed money because she was late on her rent at the seedy motel where she was then living, but without a bank account, she couldn't cash a check. Overhearing her heated argument with the teller, the man standing behind her in line offered to help—and this being Hollywood, he asked if she was an actor, gave her his card and soon became her manager. (He was the one fired.)
She made her uncredited screen debut in Children of the Corn III and appeared next in the 1996 crime story 2 Days in the Valley, playing a hit man's Norwegian girlfriend. Though it was a small role, the lingerie-clad Theron (and her long, long legs) were prominently featured on the movie poster, and offers for hot-chick parts quickly followed. But Theron turned them down. "A lot of people were saying, 'You should just hit while the iron's hot,'" she says. "But playing the same part over and over doesn't leave you with any longevity. And I knew it was going to be harder for me, because of what I look like, to branch out to different kinds of roles."
Eventually, after auditioning for six months, she won her first big part, in 1997's The Devil's Advocate, which starred Al Pacino as a lawyer who is secretly Satan and Keanu Reeves as a new attorney at his firm. Theron was cast as Reeves's wife, who suffers a mental breakdown. The Devil's Advocate proved to be Theron's breakout film, and years later, it was her nuanced performance that convinced Monster director Patty Jenkins that Theron was the perfect actress to play Aileen Wuornos. "She wanted to lay eyes on me, see who I was and what my deal was," Jenkins recalls of her first meeting with Theron. "Charlize, like any beautiful actress, has a lot of people after her to take her clothing off and play lesbian serial killers."
At the time, Jenkins was not aware of the role's resonance with Theron's own past: When Theron was 15, her mother shot and killed her abusive husband in self-defense, while Charlize cowered in her bedroom. (Theron went public with her story just as the film came out.)
Theron remains extremely close to her mother, Gerda, who eight years ago moved from South Africa to a house two minutes away from her daughter's. They see each other almost daily, but Theron is reluctant to divulge even the most mundane details of her personal life. After mentioning that she, Townsend and some friends had recently gone camping, she's asked where they went. "I'm not going to tell you," she says with a smile. "I don't want anyone else to go there." Most other weekends, she says, are spent with the couple's tight-knit circle of friends and family: "We cook great dinners and have shared many bottles of great red wine."
After Hancock, Theron will return to a dramatic role in The Burning Plain, the directorial debut of 21 Grams and Babel writer Guillermo Arriaga. The intertwined, looping narratives center on Theron's character's quest to reconcile with her mother, played by Kim Basinger. Theron also has a role in Townsend's first directing project, an indie called Battle in Seattle, which he is currently showing at film festivals.
In the meantime, Theron is producing an American remake of Chan-wook Park's thriller Sympathy for Lady Vengeance and searching for her next role. Each day, she heads to her production office and sorts through stacks of scripts and books. "With everyone in the office, I'm like, 'Read, read, read! Give me an idea! Anything!'" she says. "Things aren't necessarily just always handed my way, but I go out there and I fight!"
Hair by Oribe for Oribe Hair Care; makeup by Peter Philips for Chanel; manicure by April Foreman at The Wall Group LA. Production by Kate Collings Post at North Six. Set design by Stefan Beckman at Exposure NY. Photography assistants: Chris Ferretti, Huan Duong Nguyen and Teppei Maruoka. Digital technician: Quinton Jones. Fashion assistants: Kathryn Typaldos, Martha Violante, Shiona Turini and Andy Salmen.