Charlize Theron's Atomic Blonde Serves Up Some Plot With That Sex and Violence in Second Trailer
Atomic Blonde finds Charlize Theron playing a spy as deadly as she is stylish and sexy in the midst of 1980s Berlin.
---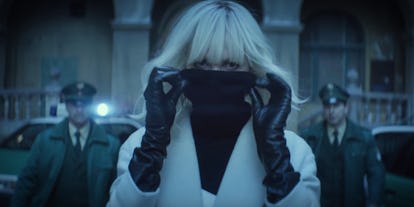 Last we saw good ol' James Bond on screen he seemed ready to settle down and walk away form the spy life for good. Charlize Theron's character in Atomic Blonde has no such qualms. Theron's Lorraine Broughton is ready to take on the mantle as our favorite big screen spy with a license to kill and a penchant for foreign women.
The first trailer was jam packed full of more sex and violence than most full-length movies contain. We saw Theron pound down two rogue's galleries worth of bad guys and still manage to find time to have a elicit tryst with a rival female agent played by Algerian actress Sofia Boutella. In the just-released second trailer we get a sense of what else the upcoming flick has to offer: namely a plot. We learn that in the midst of trying to take down an international espionage ring in 1980s Berlin she may have wound up being double-crossed by one of her own allies.
"I chose this life, and someday it's going to get me killed," coos Theron by way of introduction. "But not to day."
Set to an epic soundtrack of New Order's "Blue Monday," and ear worm mashup of Kanye West's "Black Skinhead" and Depeche Mode's "Personal Jesus," we're introduced the character of Broughton—"expert in intelligence collection and hand-to-hand combat"–and find she's tasked with figuring out who killed a fellow agent she may or may not have had a romantic past with. She meets up with James McAvoy's character by the way, all the while being advised by characters played by John Goodman and Toby Jones, each character actor veterans of spy films of yore, with Jones serving up a particularly memorable turn in the John le Carre adaptation Tinker Tailor Soldier Spy.
Naturally, there's a bit more sex and violence thrown in as well, in case you didn't get enough from the first trailer.
The flick is based on Antony Johnston's 2013 graphic novel The Coldest City, the first of a series of books set in Berlin after the fall of the wall.
David Leitch, the director of John Wick and the upcoming Deadpool 2, helmed the picture from a script by Kurt Johnstad.
The movie already made its debut at South By Southwest last month, and was greeted warmly by critics.
"Charlize Theron is the hero we need right now: As devilishly self-serving and smooth as Bond, as physically dynamic and stoic as Wick, Lorraine is confidently equipped to join the legacy of great movie action heroes and she doesn't need your permission to do it," raved Britt Hayes at ScreenCrush.
The film is set to role out nationwide on July 28th.
Related: Charlize Theron talks Mad Max and Being a Mother
Charlize Theron Nails This Flawless "Talladega Nights" Audition:
Charlize Theron, Dior Darling, Is All About Edgy Glamour on the Red Carpet
Charlize Theron in Givenchy at the 24th annual American Cinematheque awards in Beverly Hills, California, March 2010. Photo by Steve Granitz/WireImage.

Getty Images
Charlize Theron in a Balenciaga blazer with Alexander McQueen clutch and Stella McCartney heels at the launch party for Rage in Los Angeles, California, September 2011. Photo by Getty Images.

Getty Images
Charlize Theron in Alexander McQueen at W magazine's Golden Globes party in Los Angeles, California, January 2012. Photo by Jeffrey Mayer/WireImage.

Getty Images
Charlize Theron in Dior at the world premiere of Prometheus in London, England, May 2012. Photo by Stuart Wilson/Getty Images.

Getty Images
Charlize Theron in Stella McCartney at the 5th annual Variety Power of Women party in Beverly Hills, California, October 2013. Photo by Getty Images.

Getty Images
Charlize Theron in Givenchy at the Help Haiti Home gala in Beverly Hills, California, January 2014. Photo by Getty Images.

Getty Images
Charlize Theron in Dior at the 86th annual Academy Awards in Los Angeles, California, March 2014. Photo by Getty Images.

Getty Images
Charlize Theron in Dior at the Christian Dior Fall 2014 couture presentation in Paris, France, July 2014. Photo by Foc Kan/WireImage.

Getty Images
Charlize Theron in Dior at the premiere of Mad Max: Fury Road at the Cannes Film Festival in Cannes, France, May 2015. Photo by Daniele Venturelli.

Daniele Venturelli/Getty Images
Charlize Theron in Cushnie et Ochs at the Critics' Choice Television Awards in Beverly Hills, California, May 2015. Photo by Getty Images.

Getty Images
Charlize Theron in Dior at the premier of Mad Max: Fury Road in Los Angeles, California, May 2015. Photo by Getty Images.

Getty Images
Charlize Theron in Valentino at a photocall for Mad Max: Fury Road at the Cannes Film Festival in Cannes, France, May 2015. Photo by Getty Images.

Getty Images
Charlize Theron in Givenchy at Life Ball 2015 in Vienna, Austria, May 2015. Photo by Getty Images.

Getty Images
Charlize Theron in Tom Ford in Hong Kong, China, October 2015. Photo by ChinaFotoPress/ChinaFotoPress via Getty Images.

Getty Images
Charlize Theron in custom Dior at the 88th Academy Awards in Los Angeles, California, February 2016. Photo by Jeffrey Mayer/WireImage.

Getty Images
Charlize Theron in Altuzarra in Milan, March 2016. Photo by Getty Images.

Getty Images
Charlize Theron in a Stella McCartney blouse and The Reformation skirt at a photocall for The Huntsman: Winter's War in Hamburg, Germany, March 2016. Photo by Getty Images.

Getty Images
Charlize Theron in a Saint Laurent blouse, Chloé skirt, and Alexandre Vauthier heels at a photocall for The Huntsman: Winter's War in Milan, Italy, March 2016. Photo by Getty Images.

Getty Images
Charlize Theron in Dior at the Asia premiere of The Huntsman: Winter's War in Singapore, April 2016. Photo by Getty Images.

Getty Images
Charlize Theron in Dior at the premiere of The Huntsman: Winter's War in Westwood, California, April 2016. Photo by Getty Images.

Getty Images
Charlize Theron in Givenchy at the photocall for The Last Face at the annual 69th Cannes Film Festival in Cannes, May 2016. Photo by Getty Images.

Mike Marsland/Getty Images
Charlize Theron in Dior couture at the premiere of The Last Face during the 69th annual Cannes Film Festival in Cannes, May 2016. Photo by Getty Images.

Laurent Viteur/Getty Images
Charlize Theron in Dior couture at the 89th Annual Academy Awards in Hollywood, February 2017. Photo by Getty Images.

Dan MacMedan/Getty Images
Charlize Theron in Dior at the premiere of Fast & Furious 8 in Paris, April 2017. Photo by Getty Images.

Pascal Le Segretain/Getty Images
Charlize Theron in Gucci at the premiere of Fast & Furious 8 in Madrid, April 2017. Photo by Getty Images.

Carlos Alvarez/Getty Images
Charlize Theron in Dior couture at the Berlin premiere of Fast & Furious 8 in Berlin, April 2017. Photo by Getty Images.

Franziska Krug/Getty Images
Charlize Theron in Saint Laurent at the amfAR Hong Kong Gala in Hong Kong, May 2017.

Ulet Ifansasti/Getty Images
Charlize Theron in Dior at the 70th anniversary celebration during the Cannes Film Festival in Cannes, France, May 2017. Photo by Getty Images.

Barcroft Media/Getty Images
Charlize Theron in Prada with Chopard jewelry at the Chopard Trophy during the Cannes Film Festival in Cannes, France, May 2017. Photo by Getty Images.

Pascal Le Segretain/Getty Images
Charlize Theron in Dior at the cruise 2018 Dior show in Calabasas, California, May 2017. Photo by Getty Images.

Chris Delmas/Getty Images