Charlize Theron Beats Up Pretty Much Everyone in Atomic Blonde Trailer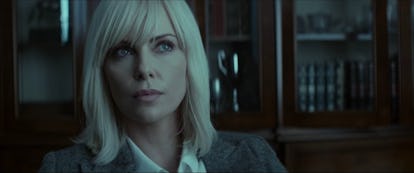 YouTube/Universal Pictures
In the trailer for the action-packed Cold War-era Atomic Blonde, which hit the web on Friday, you'll see Charlize Theron beat several men with her fists, a hot plate, and a refrigerator, jump off a building, seduce a rival female agent, relax in some sort of fruit-filled tub with a vodka on the rocks, and manage to look good doing it all. She's like James Bond in stilettos.
This trailer is the first glimpse of Theron as a sexy British (and yes, platinum blonde) MI6 spy, Lorraine Broughton, who's tasked with taking down an espionage ring before they take down her and her fellow agents. The assassin is thus sent on a mission to thwart a deadly adversary in Berlin just before the 1989 fall of the Berlin Wall, where she encounters another operative in James McAvoy and starts a tryst with a female agent, played by Algerian actress Sofia Boutella.
And though the roughly three-minute-long trailer manages to cover most relevant plot points, the fighting is most prominently featured. In fact, at least half of the preview is simply made up of Theron engaged in the brutal art of no holds barred combat—all while Queen's contrastingly upbeat 1974 hit "Killer Queen" plays in the background.
"Lorraine Broughton, an expert in escape and evasion, proficient in intelligence collection and hand-to-hand combat. That's an impressive set of skills," fellow spy Toby Jones says in the understatement of the year as a montage of Theron's intense fighting abilities plays onscreen.
The film, which is based on Antony Johnston's graphic novel The Coldest City and is set in post-Cold War Berlin, was directed by David Leitch, who has quite a bit of experience with the action-thriller set. Leitch co-directed John Wick and is set to take the reins on Deadpool 2, but before that, he worked on stunts for a whopping 82 films, including blockbusters V for Vendetta and 300.
The film is set to hit theaters July 28, but for now, check out all the action for yourself in the teaser below:
Charlize Theron Through the Ages
While some celebrity style stories involve more than a few early missteps, Charlize Theron's starts out strong and only gets better. In one of her first appearances at the premiere of "Mad City," the newcomer looked lethal in a sleek black camisole dress, barely-there sandals, and a shiny blonde bob that looks as fresh now as it did in 1997.
Photo by Getty Images.
Theron added a bit of shine for the 2000 premiere of "Reindeer Games" with a one-shoulder silver dress, black square-toe sandals, thick bangs, and a metallic mani. Remember it was 2000, this was cool.
Photo by Getty Images.
By 2004, Theron was a bona fide star—and naturally, she dressed the part. Accepting the Academy Award for Best Actress for her role in "Monster," she looked anything but in a gold Gucci gown, a diamond cuff bracelet, and Old Hollywood waves.
Photo by Getty Images.
Fresh off her Oscar win, Theron ruled the 2005 Golden Globes in a midnight blue Dior gown and a dark black 'do.
Photo by Getty Images.
Nominated for her role in "North Country," Theron took to the 2006 Oscars in one of her best looks yet: a forest green silk leather dress by John Galliano for Dior. Though she lost to "Walk the Line" star Reese Witherspoon, her look—complete with black nails, gold gems, and a teased up 'do—won serious style points.
Photo by Getty Images.
For the 2007 premiere of "East of Havana," the actress got into character as Producer of the film in a sleek black and white silk suit, oxblood nails, and severe, slicked-back hair.
Photo by Getty Images.
Continuing her flawless red carpet streak—and role as the face of Dior—Theron stunned at the 2008 premiere of "Hancock" in a fluffy crème Dior frock, a chartreuse clutch, and leopard-print sandals.
Photo by Getty Images.
While Theron's lilac Dior Couture gown at the 2010 Golden Globes landed her on Worst Dressed lists around the globe, we consider the look a success: it was perfectly accessorized, daring, and, best of all, got everyone talking.
Photo by Getty Images.
At the 2012 Golden Globe Awards, the actress glowed in a diamond-accented blush dress by Christian Dior Couture. Nude ankle-strap sandals, a diamond headband, and an embellished clutch sealed the deal on this winning ensemble.
Photo by Getty Images.
Nowadays, Theron continues to steal the spotlight on and off the red carpet—and often in Dior. Here, the star shows her penchant for shine and the color black at the premiere of her new film "Dark Places" in Paris.
Photo by Getty Images.
Charlize Theron's Surprise Party Nearly Gave Her a Heart Attack: