Charlize Theron Plays a Battlefield Doctor Falling in Love in Trailer for Sean Penn's Next Movie
The Last Face, a Sean Penn-directed film starring his former fiancé Charlize Theron, was panned at Cannes.
---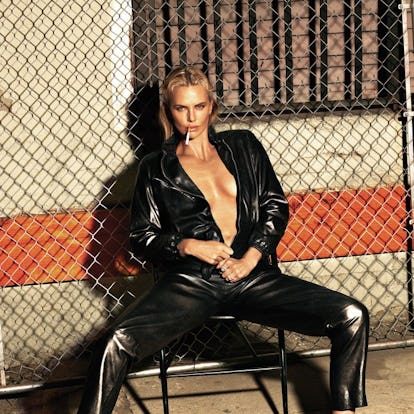 Photography by Mert Alas and Marcus Piggott. Styled by Edward Enninful.
Sean Penn hasn't directed a film since 2007's generally well received Into The Wild, but he managed to find time amongst his budding journalism career to direct The Last Face. The flick stars Charlize Theron, a volunteer for a Doctors Without Border-like organization started by her deceased father. While stationed in West Africa she begins to catch feeling for another handsome doctor played by Javier Bardem.
The duo's relationship dramas play out against the backdrop of poverty and war-torn Africa. Meanwhile, behind the scenes, Penn (who doesn't appear in the film) and Theron's own relationship dramas were also afoot. The pair started dating in 2014 but ended up breaking up in June 2015 shortly after filming wrapped.
Which all sounds like it could possibly make for an interesting flick, and the first trailer debuted today. It's packed full of action shots intercut with scenes of Theron and Bardem's characters gazing lovingly upon each other.
Though the trailer is only making it debut today, the film itself actually filmed all the way back in May at the Cannes Film Festival.
It did not get a warm reception. Audiences booed and critics who saw the flick took to Twitter to rip it apart, with one calling it "the worst film I've seen in Cannes."
Of course, the reception at Cannes is famous for being over-the-top, especially when the audience doesn't like the film. Loudly booing is part of the tradition. Classics like Pulp Fiction and Taxi Driver infamously received the brunt end of booing when the screened at the fest. So did flicks that emerged otherwise critically beloved like Terrence Malick's Tree of Life and David Lynch's Twin Peaks: Fire Walk With Me.
Though, some films that got booed did deserve it, and caring about a doctor's love life in the midst of war, or being egged into caring about war-torn African using two Hollywood stars playing a lovelorn couple (whichever was the intention here) seems like a hard feat to pull off.
In any event, Saban Films did end up picking up the distribution rights after the fest. It's expected to be released sometime early next year.
In the meantime, you can gaze upon some of Sean Penn's other work: mainly his son Hopper, who just signed a modeling contract.